Our Favorite Kids Books about the Tooth Fairy
When I lost my two front teeth, my grandfather offered to make me a "flipper." He was a dentist who specialized in making dentures and flippers, I learned, were little two-front-teeth inserts that, according to him, would still allow me to eat corn on the cob.
I remember appreciating the sentiment and wondering if it seemed like I loved corn on the cob so much that I'd need a dental insert to feed my addiction. It was confusing, and it also made me feel loved all at once. I didn't get a flipper, but I take that memory with me every time I think about losing teeth.
We all have stories about lost teeth and may also remember how scary it can be—especially if we have grandpas who are dentists and may or may not have also tricked us into pulling loose teeth before they were ready to come out on their own.
So! As a complement to our post about Tooth Fairy gifts, we've compiled two lists of both Tooth Fairy picture books and Tooth Fairy early reader books that you and your littles will enjoy. Some are silly, some are sweet, and most of them will relieve some pressure from the whole process. You'll be sure to find something perfect for your family here!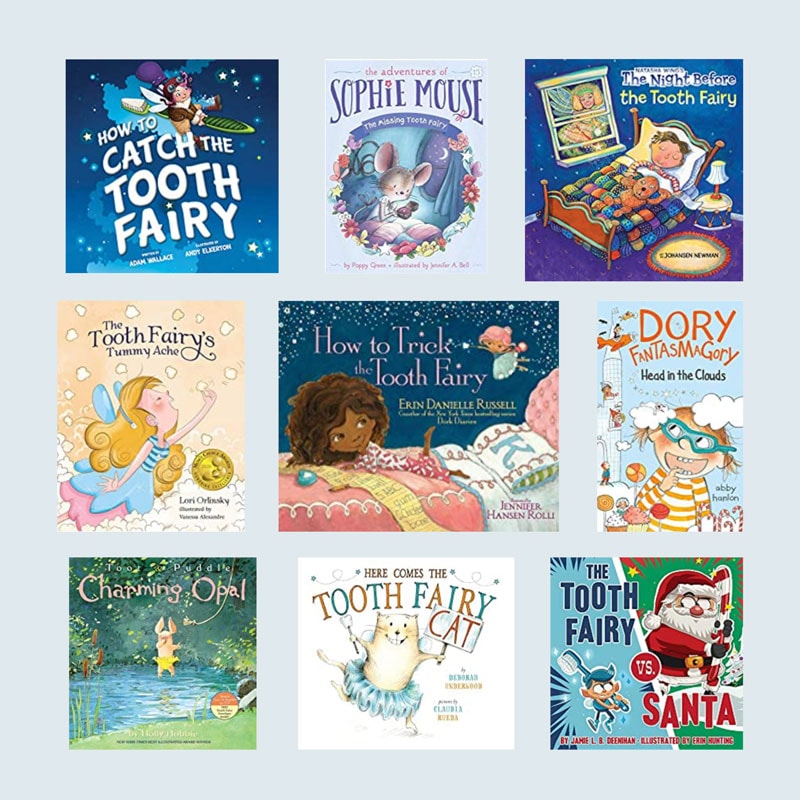 ---
Tooth Fairy Picture Books
This cute book uses a funny cat to help ease any anxiety kiddos have about losing teeth. Losing a tooth can be scary, and the Tooth Fairy cat can help your littles feel better about it. There's a cat and mouse adventure in this story that culminates in a fun surprise—it'll leave you wanting to join the next cat adventure, too!
---
In this fun tale, our hero wants to pull off the ultimate prank: pranking the Tooth Fairy. Kaylee's dropped water balloons and tricked Santa, and she's ready to stake her claim as the Princess of Pranks by out-pranking the Tooth Fairy. Can she pull it off? Grab this book to find out!
---
What happens when you're visiting a friend and lose a tooth? Will the Tooth Fairy still find you? In this sweetly illustrated story, Opal loses a tooth and carefully puts it under her pillow for our favorite nymph to find.
Worried that the Tooth Fairy might get lost on the way, her friend Puddle puts on a special costume so that Opal won't be disappointed. But will the real Tooth Fairy show up after all?
---
In the ultimate magical brawl, the Tooth Fairy and Santa go head-to-head in a funny, festive picture book. When the Tooth Fairy arrives to collect a tooth one night, Santa is already there. Who will win rights to the night?
---
From the bestselling How To Catch series comes a zany story of the Tooth Fairy escaping from some very determined kids. It weaves STEM concepts with silly rhymes and fun concepts that will keep you all laughing and learning together.
---
Based on Clement C. Moore's classic poem comes a story of a boy waiting for his tooth to come out so he can finally meet the famously elusive Tooth Fairy. This book weaves an undercurrent of patience into a rhyme scheme with which your kids are already familiar. A classic reimagined!
---
A beautiful book that also teaches the importance of honesty, the Tooth Fairy's Tummy Ache follows Ellie, who has been eagerly awaiting the day she can finally trade in her first baby tooth for a coveted prize from the Tooth Fairy. But when the time comes, the unthinkable happens: Ellie swallows her tooth!
Knowing she can't disappoint the Tooth Fairy, Ellie decides to lie about what really happened to her tooth. But when her fib leads to big trouble in Fairyland, will Ellie be able to set things right again?
---
Tooth Fairy Early Reader Books
From Abby Hanlon's marvelous Dory Fantasmagory series comes Head in the Clouds, which follows our plucky protagonist as she experiences her first loose tooth. This is a laugh-out-loud tale that your young readers will ask to practice reading on their own again and again.
---
From the New York Times-bestselling series comes a story about the Tooth Fairy asking Pete the Cat for help. Pete quickly realizes how hard it is to be the Tooth Fairy when a tooth goes missing. Will he be able to find the lost tooth before it's too late?
Take the adventure together as you and your littles read this book before bedtime—or any time.
---
In the 15th installment of The Adventures of Sophie Mouse series, Sophie has a loose tooth. She's a little scared…until a friend tells her that when you lose your tooth and put it under your pillow, the Tooth Fairy brings you a present! Now Sophie can't wait for her tooth to fall out.
This sweet story helps to ease tooth loss anxieties and is easy to read with beautiful illustrations—perfect for beginning readers with wiggly teeth.
---
From another New York Times-bestselling series comes an easy-to-read story about Nancy's first loose tooth, which she absolutely must lose at school. Losing her tooth at school is the only way Nancy can guarantee she'll get the special tooth-holder necklace from the school nurse.
But when Nancy's tooth starts wiggling at home, she is worried she might lose it before class. How can Nancy make sure her loose tooth falls out at school? Read along to find out!
Are there loose teeth at your house? Are you preparing for them? Show us! Tag your photos with @thriftylittles.
---
If you liked this post, you might like these too: