Road Trip Packing List: Top Products for Traveling with Kids
(This post contains affiliate links. See our disclosure.)
Young kids can be challenging to manage and entertain when they're in their comfort zones, and they can be exponentially harder outside of it. So, any trip away from home comes with a fair amount of risk. However! If you're like us, you probably need a change of scenery right now.
We get it. We really, really get it.
Road trips were mostly the more manageable option with kids pre-COVID, and for many of us navigating the pandemic the past year, they've become even more popular. But road trips take A LOT of prep, list-making, and small-human wrangling.
We're taking the guesswork out of mini-human travel and have pulled together our road trip essentials for traveling with toddlers and young kids. So bookmark this and consider it your go-to guide for everything family road-tripping. We know it'll save our sanity, and we hope it saves yours, too!
Also, if you're looking for travel toys to take on the road, check out our list for toddlers and our list for older kids.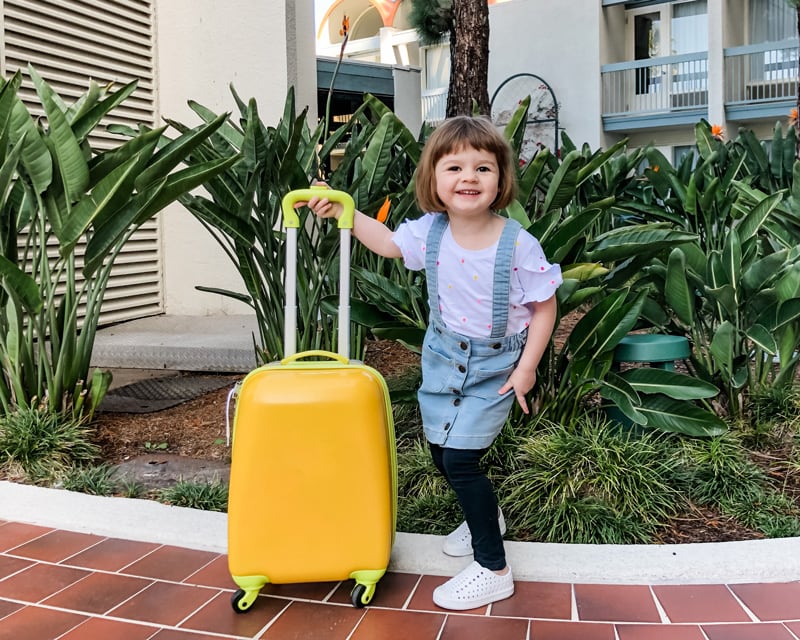 ---
Organization Essentials
Let's start here because getting organized is key to a successful road trip with kids! Trust us – it's no fun to have to dig around in the back seat to find missing markers and water bottles, and the best way to prevent this is for everything to have a place.
Kids' Organization
Kids' Travel Tray: When looking for things to add to our organization essentials, our primary criterion was "total lifesaver," and a kids' travel tray is just that! It provides them with their own space to draw, create, play, and snack. As a bonus, it keeps them organized.
Back Seat Organizer: For a more compact option, a back seat organizer makes all the things accessible to your toddler they would probably grouse about for the better part of the ride if not right in front of them.
Car Organization
Car Seat Organizer: One of our personal favorites for road trips and even every day is this car seat organizer. Use it anywhere in the car to organize tablets, headphones, water bottles, diapers, wipes, and various on-the-go activities. Then fold it down to store away when not in use.
Insulated Cooler: If you plan for a long road trip, an insulated cooler will keep drinks, fruit, and other snacks cool. Both the Tourit Insulted Cooler and Tourit Insulated Backpack are great options.
For the best of both worlds, the multipurpose car organizer doubles as an insulated cooler! It'll keep snacks and drinks cool for hours, so when potty breaks turn into tailgate picnics, you'll be prepared.
Multisize Zipper Pouch Set: Buy this set of zipper pouches now and thank us later. It will be one of the most valuable items on your trip – use it for everything from game pieces to markers to headphones and more.
Car Clean-Up: To save your sanity on a road trip with kids, bring along a portable trash can and handheld vacuum with a USB charger to keep things tidy.
Medicine & First Aid Kit: It's always a good idea to prepare for tummy aches and other ouchies. Pack this First Aid To Go! Kit or, from one of our favorite brands, Welly, this handy Kids' Medicine Kit and First Aid Kit.
Also, one of the best road trip hacks we've heard is to bring a grabber toy to pick up items that have dropped on the floor. Definitely planning to give this one a try on our next road trip!
---
Diaper & Potty Essentials
Being able to deal with diapers and potty breaks is essential to a successful road trip, so we've rounded up our favorite potty essentials. Whether you're dealing with a little one in diapers or a potty training toddler, we've got you covered.
Diaper Essentials
Diaper Changing Station: If you've ever changed a diaper in the car, you know how awkward it can be with your toddler rolling on the seat. The Beanko Diaper Changing Station has a unique foldable wedge that fills in the seat gap of inclined seats to give you a flat surface for diaper changes. Especially useful if traveling in a sedan or are short on trunk space.
If you don't need the foldable wedge, a more basic portable changing kit is good to have on hand.
Disposable Diaper Sacks: We're no strangers to stinky diapers rolling around on the car floor, but with scented diaper sacks, that will no longer be the case.
Potty Essentials
Travel Potty: There are many travel potty options, but our pick for the road a 2-in-1 travel potty. Designed to use on its own or over toilet seats in public restrooms, it adapts to any on-the-road potty situation. If you are in the middle of nowhere with a potty emergency, pull over and open the trunk, pop open this potty, drop in a potty bag, and…crisis averted.
Disposable Potty Liners: Truly, disposable potty liners are one of those toddler products that makes you wonder how people took toddlers on road trips back in the day! They have an absorbent pad inside and attach securely to various travel potties.
And don't forget the wet wipes for clean up!
Clean-Up Essentials
Waterproof Wet Bag: Whether you discover you have an unidentified liquid on your shirt or your little one has an accident, you'll want a few of these wet bags on hand while you're on the road. They're waterproof, machine-washable, and come in various sizes and patterns.
Hand Wipes & Sanitizers: Trust us, you'll go through many hand wipes and sanitizer spray on a road trip, so be prepared. If the past year has taught us anything, it's that we all have our preferences, but a few of our favorite sanitizing sprays are here and here, and a few of our favorite sanitizing wipes are here and here.
---
Snack Essentials
Snack essentials would fit equally under "entertainment" because snacks are one of the best ways to keep kids entertained on the road. Bring lots of snacks, and a good variety to keep it interesting.
Insulated Water Bottles
To keep kids' drinks cool, take a leak-proof insulated water bottle. You can't go wrong with the Yeti Ramble Jr. Water Bottle or the Mira Water Bottle for a more affordable option.
Snack Containers
There are various options for snack containers, and which one is best depends on how long you're traveling and your kid's age(s).
A lidded snack cup with a handle is ideal for toddlers because it won't spill. We like this silicone snack cup because it won't bite little fingers as they reach in, and it's easy for them to grasp.
A divided snack container provides variety for older kids, and the GoBeSnack Spinner makes snacking extra fun by providing an interactive button that spins the portions.
This insulated food jar is excellent at keeping fruit and veggies cool. Plus, it's leakproof.
Reusable Snack Bags
Prepare snacks for the road trip ahead of time using reusable snack bags. We like the Stasher Bags and the Bumkins Snack Bags. Both options are easy to clean!
---
Entertainment Essentials
We have a post specifically about favorite travel toys for toddlers and travel toys for little kids, so we won't spend too much time on that here, but a few favorite entertainment options below.
Audiobooks
Audiobooks are one of the best ways to entertain kids on a car ride. Our blog post 14 Favorite Audiobooks for Young Kids is a great place to start.
Tablets & Accessories
Few of us will attempt a long-distance road trip without a tablet. We pull these out later in the road trip when things get desperate. Our kids each have a Fire Kids Edition Tablet to watch their favorite movies and listen to audiobooks.
For headphones, we recommend LilGadgets Kids Headphones because they are durable, have a max volume for kids, and you can connect multiple headphones to one device with no splitter (also available with Bluetooth). Or, if your child doesn't like traditional headphones, CozyPhones are another excellent option for the car!
Bring an extra portable charger for charging tablets and other electronic devices. This one is lightweight and has two ports for charging, so you can easily pass it to the kids in the backseat. Also, getting a car headrest holder for your tablet can prevent a sore neck.
Other Entertainment Essentials
Be prepared to pull over for an outdoor snack break or to visit any fun tourist spots you come across on your trip. Pack a bag of easily accessible extra clothing and sun protection like a rain jacket, packable sun hat, sunscreen, and kids' binoculars. It's also a good idea to bring along a waterproof blanket and a few toys to burn energy outside.
We at Thrifty Littles wish you a successful next toddler road trip! We're parents, too, so we know it's an "adventure," never a "vacation," but it sure can be a memory-maker. If you take any of our suggestions on the road with you, we'd love to see! Tag us @thiftylittles so that we can join in the fun.
---
If you liked this post, you might like these too: