12 Children's Books About the Earth
(This post contains affiliate links. See our disclosure.)
Every year I play the same mental calisthenics. As soon as it starts to feel spring-like, I am 100% convinced spring is my favorite season (thanks to no allergies, most likely). But then fall comes, and I am equally convinced autumn is my favorite season. I do this year in, year out. And even though it doesn't matter one bit, I sort of love that I fall in love with two opposite seasons every single year. Are you the same?
April feels like the perfect month to celebrate Earth Day. The ground is just starting to warm, little green pointy hats are poking out of the soil, it's finally light past 6:00 pm, and as trees begin to unfurl blossoms, we begin to hear the air buzz with tiny creatures that are similarly delighted by the warmer weather. Whether you are a gardener, a hiker, or even enjoy an occasional picnic, there is an unmistakable natural high that occurs whenever we spend time outdoors.
"April 22, 1970, marked the very first Earth Day, when 20 million Americans joined together to campaign for a cleaner and better-protected world, and today the Earth Day Network helps to organize the annual event."*
May these 12 children's books about Earth inspire you to pick up some trash or plant a few seeds in a window box together, or even make some sustainable changes in your daily life to protect the planet. Let's keep working together to make our Earth habitable for generations to come.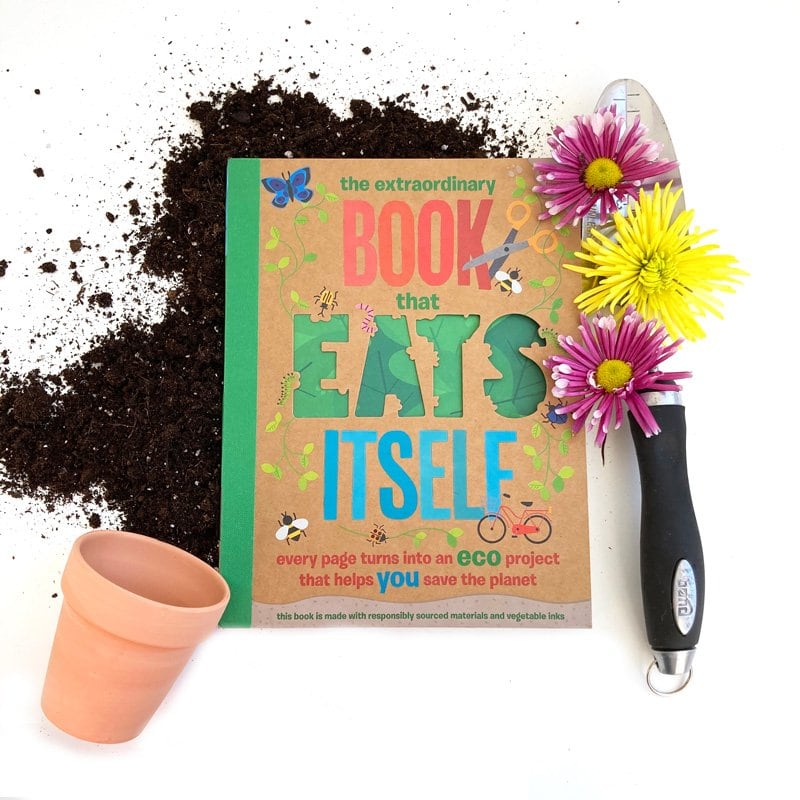 ---
When it comes to ingenious book design, this one takes the cake! Made from responsibly sourced materials and vegetable ink, this book is meant to be cut up and used in 30+ projects and activities. Every little piece is attached to jars or blended to make paper or disseminated as party invitations. Try making a worm bin with food scraps, soil, and an empty jar. Chase away vampires by saving electricity in your home. Or make a seedball to plant wildflowers in an empty lot.
There are so many activities to try in this uniquely disappearing book; the biggest challenge is figuring out which one to do first.
Ages 6-9
---
Ever wanted to have a unique outdoor activity with your family on a nice day, but you haven't been sure where to start? This guide is divided into seven parts and provides hands-on ideas to help caregivers know how to guide their children to more independent outdoor exploration. It is an inspiring handbook to reference throughout the year as it provides notes and insights from various outdoor educators.
Grab a backpack and fill it with a magnifying glass, binoculars, notebook, and more because this book will have you going on outdoor expeditions no matter the season.
---
After the gaseous fumes of erupting volcanoes cooled and oceans formed, life began as plant matter and soon spread to create giant scorpions and mammoth dragonflies. Soon mammals took over the land and began changing the air with their lifestyle.
Follow Earth's timespan by seeing how things have changed and what changes can still occur in our modern world to reduce climate change. A fact-packed book for slightly older readers that presents both sides of a complicated issue.
Ages 7+
---
Interactive books that involve flowers? Sign me up!
Push down the tiny seed into the soil. Repeat with the other seeds. Then sprinkle water from the watering can—just a little, not too much. Now rub your hands for extra sunshine. Soon it rains, and seeds start to sprout. Shoo away that hungry snail and watch, day in and day out, as the green shoots grow into stems and soon a garden of zinnias.
Such an easy book to pair with a packet of seeds for springtime!
Ages 2-5
---
Crab is a keen baker, and white seahorse does its thing, parrotfish crunches coral, and octopus hides in a coconut. Meanwhile, crab continues to bake delicate confections (how this happens under water is part of the magic of picture books).
Life under the sea goes swimmingly until a giant splash of rubbish piles to the ocean floor. Every sea creature freezes, unsettled by this noxious intruder. Soon all the aquatic animals make a plan to eliminate the garbage heap in a way that allows for further conversations with young people about climate change and pollution—an absolute keeper of a tale.
Ages 4-7
---
Hand-pressed plants do double duty in this informative look at what is growing and alive throughout the seasons. From hares hopping to ducks in a row, you'll marvel over butterflies and fireflies crafted from cosmos and pansies, each flitting about from page to page.
With exquisite detail, this is one of those books that could easily be framed for instant wall art. I especially love the swooping swallows in summer and the forest fungi in fall.
Ages 6-9
---
"Environmental chefs, here's a recipe for you to fix from scratch to mix a batch of Compost Stew."
With playful collage-style pictures, follow a gaggle of kids and their pets as they take apple cores, dirt clods, eggshells, and hair snippings (who knew?) and mix it in a colorful jumble of compost stew. Nutshells and paper shreds get added to the mix, along with a tea bag or two.
With joyful rhyming text, this is such a fun book and an easy way to start your own compost garden like we did last spring.
Ages 3-7
---
8 | One Earth by Eileen Spinelli
With images inspired by the author's Pennsylvania surroundings, this counting book counts up to ten and then back down again. From sweeping farm landscapes to dolphins careening through the sea, all the moving images present a clear but not overly preachy message to care for the earth.
I especially love that the counting up is about the flora and fauna of Earth while counting down features action items each of us can take to be better citizens of Earth.
Ages 4-8
---
Photographs of Earth in all her glory, from the microscopic to the majestic, are encapsulated in this evocative book. With careful attention to lighting and the way time freezes in an image, the text reads like a meandering poem begging readers to pay attention to the outside world.
Indeed, Sayre's previous books (each one a photographic journey of the seasons) would also make lovely Earth Day reads. My personal favorite is Raindrops Roll.
Ages 4-8
---
Ms. Glass tells Nancy's class about Earth Day, which is like a holiday for the planet. With her newfound Earth-conscious knowledge, Nancy aims to teach her family members how to stay green by walking when possible, taking a bag to the grocery store, not wasting water, wearing a sweater when it's cold, and other things. But Nancy's zeal to protect the planet doesn't exactly pan out perfectly. An ideal book for emerging readers.
Ages 5-8
---
There once was an old man who lived at the top of a steep hill. The winds blew and rattled his shutters and whipped off his hat. "What to do?" he cried from the top of his perch.
Down below, a young girl named Kate heard his plea, and she loaded her wagon with an assortment of saplings. Together the two planted the trees, and year after year, the trees grew taller and stronger. And as they did, they shielded the house and diverted the wind. A book about friendship and trees with an informative author's note at the end.
Ages 4-8
---
Follow a tree as it is turned into lumber and made into an ordinary brown paper bag. At the grocery store, a young boy and his dad take the paper bag filled with groceries home with them. The bag is later packed with lunch and then becomes a conveyance for tools and sheet music. As the years pass, the boy grows, and the bag travels with the boy, now grown and still writing songs for his new baby.
With mostly black and white images, this wordless picture book is about the power of those who pack lunches and those who carry reusable bags every day—ordinary acts that make an extraordinary difference.
Ages 4-8
*Excerpt from page 27 of A Year Full of Celebrations and Festivals by Christopher Corr and Claire Grace, a book I highly recommend.
---
If you liked this post, you might like these too: