Twelve Soothing Bedtime Books for Kids
(This post contains affiliate links. See our disclosure.)
Recently an online friend of mine joked that books should come with a note saying how long they are to read aloud and a rating for whether they are the suitable length to read as a bedtime story. Because let's face it: at the end of the day, parents are tired.
Still, nothing beats a good bedtime story, especially if it's the only time in the day you have to slow down and connect with your kid(s). Make those bedtime moments special by reading books you both love.
On the most draining days, I've read stories when my kids are in the bathtub or at dinner, but usually, we nestle together on the couch or bed and settle into a beloved book. I have memorized many of the books on this list, and I'm certain you have similar books in your home.
Rest assured, there is an abundance of kids' bedtime books besides Goodnight Moon. Below are twelve of my top picks, including board books and picture books.
And keep reading to learn my secret parenting pro-tip for bedtime stories.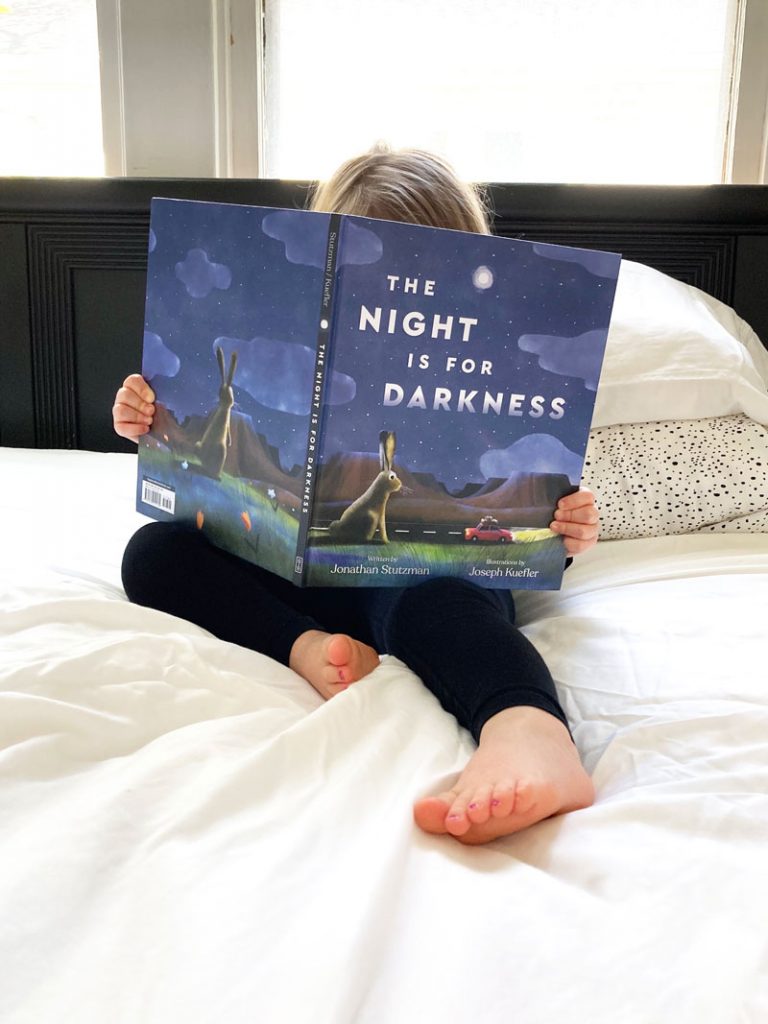 ---
Bedtime Board Books (Ages 0-3)
"Dinner's over, tummy's fed, Llama, Llama time for bed."
Llama goes through his familiar nighttime routine, including a bath, brushing teeth, going potty, reading stories, and snuggling in with his stuffed animal. With familiar routines and a gentle cadence, this book (along with the other two board books) will easily be cemented in your parenting memory for life.
---
What do you need for a night time boogie? Pajamas, of course! With an assortment of sizes (big/small), patterns (stripes/polka dots), and colors (red/blue/green/pink), the pajamas in this book let the cheerful bedtime dance begin.
---
"The moon has set not long ago, now everybody goes below."
So begins this rhyming tale of animals on a boat getting ready for bed. After a bath and brushing teeth, the animals dash back to the main deck for a rousing round of exercise.
Forgive me for including two books by the same author on this list, but both are perfectly short books for rocking little ones off to sleep.
---
Bedtime Picture Books (Ages 3-8)
A stone sits amid water, grass, and dirt, existing in the world in the place that it has always been. To a hungry chipmunk seated in the rock's shadow, the stone is dark. To a watchful owl beneath the moon's glow, the rock is bright. The stone is rough to a slug and smooth to a porcupine, enormous to a beetle, and small to a moose. No matter the seasons, the stone sits in the wild and is a touchstone for the creatures that encounter it.
Though not specific to bedtime, the lull of contrasting perspectives pairs impeccably with Wetzel's luminous illustrations, making this a thoughtful story for the close of day.
---
Sunset in the garden, and veggies need their rest. We see turnips tucked in and potatoes closing their eyes. A little worm wriggles through the soil, underneath tomatoes humming lullabies and cauliflowers cuddling close. Rhubarb reads to broccolis and baby eggplants dream. When at last the worm reaches its bed, we see all the slumbering veggies snoozing for the night.
A rhyming book that may have the bonus benefit of making your kids curious about trying new vegetables!
---
As the moon rises in the night sky, a young girl and her family pack their belongings and head towards the water's edge. Along their journey, they bid goodnight (Lilah Tov) to bats and bears, clouds and stars in the sky.
This book is a solemn nod to refugees the world over. With an accompanying short song (found on the author's website), this beautiful debut picture book is one worth adding to your home library.
---
7 | Night Wishes by Lee Bennet Hopkins
Here's my secret: make poems a regular part of your bedtime routine. They are usually short, and they use a variety of expressive language that your children may not encounter otherwise. Poems take time. Usually, I read them twice and slowly, but they are a wonderful resource to have in your bedtime arsenal.
This collection (along with the next book on this list) has a bit of bedtime magic woven throughout. Still hesitant? Check out a book of poems from the library and give it a try.
---
This collection reminds me of the Shel Silverstein books I grew up with. Titles like The World's Longest Yawn, Toasty, Warm Jammies, Socks on the Washing Line, and On Adopting a Pet Elephant will give you plenty of humorous moments throughout, along with lilting short stanzas that make this book truly unique.
My six-year-old and I like to take turns reading through a few before turning out the light. And as my poetry professor once said, "You've never read a poem until you've read it twice."
---
A young girl doesn't want to go to sleep even though the sun has set. Her parents bow their heads and say she doesn't have to sleep but should put her pajamas on and brush her teeth. She then asks her parents, "Does everything in the world go to sleep?" To which they lovingly respond that all creatures sleep in different positions and different ways.
With a calming cadence, the text narrates how the young girl slowly unwinds, making herself a nest within her bedsheets and curling into the covers to at last sleep for the night. This award-winning bedtime story is one we read to my oldest daughter every night for an entire year. It will always remain a family favorite.
---
Every night as darkness begins to take over the day, Ella feels afraid. Grasping her mother's hand, the two wander through the house, turning on lights to vanquish Ella's fear.
When Mother takes Ella to the front porch, they settle into a swing and notice the colors and sounds of the night. Soon Ella discovers that the moon conveys a quiet calm, and she begins to conquer her nighttime fear.
---
With the moon on the horizon and darkness settling in, two children and their father get into a packed car and drive into the night. As they pass through forests and fields, they notice nighttime creatures and a looming rainstorm. As they approach their new home, the family settles into an evening of stories by candlelight and hushed lullabies.
"The night is for darkness and soft silver beams, for closing your eyes and entering dreams."
---
This book is a treasury of classic fairy tales (Little Red Riding Hood, Stone Soup, Snow White, Rumpelstilskin, and dozens of others) combined with lyrics to Brahms Lullaby; Rock-a-Bye, Baby; and The Owl and the Pussycat. I like that the longer stories easily take the place of two to three picture books and the shorter songs are ideal for babies.
In short, this is a collection we return to often.
---
Emily Arrow's latest album is wonderful for setting a sleep-like environment in your home; we especially love to put it on while getting ready for bed.
---
If you liked this post, you might like these too: