The Best Board Games for Little Kids
So, your littles have been officially schooling you on Hi, Ho Cherry O! for a few years now. They're whooping you fair and square at Sequence for Kids. And, you keep going bankrupt in Monopoly Junior. It's time to up your game—literally—in the toy closet.
Do not pass Go! Do not collect $100. Go through this list and add these family games for little kids to your arsenal. We've done all the research on the best board games for little kids, so if your minis are ready to level up, THIS is the list for you.
See our favorite board games for kids of all ages in our Family Game Night Hub.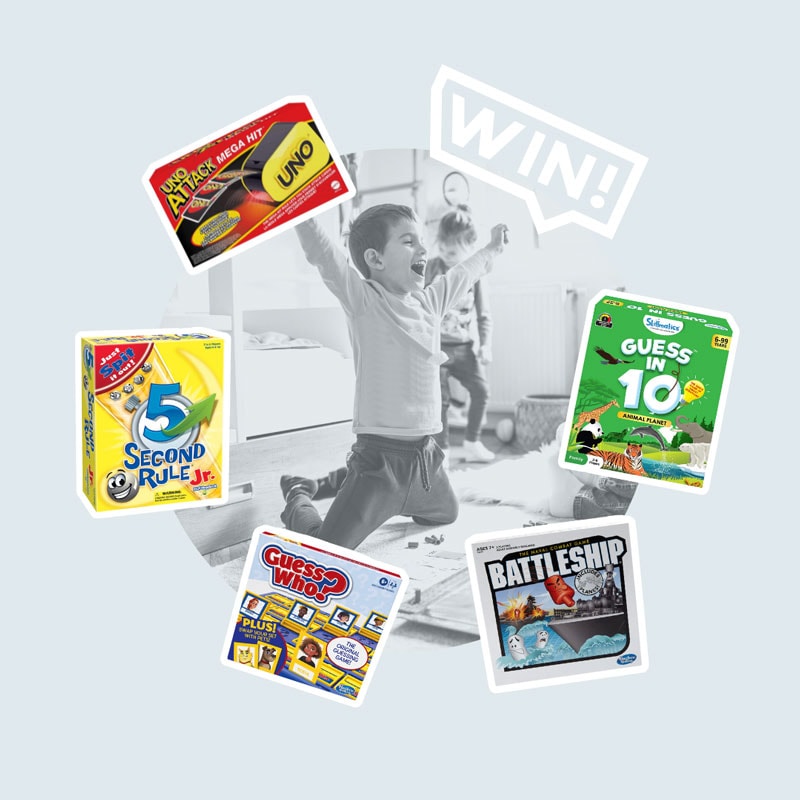 ---
For all the Catan lovers out there, it's finally time to introduce your littles to the game you can't get enough of. Explore the Seas Catan Junior is a modified version of the classic strategy game that allows players as young as five an introduction to the world of Catan.
Catan Junior takes place on a ring of islands where players build hideouts, including the mysterious Spooky Island, where the Ghost Captain lives. Each player starts with two pirate hideouts and then uses their resources to build ships and expand their network. Be the first player to control seven pirate hideouts and win the game!
---
With simplified rules, Ticket to Ride First Journey is the perfect way to introduce young players to the classic game of cross-country travel. Like in the original version, players collect train cards, claim routes, and connect routes coast-to-coast. However, in this version, the routes are shorter, and the game ends when one player completes six tickets, claiming the golden ticket as their prize.
Climb aboard, travelers! Your incredible first journey awaits.
---
Simple to learn, yet strategic and exciting to play, Qwirkle is a favorite for all ages, especially kids six and up! Build lines of tiles that are all the same color or shape with no duplicates. Score big by placing a tile that touches multiple pieces with matching attributes. Score even BIGGER by creating a Qwirkle by creating a line of six in a row.
Qwirkle one of the best board games for little kids because it reinforces so many skills: color recognition, shape recognition, math strategy, and problem-solving. Plus, you'll love watching your child become more competitive as they play this game over time.
---
We know you've been waiting to see Connect 4 on one of these games lists, and its time has finally arrived. The goal of this game is simply to get four discs of the same color in a row, whether stacking the discs upwards, horizontally or diagonally. The first one to do this wins!
That classic version of this game is a good start with little kids, but once they're ready to up the competition, this version offers new ways to play, including blue blocker discs and a pop-out feature to release a disc from the bottom of the grid.
---
It may seem like it would be easy to name three kinds of cereal or three farm animals, but can you do it in five seconds with the other players staring at you? That's a lot of pressure, which might make for some super silly answers! But that's part of the fun – all the players will enjoy the laughs from playing 5 Second Rule Jr, a younger version of the classic family game.
The came includes a fun twister timer that counts down with metal balls and makes fun noises. Keep score by moving along the board – the first one to the finish line wins!
---
OK, parents, this one will be hard to resist if you played it when you were young. Add the Sorry! Board Game to your cart and bring it out for your next family game night, where you'll teach your littles to slide, collide and score to win!
Players draw cards to see how far they get to move one of the pawns on the board. If they land on a slide, they can zip to the end of it and bump their opponents' pawns––or their own!––on the way. Jump over pawns and hide in the Safety Zone where opponents can't go.
Kids keep on moving and bumping until they get all three of their pawns from Start to Home. But watch out—if their pawn gets bumped along the way, Sorry! – it's back to the start!
---
In an exciting game of questions, Guess in 10 Animal Planet gives players the chance to ask up to ten yes or no questions to guess the animal on the Game Card correctly! Is it a carnivore? Is it a wild animal? Does it live in groups? Be sure to ask smart questions and use your clue cards wisely – the first player to collect seven Game Cards wins the game!
In addition to Animal Planet, there are various other Guess in 10 game themes to choose from, including World of Sports, Inspiring Professionals, Things That Go, and more!
---
Another nostalgic classic for 90s kids who now have kids of their own, Mouse Trap challenges players ages six and up to snap the trap to win!
You'll run through the maze as Sneakers Mouse, Nacho Mouse, or Pepper Mouse as you collect cheese wedges and build the Mouse Trap contraption. When one of your friends' mice is in the cheesy trap area, you've got a chance to catch them by landing on the correct space.
Keep scurrying and scampering until someone gets caught. If you're the last mouse left uncaptured, you win!
---
Another irresistible classic, Guess Who? brings back childhood memories and introduces the iconic guessing game to little kids six and up. This edition is double the fun because it includes people AND pet character cards.
Each player chooses a mystery character card and then, using "yes "or "no" questions, tries to figure out the other player's mystery person (or pet). Players can ask questions about a person's appearance, such as wearing glasses or having brown hair or whether a pet wears a collar or purrs.
Correctly guess your opponent's character, and you win!
---
Battleship is a classic naval head-to-head combat game. Two players search for each other's fleet of ships to destroy them one by one (sound effects strongly encouraged). Each play announces the coordinates of each strike and hopes that it hits, then tracks hits and misses with red and white pegs.
With convenient, portable battle cases and realistic-looking naval crafts and planes, the Battleship game puts players right in the middle of the action.
---
Get ready to add some action into your next game of UNO! This UNO game has the same goal as the original – get rid of your hand one card at a time by matching one of your cards with the card on top of the deck. But in this version, players who draw the attack command card push the button on the electronic shooter. If they're lucky, nothing will happen. But, if they're not, the shooter will fire a stream of UNO cards to add to their hand.
This is a fast-paced game that's fun for the whole family, with up to 10 players able to play together!
---
Kingdomino is like playing dominoes with a kingdom-building twist! This family-friendly game uses tiles with two halves, similar to Dominoes.
Each turn, players select a new domino piece to connect to their existing kingdom, making sure at least one of its sides connects to a matching terrain type already in play. Who picks first depends on which tile was previously chosen, with better tiles forcing players to pick later in the next round.
The game ends when each player has completed a 5×5 grid (or failed to do so), and points are counted based on the number of connecting tiles and valuable crown symbols.
Add something to your stack from this list? We'd love to see! Tag us: @thriftylittles on Instagram.
---
If you liked this post, you might like these too: