14 Favorite Audiobooks for Young Kids
(This post contains affiliate links. See our disclosure.)
When you're a parent, it seems like the early years are filled with milestones—first foods, first steps, first friends, first emergency room visit, and so forth. Then, somewhere after the loss of that first precious baby tooth, those parenting goal posts slow down considerably. It goes without saying that firsts invariably speed past with a dose of nostalgia.
I remember our first audiobook as a family. We were on a seven-hour road trip from Missouri to Kansas, and on a whim, I snagged a CD from our library before the trip. The book was familiar to me because I had owned it for over a decade.
So began our family's immersion into the wonderful world of audiobooks. We must have listened to The Miraculous Journey of Edward Tulane at least five or six times during that trip.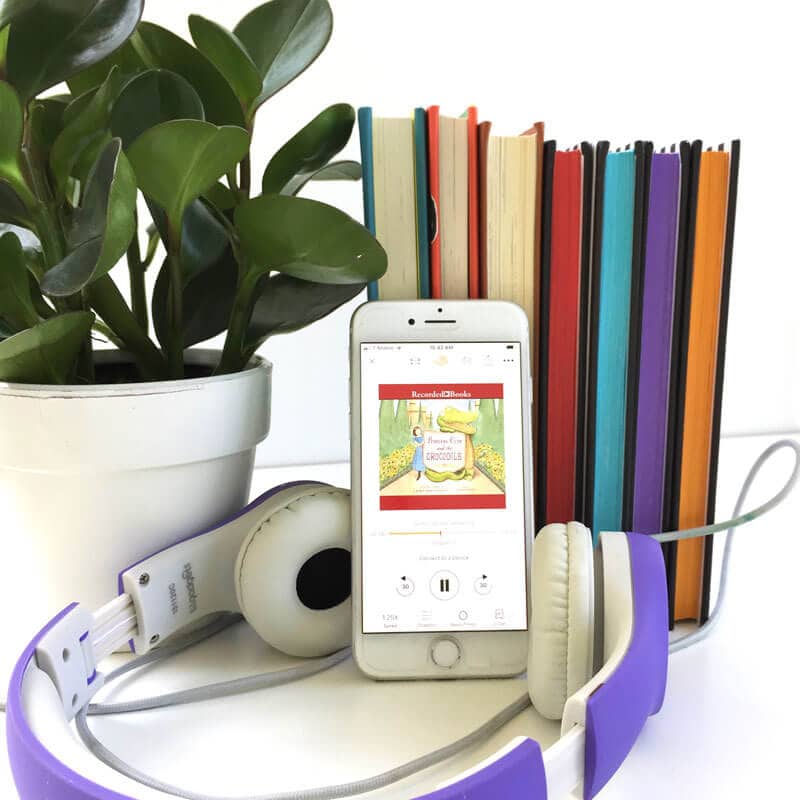 ---
A couple of notes about this audiobook list: you'll notice that I've intentionally limited the books featured here NOT to include picture books. This is simply because I find kid-centric podcasts more suitable for short listening spans (20 minutes or less). Similarly, you'll notice that some authors appear more than once on this list—that's because they have mastered the art of creating stories that resonate with audiences, both young and old.
Finally, one tip you might want to implement, especially for younger children, is alternating between the physical book and audiobook of a specific title. Doing this can significantly improve your child's attention span and ensure that audiobooks are seen as a natural extension of beloved one-on-one storytime.
Happily, you can listen to audiobooks in dozens of different ways. We don't own a tablet 14 in our house but have found two other methods that work well for our family. The first is CDs that we check out from the library, which we listen to either at home or in the car. The second is digital downloads from platforms like Audible (membership required) or free library apps like Hoopla, Libby, and Overdrive.
Below are fourteen top audiobooks for young kids – we hope you find your family's new favorite from this list.
---
Audiobooks for Kids
Ten-year-old Opal lives with her distant preacher father. On an outing to the grocery store one afternoon, she returns home with a stray dog – a dog that smiles. Immediately Opal begins making unexpected friends because of her new companion.
Narrated with a hefty dose of southern drawl, this award-winning audiobook is an uplifting listen.
Length: 2hrs and 29 mins
---
Frog and Toad was the second collection of audiobooks we "discovered" as a family. These stories are read by the author and feature an opposites-attract duo that has entertained children for over four decades.
Frog, ever the optimistic amphibian, continually helps curmudgeonly Toad discover a world of adventure and friendship in even the simplest moments. Musical interludes scattered throughout make this audiobook especially fun.
Length: 1hr and 29 mins
---
Three farmers are plagued by the same problem: a wily fox that keeps stealing their flocks and stock. Determined to rid themselves of their nemesis, the farmers (Boggis, Bunce, and Bean) stand guard with a shotgun and eventually begin excavating the hillside in an ill-fated attempt to outsmart Mr. Fox.
You'll no doubt want to watch the movie as a family after finishing this book.
Length: 1hr and 11 mins
---
Five children scramble out of a carriage and find an unexpected sand fairy in the nearby gravel-pit. The furry creature emerges after one of the children wishes for his appearance. Thus begins a series of wishes made and wishes granted, although each wish turns out rather unexpectedly.
Told with voice variations and great energy, the narrator will quickly become a favorite.
Length: 1hr and 5 mins
---
A combination of podcast and audiobook rolled together with a bopping mix of silly songs. Oscar the bee, Tallulah the dinosaur, Lallah the mouse, and other friends all live in Juniper Fields together. With prompts throughout, kids are invited to participate in the high energy stories.
Adults should note that this is a bit like an audio amusement park: sensory overload, but great for getting grumpy kids out of a slump.
Length: 4hrs and 52 mins
---
6 | Matilda by Roald Dahl
Within ten minutes of listening to Kate Winslet narrate Matilda, you will instantly be transported to a tiny village in England, where a precocious young protagonist finds solace in stacks of books to escape her indifferent parents.
Once Matilda realizes how beastly her parents really are, she uses pranks as a way to teach them a lesson. Similarly, at school, she deals with another vile adult, and readers can't help cheering as she fends off Miss Trunchbull with true heroine savvy, all while maintaining her clever charm.
Length: 4hrs and 18 mins
---
Mr. and Mrs. Watson live on Deckawoo Drive with their pig, Mercy. Mercy has a knack for getting into mischief, which often involves her next-door neighbors and others throughout the town. Luckily, most mishaps are easily solved and quickly soothed with numerous slices of hot buttered toast.
For the prequel to Mercy's story, be sure to check out the picture book A Piglet Named Mercy.
Length: 40 mins
---
When Princess Cora was born, her parents thought she was the most perfect baby in the world.
However, their adoration quickly turned to worry as they feared for her future and all the things she would need to be as a grown queen (clean, smart, and strong). By age seven, Princess Cora's days are filled with baths, dull lessons, and inane exercises. When a Crocodile arrives on the scene to rescue her, Princess Cora is delighted to be given a day off from her royal duties.
Davina Porter narrates and portrays the crocodile with sheer perfection.
Length: 39 mins
---
Prim and perfect Princess Magnolia lives in a castle. However, whenever her monster alarm rings, she travels through a secret shute and transforms into the Princess in Black along with her trusty sidekick horse, Blacky. Together they fight monsters and send them scampering back to Monster Land.
We highly recommend reading the physical books first before tuning in to the audio version because the charming illustrations are not to be missed. I have yet to meet a child who doesn't love this series.
Length: 55 mins
---
A mouse on a motorcycle? What more do you need? Three books in one, this story follows Ralph, a young mouse who lives in Mountain View Inn and is befriended by a boy named Ryan.
Ideal for reluctant readers, this collection follows Ralph through antics both inside and outside of the motel. Our family favorite is when Ralph goes to school with Ryan and unexpectedly winds up in the local paper in a most unflattering way.
Length: 6hrs and 40 mins
---
Perhaps the most well-known chapter book child of the past 40 years, Ramona Quimby is a mix of childhood antics (clacking down Klickitat street on tin cans and later roller skates) and growing-up milestones. With a working mother, a big sister, a father who smokes and loses his job, a new baby, a best friend, and a host of other plots, family relationships and friendships take center stage in these beloved books.
Expertly narrated by Stockard Channing.
Length: 18hrs and 56 min
---
Imagine the Velveteen Rabbit having multiple lives, each a different iteration of a similar journey towards self-discovery – this is how I always think of Edward Tulane. However, Edward is more complex because of the people he encounters along his route and the lessons of love interwoven throughout the story.
Told with incredible compassion, you may need a tissue or two with this story.
Length: 1hr and 55 mins
---
A peaceable beast with scales and claws who is keen to write poetry.
A young boy tries to convince the dragon that he must fight Saint George, for that is what the town expects. However, the dragon, a true gentleman, has no desire to plunder or fight. The boy acts as an emissary between the two, hoping that there can be some sort of arrangement ensuring all parties get a satisfactory ending.
Length: 53min
---
Narrated by Anne Hathaway and cast, this classic stands the test of time and is infinitely less scary than the movie. Follow Dorthy, a young girl from Kansas, who gets swept away in a twister, landing in a magical land called Oz and meeting a handful of friends on her journey to locate the Wizard that can send her home.
With musical interludes, sound effects, and an affable narrator, this book has all the elements of a good audiobook.
Length: 3hrs and 49 mins
---
If you liked this post, you might like these too: