It's March, which means it's Women's History Month.
Whenever I think of influential women in my life, I am reminded of Anne Butler, who was my women's history professor 20 years ago. Not only was she my mentor, but she was also the first person to really encourage and support my academic goals. She pushed me to expand my worldview and become familiar with the stories of women who have paved the way before.
Indeed, she was the reason I applied to and attended the same graduate school she did.
We all have women like this in our lives. Women who, for one reason or another, become our mentors—become our supporting mascots. Maybe it's the first seasoned mom we meet at a playgroup or a friend who got us through a health scare. The list of exemplary women is endless.
And when I think of raising strong girls, I know the books on this list (though barely skimming the surface) are just a portion of the equation. The other part is creating strong ties with women throughout our lives by understanding and supporting their choices.
May these 15 children's books be a starting point for showcasing the inspirational women throughout history who have fought for truths and goals they believed in.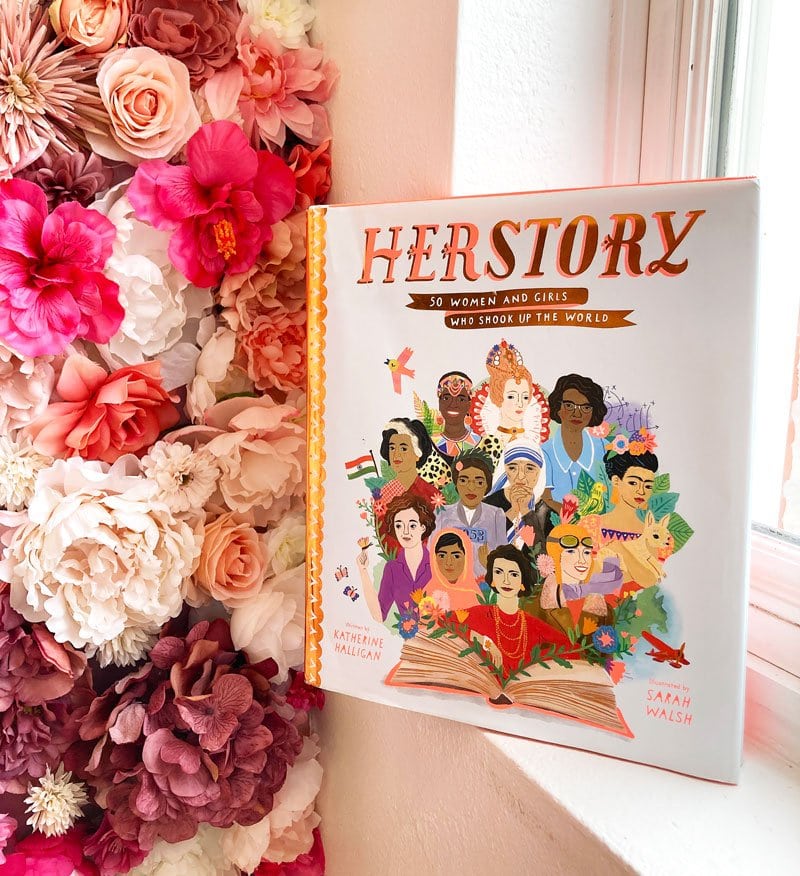 ---
Board Books
An omniscient narrator begins by telling young readers all the reasons they look up to Ruth Bader Ginsberg.
First, Ruth is smart. She listens and reads, and learns from others. Ruth is strong. She takes care of her body so that she can feed her mind too. Ruth is a leader. She works to create equality in the world, and so can you.
Interspersed with RGB quotes throughout, this is one of our favorite selections from the I Look Up To… series.
Ages 0-3
---
Compilations
Divided into five sections, this book provides a two-page spread on 50 women from around the world – from Indira Gandhi (the first woman to be elected to lead a country) to Billie Holiday (the great female jazz singer of the early 20th century). After reading the entry to Florence Nightingale, my oldest daughter decided to do a "report" on what she had learned about the founder of modern nursing.
With over 100 pages, this expansive book is one to reference for years to come.
Ages 8+
---
This is one of those books that begs to be owned because the case cover (what's under the dust jacket) is worth savoring and nearly impossible to see when you check it out from the library. The timeline of this book spans from the early 1780s and goes to the modern-day.
It features stories of women like Molly Williams (the first known female firefighter in the United States) and paleontologist Mary Anning.
If you don't know who the inventor of the modern female swimsuit was, then this is the book for you! As a bonus, you'll likely be intrigued by the illustrators, which means you can look up the other books they have contributed to making.
Ages 4-8
---
Picture Books
One of the very first books I bought for my oldest daughter was this one! With over 50 books in the Little People, Big Dreams series, it's easy to find a biography about a person that piques your particular interest.
When Amelia Earhart was young, she went to an air show and became forever hooked to flying. She sailed over the Atlantic and across the Midwestern plains and founded a club with 98 other fearless pilots. She followed her heart and became a legend the world over doing what she loved.
Ages 4-7
---
Mae grew up as a Black girl in Alabama in the 1960s. She was unexpectedly hooked on science when she got a splinter and studied the pus that oozed from her wound. At age 11, Mae decided to commit her extra energy to dance, which seemed contrary to her previous commitment to science.
Eventually, her parents helped her see that her dreams didn't have to be mutually exclusive, and at the age of 16, she started college and graduated as a Doctor of Medicine in 1981. When Mae was accepted to the NASA astronaut program, she truly broke history as the first Black person and only Black woman to train in the space program.
Filled with intricate paper collage and ten key lessons from Mae's life, this is an excellent primer for budding scientists.
Ages 8+
---
A keen observer, Jane invented the stories no one else told at that time. Although urged by society to marry, Jane kept at her writing and eventually had four books published during her lifetime (the last two were published posthumously). With lavish illustrations and a smattering of clever Austen quotes throughout, this book is worth seeking out.
Fun fact: I made my husband read Pride and Prejudice while we were dating (he, in turn, had me read Ender's Game).
Ages 6-8
---
Katherine loved to count, and her bright mind let her skip three days. When she was 10, she was ready for high school, but her family had to move to find one for her to attend as a Black student. After graduating, there were no research jobs available to Katherine, so she became an elementary school teacher.
After waiting, Katherine eventually got a job at NASA. Her leadership skills and mathematical prowess put her on the Project Mercury team (the mission that sent the first men to the moon). When Apollo 13 exploded in space, Katherine made the calculations to get the crew safely back to earth.
A groundbreaking pioneer in her field, Katherine Johnson is truly an inspiration and has a few picture book biographies about her.
Ages 5-9
---
At outdoor cafes and in the streets, the drum dream girl hears the sound of congo drums, and her heart beats faster, her feet start dancing, rhythm pulsing in her soul.
At carnivals, she sees the dancers on stilts and is pulled to the music, even though everyone reminds her that only boys play drums. But still, the brave girl dares to play—tall conga drums, small bongo drums, round timbales—as she sets the music free from her soul.
With her big sisters, they form an all-girls band. Inspired by the Chinese-African Cuban girl who convinced Cuba that girls too could be drummers, this vibrant award-winning book is a family favorite.
Ages 4-7
---
At the age of 32, Kate Kaird immigrated with her son Jacob from Germany to the United States. She soon met and married a man named John Walker, and together the trio moved to Robbins Reef, where her husband took the position of lighthouse keeper off of Staten Island, NY. Kate applied to be an assistant lighthouse keeper and was given the job.
Together the family watched as the Statue of Liberty opened. Not long into their stay at Robbins Reef, Kate hoisted the American flag upside down to signal a call for help. John was taken to the mainland and died suddenly.
With her two young children, Kate became a temporary keeper until the Lighthouse Board gave her a permanent position with better pay. A beautiful account of a bygone era.
Ages 6-8
---
In a time when girls wore dresses and boys wore pants, one little girl decided that running and keeping warm was better done in pants. So Mary Walker took a stance and went to school wearing "boys clothes."
Though she was taunted and mistreated by both kids and adults, Mary held firm to her convictions and continued to wear pants despite the public uproar.
With patterned graphics and a palette of blue, pink, yellow, and black, this book strikes a chord with all kids.
Ages 4-8
---
Artist-architect Maya Lin was encouraged from an early age to think independently and create with a variety of mediums.
During her last year of college, Maya entered a contest to design a memorial to honor soldiers who died during the Vietnam War. The rules stated that the memorial must blend into the landscape and include the name of every soldier who died fighting or was missing (almost 58,0000 names). Maya studied the landscape and sculpted her entry out of mashed potatoes and clay. Out of 1,421 entries, her design was selected.
Soon outside pressure to change elements of her design mounted, but Maya didn't back down. Once her simple yet innovative design was approved, she worked with a team of architects and engineers to install the solemn memorial. A place where people could walk and read or touch the names of loved ones lost.
Although the Vietnam Veterans Memorial was her first work, each subsequent project displays the same consideration to minimalist detail and thoughtful naming of each piece.
Ages 5-8
---
Young Sylvia becomes enamored with dance after watching a performance of Swan Lake on television. Unfortunately, ballet lessons cost money, and her family can't afford them.
Undeterred, Sylvia finds books about ballet at her local bookmobile and soon teaches the other girls in the neighborhood. When her fourth-grade teacher offers to pay for lessons, none of the schools take her because she isn't white. However, Sylvia's fortunes change after a successful performance at the school talent show.
I especially enjoyed reading the backmatter at the end of the book.
Ages 4-8
---
Three separate girls in three parts of the world (America, England, and Russia) have an early encounter with aircraft at the beginning of the 20th century, and from that moment, they are determined to fly one day. Then WWII begins.
Soon, women join the war effort in droves, becoming members of the Air Force and training to become pilots. Women want to do their part and quickly demonstrate their aptitude for hard work.
Although longer than a typical picture book, this 80-page story (paired with pencil-sketch illustrations) soars with the grit of women (and men) working together to achieve a common goal. One not to miss.
Ages 7-10
---
Barbara Jordan was born in Texas, and from her earliest beginnings, her contemporaries knew she was different. Something in the commanding and confident cadence of her voice inspired others. Stirred them, even.
She nurtured her mind and became a lawyer but found her true calling in the political upheaval that permeated America in the 1960s. "Barbara wanted more justice and more equality. She knew that these things began with more citizens sharing their voices with their representatives in government." So she ran for political office and lost twice before finally becoming a Texas state senator.
She used the power of her voice both on the Senate floor and in those casual but formative encounters with colleagues. In 1972 Barbara moved up to the United States Congress, where she helped the country navigate the treachery of its highest officers.
Ages 7-9
---
Born off the coast of Boston on the small island of Nantucket, Maria was an observer from a young age. With her father, Marie observed the night sky from her rooftop. She learned to use a telescope and became acquainted with the names of stars, planets, and other celestial phenomena.
She became a librarian, and one clear October evening, she discovered a blurry comet soaring through the sky. Miss Mitchell was eventually awarded for her discovery and is still celebrated with a museum in her honor on her small island home.
Ages 5-8
---
If you liked this post, you might like these too: