14 Children's Books About Birthdays!
Few things are as exciting to a child as celebrating their birthday. Indeed the countdown seems to start months in advance of the actual event. Do you celebrate by letting your child choose their dinner? Is cake an absolute must?
However you celebrate birthdays in your home, be it with a piñata, pool party, or an excursion to the ice cream store (perhaps all three!), birthdays hold a bit of magic by the sheer nature of celebrating the life of your little loved one.
Growing up, I always cherished hearing my own mom's memories surrounding my summer birth. Now, with my girls, I generally feel a mix of nostalgia with each celebration, for the simple knowledge that every day my kids are a little bit older—growing into the people they are meant to be. Parents the world over know this bitter-sweet feeling.
While balloons and cake may be standard birthday fare, be sure not to overlook the bounty children's birthday books can provide. Growing your child's personal library is a gift that will last years into the future.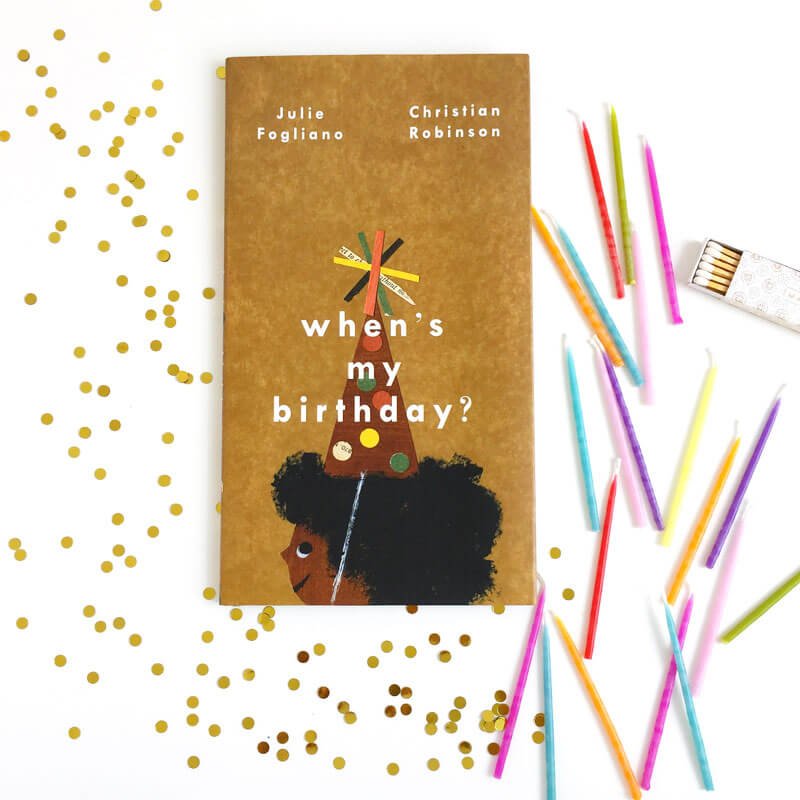 ---
Picture Books About Birthdays
The talented hatmaker, Madame Chapeau, lives above her hat shop with her cat and dog. Just one day a year, she pulls out her best dress, paired with a custom hat, and struts down the street.
When a crow steals her hat, she is offered several others, each from kind strangers she passes on the street. However, the presented hats are best suited to each current wearer. At last, a young girl arrives on the scene and gives Ms. Chapeau a hat of her own, one knitted with love.
This one is a lyrical take on the kindness of others and a throwback to stylish hat-wearing days.
Ages 4-7
---
After being invited to the Princess's tenth birthday party, enterprising Jack decides to bake the most delicious cake in the land. Trouble is his cake soon starts disappearing on his journey to deliver it. Will Jack turn up empty-handed at the royal birthday bash?
Jack's endless optimism is a true inspiration.
Age 5+
---
There's something remarkably comforting in reading a book that depicts the same season of life you (or your offspring) are currently experiencing. I felt this way the first time I read You Are Two, shortly after my firstborn turned two.
Poignant prose strikes a heartfelt chord, reminding caregivers to pause and remember the fleeting nature of childhood days. With warm illustrations of diverse children and abstract familiar childhood objects, each image evokes an endearing and familiar quality that begs repeat reads.
Lastly, it's safe to say that each book is the perfect gift for a child approaching each respective age.
Ages 1-3
---
A veritable countdown to that eternal childhood question told in a bouncy rhyme. This book includes collage illustrations that add a playful element, all leading to that much pined for day. We especially like the colorful birthday tracker at the back of the book.
Ages 3-7
---
Loosely constructed rules (i.e., it MUST be your birthday unless, of course, your life cycle is less than a year) make up this humorous tale.
Hats and streamers are required to create ambiance unless, of course, you are a swordfish because they might induce an inevitable POP! A dessert that begins with the letter C is preferable, but any dessert is best.
Kids will relish the flexible rules, all leading to a slam-bang finish.
Ages 3-7
---
When Grandma Z unexpectedly arrives on Albert's birthday, the two take off together on a series of most unordinary adventures. With a dragon, roller coaster, pastry chef, kaleidoscope of butterflies, and more, this book is a true delight and may have you pining for chocolate cherry ripple cake.
Ages 4+
---
An unanticipated/unwanted gift is the perfect opportunity to practice graciousness. Figuring out what to do with your new lemon tree comes next.
Follow a young girl as she decides to nurture her plant throughout the year to yield not only ripe lemons but an opportunity to give back to her community. Possibly my favorite book on this list, this one has a timely message to today's modern caregivers to delay screens whenever possible.
Ages 4+
---
8 | Baby Day by Jane Godwin
It's baby's birthday today, and there's going to be a party. Dozens of babies, each with unique temperaments and abilities, clamber through the pages, each testing out the water with so many other pint-size playmates.
All the emotions of a first-birthday party are accurately conveyed through the simple text of this endearing book.
Ages 1+
---
A band of animal musicians gathers, each playing their respective instruments, to wish one special Little Otter a magical day. Small children especially love pressing the buttons and have no trouble turning the sturdy board book pages.
Ages 0-3
---
An enterprising toddler is celebrating his/her birthday by making a cake. Which first requires gathering each ingredient. With helpful animal friends, the young child is finally able to craft a masterpiece.
This predictable text that adds on with each page is a great one for helping children develop story recall.
Ages 3-6
---
Georgie loves throwing parties. For any occasion, really. He loves the planning, the invitations, the cake, and most of all, celebrating with friends.
When Georgie decides to throw a party and invite all his regular guests, he's disappointed that no one can come. Dejected, he heads home but is delighted that his friends brought the party to him. Though not a birthday-specific book, it is still festive nonetheless.
Ages 3+
---
Little Amy Scott receives a goldfish for her birthday and loudly proclaims, "Goldfish are BORING!" In a fit of ingratitude, the spoiled child drops her birthday present in the ocean.
Sherman tells the story to Sadie, and together the two of them (along with a band of boisterous monkeys) set off to rescue the abandoned goldfish. A moral wrapped into a humorous adventure.
Ages 4+
---
Weary parents will identify with those early morning wake-up calls so characteristic of I-can't-wait-anymore childhood mornings. The entire Pookie board book series is ideal for first-time parents.
Ages 1-3
---
Henry just wants to go to bed because tomorrow is his birthday. Unfortunately, his parents just want to stay up and play. In the morning, Henry is greeted by chocolate cake for breakfast, which he doesn't want.
Regular routines are in a muddle since Henry's parents only want to have fun (something Henry wished for on his birthday cake last year). Now Henry longs for another birthday wish to restore life to the way it once was. A humorous role-reversal read.
Ages 4+
---
If you liked this post, you might like these too: