Diverse Children's Books for Every Bookshelf
There was a time when Corduroy and The Snowy Day were some of the only children's books available featuring diverse characters. In the last decade, however, children's publishing has shifted to include more books featuring non-white characters, written and illustrated by more non-white authors and illustrators. This is a huge step towards creating a selection of children's books with greater representation.
In the back matter of Parker Looks Up, Amy Sherald, the acclaimed artist best known for her official portrait of former first lady Michelle Obama, states that "Without representation of all, there will be stories that are missing. I see it as my responsibility to make sure that little girls and boys can walk into an institution like the Smithsonian and see that there are people who walked before them, who not only looked like them but whose accomplishments were so great that their legacy has been archived for all to see."
Building a diverse bookshelf (both in the classroom and at home) is one way to foster conversations about race and (hopefully) raise a kinder, more tolerant generation. We hope you'll seek out some of these 14 diverse titles for children.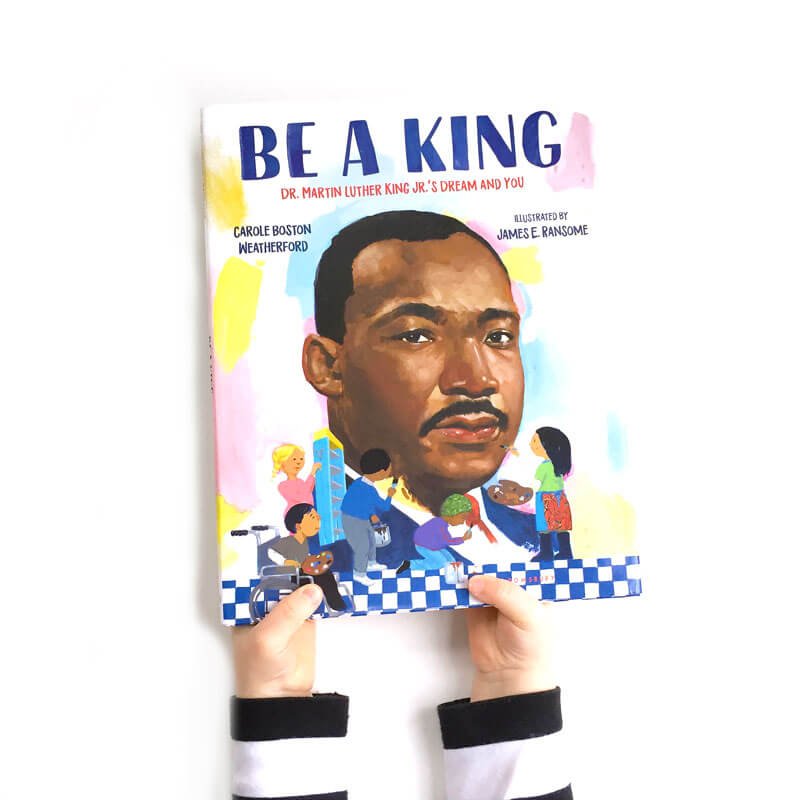 ---
Board Books
A primer showcasing nine different head coverings of religious people throughout the world. Colorful and inclusive for even the youngest reader.
Ages 0-3
---
A rhyming celebration of children's body parts (both seen and unseen), this uplifting book is a wonderful way to cultivate self-confidence from a young age. Bonus: it makes a brilliant baby shower gift.
Ages 0-3
---
Picture Books
3 | Astro Girl by Ken Wilson-Max
Astrid loves space and aspires to be an astronaut. When she tells her Papa her dream, he asks a series of questions to ensure she's ready for such a rigorous career. Soon we learn Astrid has a real-life hero (her mother) in whose footsteps she's hoping to follow.
With a brief bio of other women astronauts, this is an inspiring book for young space lovers.
Ages 3-7
---
A fitting tribute to the legacy and ongoing mission of Dr. Martin Luther King Jr. Beyond that, this book is a tool to engage young minds in discussing ways they can advocate for equality through their direct actions, be they large or small.
Ages 3-8
---
An ordinary city wall, a block long, is present to the seasonal activities that happen throughout the community. For many years, the wall is neglected until a young artist takes his pencil, paint, and dreams and unites with others to create an urban work of art on the wall's blank canvas.
Ages 3-8
---
Khalida wakes in the night, drowsily makes her way to the piano, and attempts to capture the melody that roused her from sleep. At school the next day, she finds herself in the auditorium again aching to capture the muse. However, she is continually thwarted each time her hands set upon a keyboard. Will Khalida ever capture the song begging to be freed?
Ages 3-8
---
A seven-year-old named Layla reflects how the dark sky reminds her of purple plums, which she loves. We then experience parts of Layla's day (and life) that she savors, each bringing her happiness. From slurping spaghetti to hearing her dad tell stories from his youth or watching plants grow in the community garden, all are small pieces of one exuberant girl's happiness.
Ages 3-7
---
8 | Nighttime Symphony by Timbaland featuring Christopher Myers
A young boy's father reassures him that though the storm is wild outside, he is safe inside, listening to the raindrops tap upon the window and watching cars cast silhouettes with their headlights.
Soon the rain turns to the beat of a musician, and readers are swept into a world of melody and light. A truly mesmerizing poem, exquisitely rendered with vibrant images.
Ages 4-8
---
9 | One is a Piñata by Roseanne Greenfield Thong
With over 20 Spanish words woven into the text, this counting book is a gratifying homage to Mexican culture and Spanish speakers the world over. Keep this one in mind for your Cinco de Mayo celebrations.
Ages 3-6
---
10 | Parker Looks Up by Parker Curry & Jessica Curry
One morning Parker Curry, her mother, and little sister take a trip to the museum. Once inside, the girls admire portraits featuring horses, flowers, shiny jewelry, and an assortment of other objects until the moment when Parker freezes, gazing up spellbound at Michelle Obama's unforgettable portrait.
This book has a powerful message that reminds readers of their endless potential.
Ages 4-8
---
The youngest of five girls, sisters Venus and Serena practice tennis on a dilapidated court in their California neighborhood. Back and forth, thwack and thwonk, the two concentrate. In their first tournament, the girls put their hard work to the test and win. Soon a trophy collection begins and the two rise to an influential career, showing outfits and hairstyles that have never been seen on a tennis court before.
Through sickness and hardship, the strong women stick together and continue to play tennis, garnering fans worldwide.
Ages 4-8
---
12 | Sulwe by Lupita Nyong'o
Sulwe dislikes her dark skin and wishes she was the same color as her sister. One morning she tells her mother how she feels, crying about her perception of herself. With words of encouragement from her mother, Sulwe begins to ponder how her beauty comes from her mind and heart.
One night a star shows her how Night and Day, portrayed by two luminous female forms, were created, separated, then reunited, each needing the other to make the world complete. A truly poignant picture book.
Ages 4-8
---
Based on a short film and song, this song set in book format speaks of the tragedy and death of the nine congregants from Emanuel African Methodist Episcopal Church in the summer of 2015. While words could not convey what must be said, President Obama spoke of grace and sang a beloved hymn to the grieving community.
Ages 5+
---
A young girl is plagued by questions from her schoolmates and teachers, all wanting to know where she is from. Because she can't answer their question in a way that satisfies her peers, she turns to her abuelo to ask "Where am I from?" With thoughtful reflection, her abuelo poetically recounts the places of her heritage, each one embedded within her young being.
Ages 4-8
---
If you liked this post, you might like these too: