The Target Car Seat Trade-In Event is Back!
(This post contains affiliate links. See our disclosure.)
Hey parents, mark your calendars – Target's incredibly popular car seat trade-in event is returning in April 2022 and we've got all the details for you! 🙌🏻
Bring in your child's old car seat to any Target store between Monday, April 18th and Saturday, April 30th, and trade it in for a 20% off coupon you can use towards a new car seat, stroller, or select baby gear home item.
Similar to the last few trade-in events, Target will have a no-contact trade-in process via Target Circle. Everything you need to know is below!
Join our Facebook Group and follow on Instagram to see our hand-picked daily deals!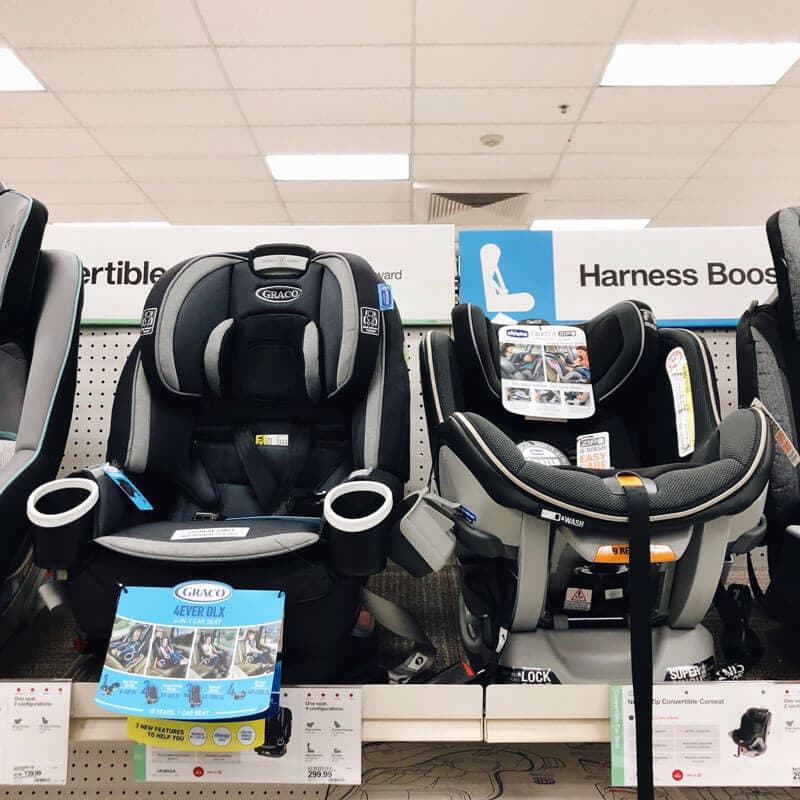 ---
How the Target Car Seat Trade-In Event Works:
Bring your used car seat to the designated drop-box at any participating Target store anytime between Monday, April 18th and Saturday, April 30th.
Target will accept and recycle all types of car seats including infant car seats, convertible seats, car seat bases, harness or booster seats, as well as car seats that are expired or damaged.
Guests must be enrolled in Target Circle to participate in the trade-in event (it's free to sign up). Drop your car seat in the designated box and then use your mobile device to scan the box and receive your 20% off coupon.
Guests will receive one coupon per Target Circle account. The coupon is redeemable twice through Saturday, May 14th.
When you're ready to use the coupon, go to your Wallet in the Target App or, if shopping online, visit Target.com/circle. The coupon can be used in stores or online and applies toward a new car seat, car seat base, travel system, stroller, or select baby home gear such as playards, high chairs, swings, rockers, and bouncers.
Target Car Seat Trade-In Tips:
Coupons can not be stacked on top of each other, but they can be combined with most other item offers (see Target's current Baby Deals)
Use your REDcard to save an additional 5% and get free shipping on your online purchase (non-cardholders get free shipping on orders of $35+).
If you don't have a car seat to trade-in, you may be able to find a FREE used car seat through Facebook Marketplace or your local Buy Nothing Project group.
As stated above, whether shopping online or in stores, shop early in the event for the best selection!
And what happens with those old car seats you're turning in? Target partners with Waste Management, which uses the materials to create new products such as pallets, plastic buckets, and construction materials. So by participating in this program, you not only get to save money but also help the environment!
How Often Is the Target Car Seat Trade-In Event?
The Target Car Seat Trade-In Event happens twice a year, every spring and fall. Since the program first launched in April 2016, Target has recycled 25.4 million pounds of car seat materials!
When is the 2022 Target Car Seat Trade-In?
The spring 2022 Target Car Seat Trade-In is scheduled to kick off on Monday, April 18th. No dates have been announced for the fall trade-in event. Based on past years, we anticipate the fall event will occur in September.
Be sure to follow along on Instagram and join our Facebook Group to be notified as soon as the car seat trade-in event (and other big baby sales) are announced!
---
If you liked this post, you might like these too: