The Best Board Games for Preschoolers
So, your preschooler has mastered all the games in your game closet, and it's time to refresh their stash? As someone who lives with a preschooler, I can attest to the shift in their brains that warrants all new challenges. Just this week, I unwrapped a new puzzle for my four-year-old and said, "Wow, this looks hard!" He watched me unwrap the puzzle and replied: "I can do hard things." Touché, little man. Yes, you can!
We've pulled together a list of the best board games for four-year-olds, preschoolers, and smart kiddos who are looking for a challenge. The question is: Will they beat you outright?
See our favorite board games for kids of all ages in our Family Game Night Hub.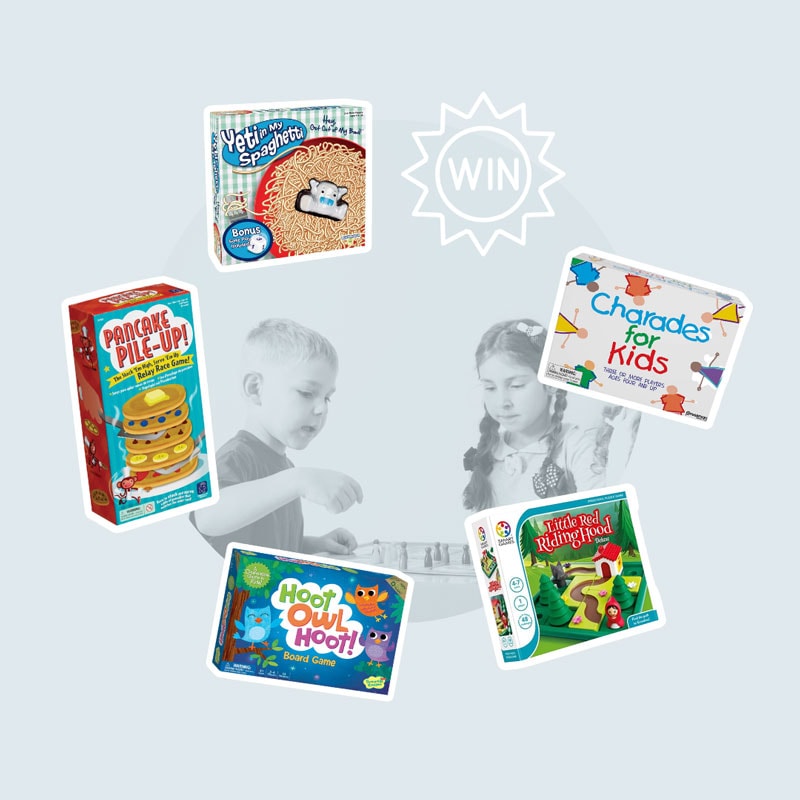 ---
There are many great things about this game, but our favorite is that it grows with your kids: Four different skill sets (Starter, Junior, Expert, and Master) challenge even the brainiest preschoolers, and an included 48-piece puzzle will surely keep your little busy.
Can they help Red Riding Hood find Grandma's house in the forest? Can they out-smart the wolf when he appears? Find out in this preschool puzzle game that builds skills like spatial insight, planning, problem-solving, and more!
---
If your four-year-old is a big breakfast fan (breakfast is one of the few meals our little man really gets behind—he's so picky!), this is the preschool game you need. Kiddos will be challenged to stack and serve their pancakes to match their order cards. Be the first to correctly complete a pancake stack and top it with a pat of butter.
This relay-race preschool game gets your littles up, moving, working as teams, and (very likely) shrieking. A perfect game inside or running around the backyard!
---
Somewhat similar to the classic Break The Ice, Yeti In My Spaghetti is a fun game that focuses on fine motor skills. Preschoolers are tasked with placing the noodles across the top of the bowl and sitting Yeti on top. They then take turns removing the noodles one by one without letting Yeti fall. Who will make him fall first?
---
I need to take a moment to collect myself before writing about this one because I have had a decades-long love affair with Sequence and had NO idea there was a version for preschoolers! Now that I've added it to my Amazon cart, I can tell you this strategy game is just like the classic in logical thinking and pure joy, except that it requires no reading.
Your preschooler will play an animal card from their hand and place their chip on the corresponding animal on the board. Wild cards add excitement to the game—kiddos can use a unicorn card to place a chip anywhere or use a dragon card to remove an opponent's chip. The first player with four chips in a row wins!
---
We love matching games at our house, and this color-coordinated preschool game teaches players to cooperate to help owls fly back to their nest before the sun comes up. Help all the owls home before sunrise, and everyone wins!
Kids learn simple strategy, following directions, and taking turns while they are in cooperative play. Two game levels grow with your child and let older kids play with younger ones, too.
---
Let's be honest: Not all preschool board games are fun for the whole family. Charades is always a good time, though. In the kid-size version of this classic game, cards have clues with pictures, making it easy for non-readers while also reinforcing early reading skills.
Three levels of play allow younger players to participate while still making it challenging enough for older players. Add it to your stack for the next family game night!
---
A winner of multiple game awards, Zingo (Bingo with a zing!) is a fun pre-reading and matching game for ages four and up. It's made with high-quality game pieces and comes with a very clear and easy-to-understand instruction manual—your kiddos will be able to play within minutes of opening the box.
Like all of ThinkFun's games, Zingo is built to develop critical thinking skills and makes for a fun and challenging activity. Playing will improve language skills through fun and fast-paced play.
---
Is your preschooler a foodie? OR, do you want to encourage your four-year-old to become one? This is the game for you!
This bundle of Frankie's Food Truck Fiasco Game and Board Book gives kiddos a taste of shape-tastic recipes for fun. Business at Frankie's famous food truck is brisk: kids take turns using the Frankie Squeezer to fill tasty orders. The first to deliver a five-course meal is the winner! Preschoolers practice shape recognition and early math skills. The game also helps to develop fine motor skills, hand-eye coordination, and social skills.
And when the game is done, the beautifully illustrated board book reinforces the learning—and the fun!—with plenty of surprises on every page.
---
If you're a parent of a certain age, you grew up on Richard Scarry. In this game featuring our favorite character of yesteryear, your kiddos will race around town solving mysteries. How many objects can they find? They'll join Huckle Cat and Lowly Worm on a fun-filled race around Busytown to solve mysteries and find hidden objects. They'll drive through lively city streets, an activity-filled farm, an action-packed airport, and a bustling harbor full of silly boats.
There's much to discover on this gigantic, colorful game board that's over six feet long! With hundreds of objects to find, this game provides hours of fun while building confidence each time a child says, "I found it!"
---
In My First Castle Panic, monsters are racing out of the woods toward your preschooler's castle! They'll need to catch all of the monsters before they smash the castle flat. Littles will match their cards with the color and shape of the spaces with monsters to catch them. But, watch out! The monsters move closer to their castle every turn as more are added to the board.
---
Play bingo with a menacing mummy, a bowler-hat-wearing yeti, a multi-eyed monster, and many more creepy creatures in this fun and inventive take on the classic game…if you and your littles dare. Scary Bingo is easy to play and full of strange and colorful characters—it will engage and delight children for hours.
This perfect board game for a small group of preschoolers contains 48 chips and a cardboard monster head to store them in, a game board, eight double-sided bingo cards, and googly-eyed counters for you to mark up cards. Grab this for your next birthday party or family get-together!
Get a game off of this list? We love to see fun in action! Tag us on Instagram: @thriftylittles.
---
If you liked this post, you might like these too: