The Best Bento Boxes for Young Kids
Packing lunches and snacks for picky little people is easier with a bento box. Even if you were blessed with a kiddo who has an advanced palette, arranging their to-go meals in a bento box is more satisfying than throwing a few Stasher Bags in a traditional lunch box. It is for us, at least.
But, which bento box is the best for young kids? This question comes up a lot when parents are preparing for back to school. There isn't one overall winner, per se, but there are some things to consider when making your choice:
Are you looking for a bento box that will stand up to daily use for years, or do you need one for occasional outings?
Do you prefer stainless steel or plastic?
Does your child like to eat warm foods or finger foods?
Do you want space for a whole sandwich?
This list contains the most popular Bento Boxes for young kids, plus what might make each one a good fit for your family. After you've picked your Bento Box, head over to see our top lunchboxes and lunchtime accessories!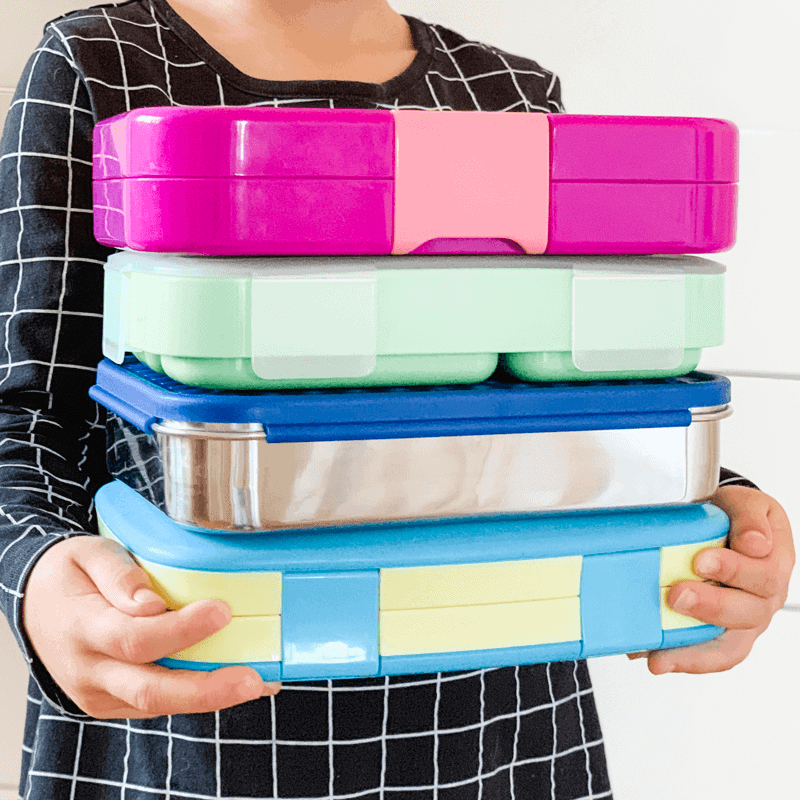 ---
What to Look for in a Kids' Bento Box:
Easy for kids to open on their own: clasps they can grip and flip, as well as a sturdy carrying handle
Leakproof: a strong seal that keeps items in their compartment, even if the bento box gets bumped or bounced around during transport
Easy-to-clean: can be wiped or washed without having to remove a bunch of parts
Warm foods vs. finger foods: insulated to maintain temps, whether packing warm or cool foods
Material: free of all the bad things (BPAs, dyes, etc.), nontoxic, and borderline indestructible
With these criteria in mind, and in no particular order, our favorites:
The Bentgo Kids' Bento Lunch Box is a top pick for young kids because it is durable and easy for little hands to open. Not to mention, it's cute! The BPA-free bento box is leakproof and has five perfectly portioned compartments of various sizes (1 cup, two 1/2 cups, and 1/4 cup), plus a small round one for dipping sauces or treats.
The interior tray can be removed and is both microwave and dishwasher-safe, and the rubber around the edges makes it drop-proof. Featuring two kid-friendly latches and is available in a rainbow of colors and a variety of fun prints!
We particularly love that Bentgo also sells additional tray inserts separately, making prepping multiple meals days in advance possible!
Things to consider:  The food compartments are pretty small, so this one is ideal for toddlers and preschoolers, or kids with small appetites. Have a little one with a big appetite? They have a NEW larger size available!
Pro tip: Add a Bentgo Double Insulated Lunch Bag or a Bentgo 2-in-1 Backpack & Insulated Lunch Bag to your cart, too. They fit the Bento Lunch Boxes perfectly!
---
Another top choice from Bentgo! Like the option above, the Kids' Chill Lunch Box is BPA-free, has a leakproof design, and the tray is both microwave and freezer-safe. What makes this one different is the unique removable built-in ice pack that nests below the food tray. Pop the ice pack in the freezer overnight, and insert it into the lunchbox on the days you want food chilled.
This sleek, bright bento box has four compartments (1 1/3 cup, 1 cup, and two 1/2 cups) and just one kid-friendly latch. Also available for purchase is the additional tray inserts for meal prep.
Things to consider: This one holds nearly one cup more of food than the classic Bentgo Kids' Lunch Box, making it a good option for early elementary and kids with bigger appetites.
Pro tip: Similar to the classic Bentgo Kids' Chill Lunch Box, this one also fits the Bentgo Double Insulated Lunch Bag and Bentgo 2-in-1 Backpack & Insulated Lunch Bag.
---
The Yumbox Bento Box has a tray that's divided into six compartments (five 1/2 cup portions plus a dip/treat tray), all adorably illustrated with a food group to help your child learn about nutrition. Each compartment is leakproof, which gives you the flexibility to pack a sandwich next to applesauce with no worries, and the latch is big and easy for young kids to use. The tray is also dishwasher safe.
Things to consider: The Yumbox also comes in a four-compartment option that's great for sandwiches. However, keep in mind that the trays are not interchangeable and must be used with their corresponding outer boxes to be leakproof.
Pro tip: The Yumbox fits most standard-sized lunch totes, including the PBK Mackenzie Cold Pack Lunch Boxes.
---
Of the bunch, the OmieBox is the most versatile bento box on this list as it lets you easily pack hot or cold food together with other foods. It comes with a 8.5 oz stainless steel thermos insert that keeps food warm (or cool) or can be removed to fit a sandwich. Plus, the lid on the thermos insert is easy to open, even for little kids!
The Omiebox comes with a divider to customize compartments, which gives you even more packing options. The long compartment fits a boxed drink, and it has a built-in handle so your kiddo won't need a separate lunch bag.
Pro tip: Omie makes the cutest matching silverware set that attaches to the outside of the lunch box.
---
If you're considering a stainless steel bento box, the PlanetBox Rover is the most popular option for kids. It's the priciest on our list, but it is a worthwhile investment since it will last for years! It has four food compartments and one treat spot, plus it comes with two sealable food containers with easy-to-remove silicone lids. And lastly, it's dishwasher safe.
Things to consider: The Rover doesn't fit in most standard lunch bags because of its unique shape. It may be best to keep things simple by ordering the Planetbox Carry Bag or do the Build a Kit which includes a carry bag, water bottle, and magnets to customize your lunchbox.
---
The LunchBots Bento Box is another excellent stainless steel option with the benefit that it is a standard size and will easily fit into most lunch boxes or bags. It has five compartments that hold a decent amount of food. It's dishwasher safe and, because it is made of stainless steel, it is virtually indestructible.
Things to consider: This bento box isn't leakproof, but you can buy matching leakproof containers in condiment or twist-off styles.
---
If you're looking for an affordable option with a fun bento feel, the Sistema Bento System is an excellent option. The BPA-free bento cube has three compartments with two removable trays, which give you lots of ways to pack your little's snacks or lunch. The Sistema also comes with a screw-top leakproof container that fits inside one of the compartments or can be packed separately for yogurts and dips.
It has one easy-locking clip that's simple for toddlers to open, and it's top-rack dishwasher safe.
Things to consider: The Sistema Bento system comes in three different sizes—the Cube is 5.3 cups, the Lunch is 6.9 cups, and the Box is 7.4 cups.
---
The simplest set on our list, this EasyLunchboxes Bento Boxes are a parent favorite, especially for the price. Each BPA-free container has four equal compartments, and although it's not leakproof, it's great for finger foods. It comes in a set of four, and they nest together, saving valuable space in your cabinet. This set is also microwave, freezer, and dishwasher-safe.
Pro tip: EasyLunchboxes are a heavier quality than similar "take and toss" items. The waste-free containers will last through months of packing, ensuring the best product for you and the planet!
---
What we know Munchkin understands is that young kids can be particular about…mmm, everything, especially food. Munchkin's Toddler Lunch Bento Box is designed to fit kid-sized portions and small hands. Use the five compartments to pack lunch, snacks, treats, and boxed drinks all in a lunch box that's as cute as it is practical.
A few characteristics that make this one unique are the carrying handle and the included stainless steel utensils that easily store right in the lid, so everything you need for lunchtime is ready to go.
Pro tip: If messy or wet foods are packed, utensils can be stacked together and stored in one section.
---
The perfect option for small snacks on the go, the Kinsho Snack Containers for Kids comes in a 2-pack of cute bento boxes in a variety of colors. The mini size is perfect for small appetites, after-school snacks, food while traveling, or any time you need food on the go. These boxes have three compartments, holding 2.25 cups of food, and include a spork. They're made from BPA-free plastic with a silicone overlay on the lid for extra strength.
Things to consider: The seal is TIGHT and it has four latches so young children may need assistance opening.
Pro tip: You'll need to hand wash the lid to maintain the seal's shape. Bottom boxes are dishwasher safe.
Now, the only question is: Which bento box did you add to cart for your young kids? We'd love to see how you're using them! Tag us on Instagram @thriftylittles.
---
If you liked this post, you might like these too: