Books for Kids Who Love Vehicles
Is there anything more mesmerizing to a young child than larger-than-life vehicles? The ordinary and even mundane become magical when viewed through the eyes of a child. With big wheels and loud noises, it's no wonder garbage day makes kids race to the window.
Have a construction site in your neighborhood? No doubt you've made regular visits to view the progress and watch the machinery in action. Trucks and trains, planes, and cars are made accessible to kids through miniature version toys and can be seen nearly everywhere one goes.
I'll never forget that the first board book my second child became completely obsessed with was a truck book (rightfully included on this list). So warm up your lips and get those vocal muscles ready to do some read-aloud sound effects. It's guaranteed your kids will get a kick out of several books on this list of books all about vehicles!
For more fun gift ideas for kids of all ages, check out the Themed Gift Guides.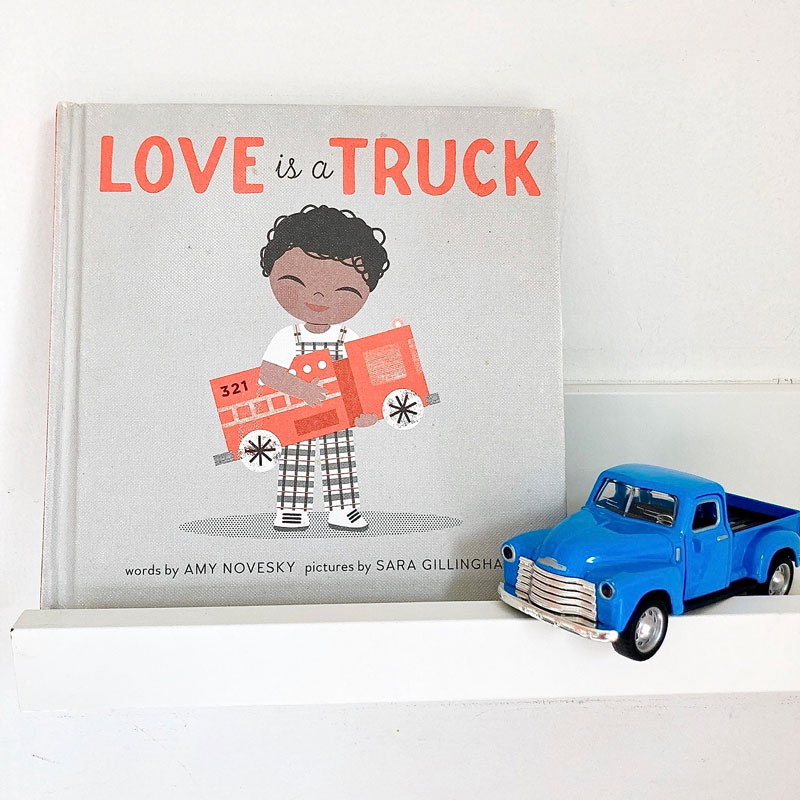 ---
BOARD BOOKS (ages 0-3)
Matt is asked to clean up his room, and as he does, the yellow construction vehicles become part of his play. Pushing piles and lifting socks, all the machines meld the world between reality and imagination as a young boy makes the most of his task. When Matt is finished, he goes outside and sees the same vehicles out in his neighborhood. A classic for a good reason.
---
"Love is a truck, shiny and new."
A young boy sits on his new red fire truck, with his trusty toy dog at the ready to help. A pile of dirt and a dump truck too, and then there's the flatbed truck that can carry the others. Lining up trucks from smallest to largest, or sorting by color, the possibilities are endless.
With black, white, gray, and red images, this rhyming book is a visual delight. (Don't miss Love Is a Tutu by the same author.)
---
Garbage trucks, a semi, an auto carrier, a tow truck, a fire truck, a horse trailer, and more, all Creak and Vrrrmmm and Rooooor, and Wallump down the road.
An onomatopoeic romp,
this elongated board book (and others by the same author/illustrator) is impossible not to love. Be warned. Your child will likely request a repeat read.
---
Trucks by Byron Barton
Trucks on the road, trucks through the tunnel, watch as trucks go about their daily routine. With sparse text and bold images, Byron Barton's books are wonderful for really young children. Plus, this book pairs especially well with some black road play tape and a few handheld vehicles.
---
Remember those old Richard Scarry books with the cat, rabbit, mouse, and bear characters? This book is similar, except it is more of a catalog of all the different types of vehicles you might find in the city, on the water, in the sky, and just for fun. I'm partial to the Funicular and Pedicar examples, but there's lots to see in this comprehensive vehicle book.
---
Another onomatopoeia book, this one is all about a garbage truck starting its rounds on a rainy morning. With bumps and vrooms, creeeeks, and clangs, the truck grabs green bins and removes trash throughout the town. Soon the sun is out, and so are ducks.
But wait, someone missed the garbage truck and is running out in hopes of catching it. A rattling good time with this one.
---
PICTURE BOOKS (ages 4+)
A young child is crying because his toy truck is missing. But mom is going to help locate that missing vehicle. First, they'll try with the big blue Jeep, but when that Jeep gets stuck, they move on to the tall forklift.
As each succeeding vehicle gets stuck in the snow, at last, the duo starts to dig. When—phew!—at last, the missing tow truck has been found. With a dedication noting "girls love trucks, too!" this lullaby-inspired newcomer is a perfect bedtime tale.
---
The Old Truck by Jarrett Pumphrey and Jerome Pumphrey
On a farm, a bright red truck works hard. The farmer has a young daughter, and the child grows. Seasons change, and the truck grows weary and is left beside the barn as flowers and grass soon overtake the once hardworking truck.
Over time the young girl grows, and she becomes the farmer. She hauls out the old truck, and with grit and determination, she restores it to its former glory.
Rendered with beautiful stamp-art, this book is an ode to all the hardworking farmers (human or otherwise) throughout America.
---
Trucker loves the size of his wheels, the blare of his horn, and how mighty he feels when he rules the road. He blasts past other cars, leaving them in the dust.
One day, away from the city, Trucker spots a freight train along the horizon. Trucker races to catch up, not caring much for the other cars on the road. Trucker pulls ahead of the train but is soon halted at a railroad junction, and the track tic-a-tic-a clacks right past. Soon Trucker sees a mishap waiting to happen (a broken off railroad gate) and zooms ahead to stop traffic before it's too late.
Both a cautionary tale and a book about camaraderie and friendship.
---
"There are all kinds of trucks, as everyone knows. Peter finds trucks wherever he goes."
There's a truck with a cow painted on the back at the supermarket, but only milk inside. At the gas station, there's an oil truck. On the street, a moving truck is hauling a piano. A garbage truck rattles by, and an ice cream truck sounds its jingle. At the bank, Peter spys a lady with a security truck that holds money.
Each person has something different to haul, and when at last he gets to the farmer at the end, Peter is rewarded with seeing the cows he wanted to see at the beginning of the story.
This 30-year-old book stands the test of time and is still great for vehicle lovers of all ages.
---
What do a duck boat, a taco truck, and a street sweeper have in common? They all love to be on the road! Some are slow, some drive fast, but no matter their speed, each truck has a driver and a job to do.
Some trucks help on the farm, while others live in the city. Some trucks deliver books, and others serve up piping hot dogs. Trucks help in all weather and have a myriad of jobs to do. With his signature bold images and happy characters, Parr's books pack a playful punch!
---
"Stop, truck! Garbage truck. What a heap of muck, truck!"
Shift and shove, load, and empty. Honking and heading to the country. All the trucks are out for the day, all the trucks want to play. They gather at the new amusement park and then finish the day to snooze in the dark.
With dogs playing the main characters and fantastic endpapers, this rhyming book makes for a playful bedtime read.
---
"Five drivers for five trucks." Can you guess what trucks these drivers drive?
One is long and straight, the other small and speedy. One has many small boxes attached to it, and the other moves up and down. All five trucks work together on the tarmac unloading food and luggage. A mechanic uses one truck to check the plane's wheels, while the last truck pushes the airplane into position.
Although this book is sparsely worded, it is an ideal book to discuss all the moving parts it takes to get one airplane in the air.
---
Little Lobo has a brand new red truck. Today is the day for the celebration. With piñatas, cakes, and presents packed into the truck, Little Lobo and Kooky head off to cross the border, bound for the bridge to get to the celebration.
But soon, a pileup of honking cars is waiting at the bridge, nowhere to go, all in the same line. Some people walk by the vehicles selling snacks (peanuts and agua frescas) to the drivers. Jugglers and street performers entertain the waiting cars.
As the waiting continues and day turns to night, the tired and hungry locals decide to make the party happen exactly where they are waiting. With food trucks and music and fireworks, too, anything is possible when you have a set of wheels.
Interspersed with Spanish words throughout and a handy glossary at the back of the book, the entire ¡Vamos! series is worth checking out.
---
If you liked this post, you might like these too: