Books for Kids Who Love Farms
When I was in college, I romanticized the idea of living in the "olden days." For this reason, I signed up to be a volunteer at a working historical 1917 farm in Northern Utah. I sourced period-appropriate clothing for my role, then spent several months working on the farm, cooking in the summer kitchen, and chatting with visitors about the day-to-day operations of farm life.
I'll never forget going on a date to the farm for an old-fashioned barn dance and then watching a cow give birth to a calf as we left. Like most farms, it was the most lively during the spring and summer months, and I relished those days of being outside and laboring under the delusion that a more rural lifestyle would suit me just fine.
Farms are generally brimming with animals and a generous supply of crops. Maybe your kids have been lucky enough to visit a working farm. Or perhaps you've ventured out to an orchard in the fall to pick apples or pumpkins. Or maybe a visit to the local farmer's market, which is just a more convenient way to access the wares of hardworking framers in your area.
Farming, whether we realize it or not, impacts all of us. These farm books were selected to take you back to the "good old days," even if rural life is outside the norm of our fast-paced, urban lifestyle.
For more fun gift ideas for kids of all ages, check out the Themed Gift Guides.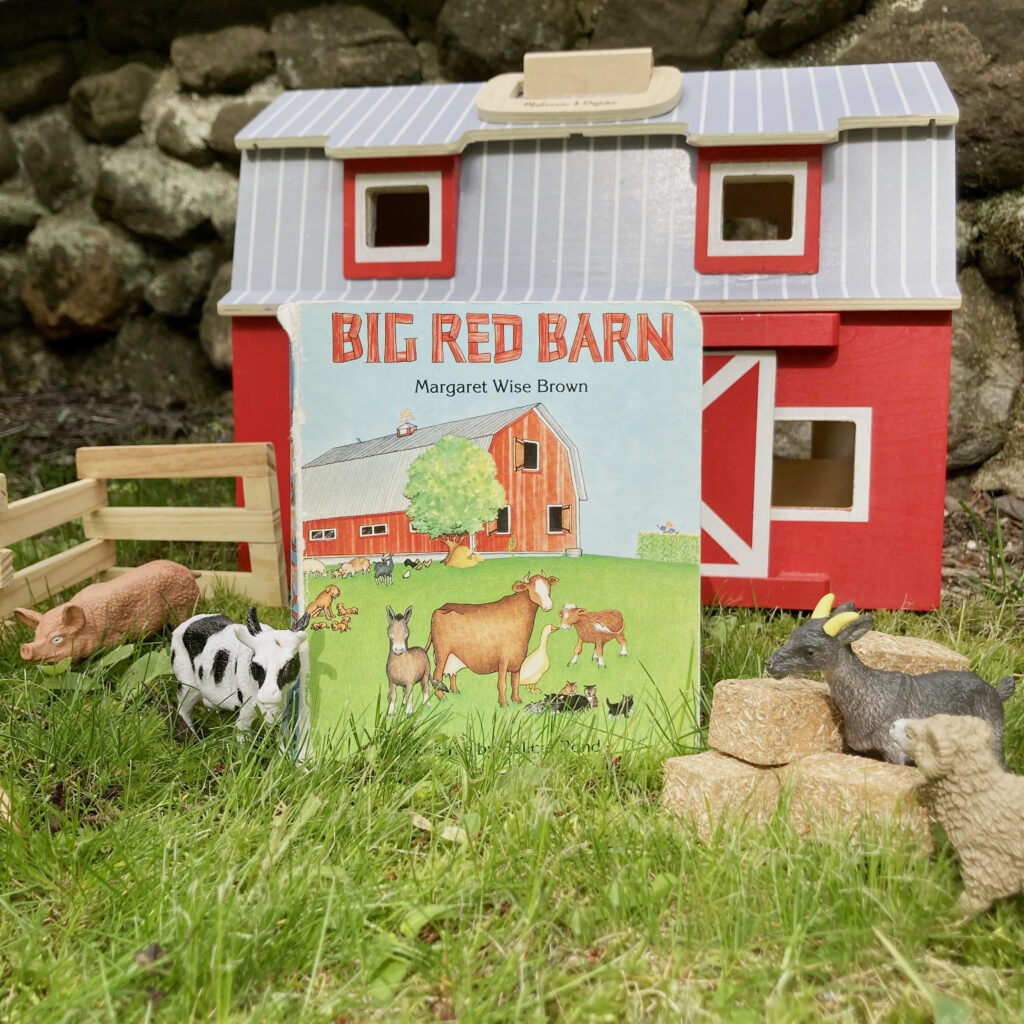 ---
Farm by Elisha Cooper
The opening pages list a glossary of terms, followed by the anatomy of what it takes to make a farm. A farmer (of course), a house, barns, silos, chickens, tractors, an assortment of other animals, farmhands, and so forth, until, at last, there is a farm.
The tiller turns the soil, and the children help with feeding animals and planting. The barn door stays open as the weather warms, and the animals roam free. The smells of cut hay, engine grease, and manure seem to emanate from the pages as we follow the farm through an entire year of changing weather patterns and the weary work of caring for each living thing.
Though this book is on the longer side, the wide-open spreads and Cooper's signature detailed illustrations make it one that reads like a page from the life of a generation of Midwest farmers.
---
"The Cow makes milk standing grazing. Abracadabra! She's utterly amazing."
Rams and dogs, cats cornering mice. A goat with an insatiable appetite and a pig basking in her muddy sheen. Snakes and bees, bunnies and ducks all come together in this selection of short poems paired with intricately illustrated colorful woodcuts.
Give this a whirl and see how your kids react to the quirky rhyme schemes. For bonus points, try making your own rubber stamp woodcuts. It's harder than you think!
---
Ready for some barnyard sounds? Warm-up your lips and get ready to muck, moo, and cock-a-doodle-doo your way through the hayloft and wire pen. An assortment of farm animals is found throughout, with a meddlesome goose making a cameo on each page—which is especially fun for little ones to spot.
With repetition and rhyme, this book is one you'll no doubt read multiple times before tiring of its quick pace and endearing charm.
---
A pink pig learns to squeal while a mother horse and her foal play nearby. Piles of hay (one big, one small) sit beside the big red barn. The sheep, geese, and goats squawk and baa, and a young mouse is born in the field nearby.
Inside the barn, the bantam hen sits on her clutch of eggs while the brown cow and calf bellow a greeting to the dogs and cats. Playing together throughout the day, the animals return to the barn when twilight comes.
This rhyming board book is a perennial classic, and, truth be told, I like it better than (cough, cough) that other famous Margaret Wise Brown book.
---
"Cows that type, hens on strike. Whoever heard of such a thing?" Farmer Brown has a conundrum. His animals are leaving typed notes with exacting demands.
Warm blankets for those chilly nights in the barn. Who do those cows think they are? When the Farmer and his cows reach a consensus, Duck is brought in as an intermediary. Except the ducks have a few demands of their own.
This humorous book (the first in a series featuring the same zany barnyard buddies) never fails to elicit giggles. Also, does anyone else still own a typewriter?
---
A goat, who had an ideal life on a farm, longed for more. He was curious about the world outside his pen, so he decided to escape. On his rampage, he samples cabbage and wreaks havoc throughout the farm, or so the adults think.
Day in and day out, the goat escapes and is blamed for mischief around the farm. It seemed no fence could contain the goat until one day, it changed tactics and scooted under the fence.
Only young Nicolette notices that the goat isn't guilty of the things it was being accused of. When at last, the family acknowledges their mistakes and takes the blame off Escape Goat, all are able to finally rest at ease.
---
"In the village, everyone is resting." Or are they?
Paul, the farmer, is actually hard at work. He mows and rakes and digs. Paul works until he is exhausted, but even then, he must remain fastidious. Checking and inspecting for weeds and pesky critters. At last, everything begins to grow.
But then drought sets in. The sun beats down, and the crops wither under the scorching heat. Paul despairs. At last, help arrives, and Paul's vigilance pays off.
Originally published in French, this delicious design-centric and sparsely worded book is an absolute gem.
---
In the late afternoon, the crops get picked, washed, and loaded into the truck. At the dairy farm, a new employee learns how to make cheese. Lastly, at a mushroom farm, Gary ensures that the air is misty and the mushrooms are trimmed perfectly before boxing them away.
Early Sunday morning, the market starts to take shape. Vendors fight against the wind and set up tables, tents, and stalls. Soon customers arrive at the Farmers' Market, and long lines begin to form. Parents carry babies, and the band starts to play.
With a thoughtful author's note, this book will help you appreciate weekend markets a little more after reading through the many hours and hands that go into creating stall after inviting stall.
---
One day Sonya's papa gave her three baby chicks to care for. They stayed in a cardboard box at first and followed her everywhere she went. Eventually the chicks became poulets and moved into the yard to forage and play. Sonya continued to care for her feathered friends and helped them develop into full-grown hens.
One morning Sonya found a warm brown egg in the nest of one of her chickens. At night Sonya tucked her three charges into their coop and locked them in for the night. On a chilly night a ruckus of squawking awoke Sonya. Once inside the coop Sonya counted only two frightened chickens, the third nowhere to be seen. Tears flowing, Sonya's papa told her a story of why a fox might have wanted Sonya's chicken. A heartfelt tale about the circle of life and a gentle nod to grief, loss, and regrowth.
---
While generally included with Thanksgiving book roundups, this ode to farm life and harvest season deserves a spot on this list. Told in rhyme, with vivid pages that showcase the final burst of crops and animal activity before winter arrives and life falls into dormancy. Bold images create a sort of movement through the pages, hinting at the urgency of any harvest season.
Author/illustrator Dahlov Ipcar's work is some of the best in children's literature and is largely influenced by the Maine farm where she lived and worked. If you're unfamiliar with her work, I highly recommend seeking out some of her other titles.
---
You didn't think I'd forget this one, did you? Every Boynton book ever published is a hit! Especially with young children.
The bouncy rhyme and cartoon-like characters invite little ones to join a barnyard boogie. Get the wiggles out and have your kids act out the moves. Try silly voices or read it fast like an auctioneer. Anthropomorphized animals cutting a rug is all the rage in this 30-year-old classic.
---
If you liked this post, you might like these too: