Valentine's Day is one of my favorite holidays for children's books. While I think that Valentine's books are particularly adorable, more importantly, many teach kids about love, kindness, and feelings.
Below I've rounded up some of my favorite picture books for Valentine's Day. While some are holiday-themed, other titles on this list are a good read for any day of the year.
If you're looking for titles for a younger audience, see my list of Valentine's Day board books.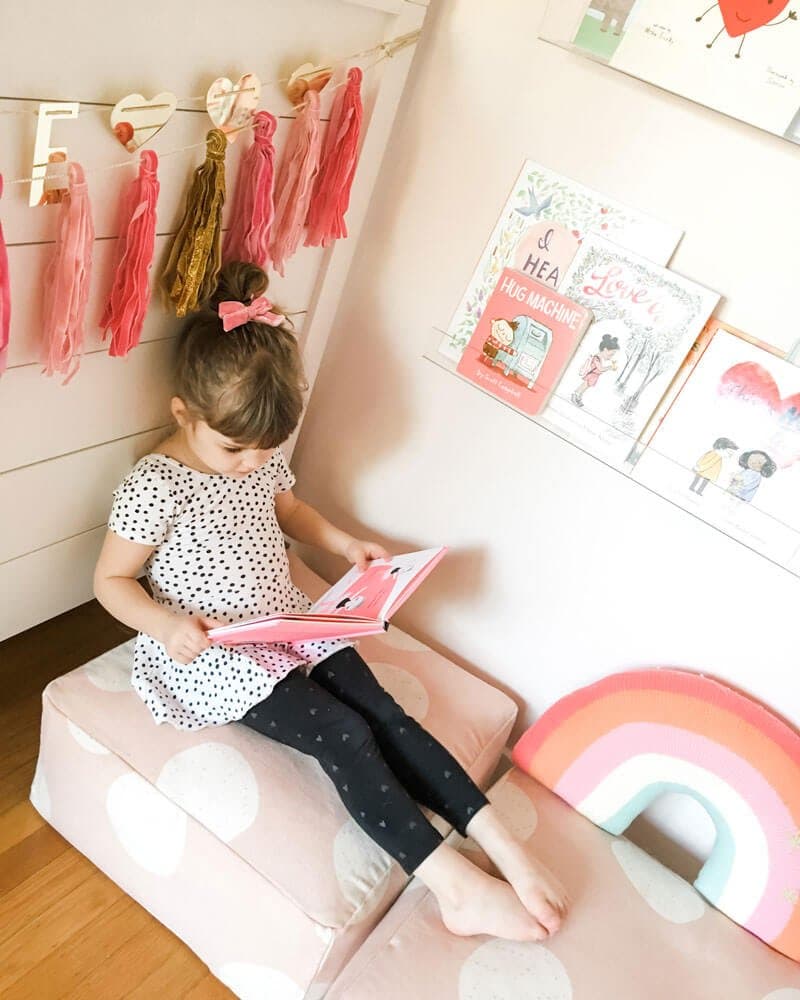 ---
1 | Love Is by Diana Adams
This book is a sweet story about a girl and her duckling and how they care for each other as they grow. After raising her duckling, it's time to let the duckling spread her wings and go out into the world. Get the tissues ready as the metaphor for parenting may leave you teary-eyed.
---
Your favorite crew of crayons is back for this adorable love-themed spin-off where they explore the bright colors and shades of love. "Love is yellow and orange. Because love is sunny and warm."
And just so you know what to expect, this book is smaller in size than the original but great for a gift.
---
This heartwarming book is a sweet affirmation of a parent's love for their child. As the young animals try new things, their parents provide reassurance and snuggles.
---
A new favorite of mine! What initially drew me to this book were the illustrations, but this story is so charming. Despite Mirabel's nervousness, she makes Valentine's Day cards for her classmates. Unfortunately, the cards fall out of her bag on the way to school. But those valentines brighten up the day of everyone who finds them!
---
5 | Love, Z by Jessie Sima
Robot Z had never heard the word "love" until he finds a message in a bottle signed "Love, Beatrice." He sets out on an adventure to find Beatrice and what the message means. Along the way, he encounters many creatures happy to help explain the meaning of love, but none of it computes with Z. Finally, he meets Beatrice, and she teaches him the powerful meaning of the word.
---
The newest in the Lola Dutch series, and it's just perfect for Valentine's Day! Lola Dutch is a creative girl who loves her friends so much. And when they're having a bad day, she knows just what to do to make them feel better.
---
"I will love you rill the cows come home from a trip to Mars through skies unknown, in a rocket made of glass and stone…I will love you til the cows come home."
This one is funny and sweet and sure to be a favorite for both you and your kids. I love the lyrical text that's fun to read aloud.
---
This book isn't a traditional Valentine's Day book, but it's about how our words can affect someone's heart. Our words have power, and we should use them to lift each other instead of hurting someone – a simple and direct book about spreading love.
---
Our hearts can feel so many feelings – happiness, bravery, anger, calmness, sadness, and silliness. This book shows the heart has a range of emotions and describes how they feel on the inside. It's an excellent book for helping kids identify and describe their feelings.
---
10 | The Hug by Eoin Mclaughlin
A hedgehog and a tortoise are looking for a hug, but for some reason, all the animals they come across won't hug them. Finally, a wise owl explains to them that hedgehog is too spiky and tortoise is too bony. And that's when they find each other, and in doing so learn that there's someone for everyone!
---
Hedgehog, Bunny, and Squirrel are good friends. One day, they each find a letter they thought was for them. And it wasn't just any letter but a love letter! The letter made them each feel so loved. Until they learn it was a mix-up, but also a wonderful mix-up!
---
The newest addition to this beloved series! Go along with Little Blue Truck as he Valentines to all of his friends. He feels happy as he delivers cards to his friends but starts to wonder if he, too, will get some cards as well.
---
"Some bunny loves you." "You have my seal of approval."
This book is filled with "punny ways" to say I love you, so if your child loves jokes, then this one is for them. And after reading together, you'll have a whole variety of ways to share your love!
---
On Valentine's Day, the postman delivers to Mr. Hatch a mysterious package with a big pink bow. He is a lonely and quiet man, and this one small thing changes him in a big way. Then one day, Mr. Hatch learns the package was delivered to him by mistake. I don't want to give too much away, but this the sweetest story about simple acts of kindness.
---
You'll have fun reading the repetitive, rhyming text in this one to your kids! It doesn't matter how prickly the porcupine, slippery the snake, or ragged the snake, all animals needs hugs and loves from their mama.
---
I love you no matter your moo-d. I love giving you a big s-moo-ch."
If you are aMOOsed by cow puns (sorry, couldn't resist), then definitely add this playful book to the list. It's an ode to the loving relationship between a parent cow and their child, and the playful text will have your little one giggling.
---
If you liked this post, you might like these too: