Our Favorite Children's Books Starring Dads!
(This post contains affiliate links. See our disclosure.)
We love celebrating all of our favorite dads, and it's always cute when the littles present them with books starring fatherly figures. We've had a hard time finding great children's books with dads in the starring role, so we've pulled together our own list to help others who may be in a similar boat.
From gorgeous illustrations to affirming messages of paternal love, here are our favorite children's books starring dads. This list of 26 books is sure to have one for every father raising spectacular kids!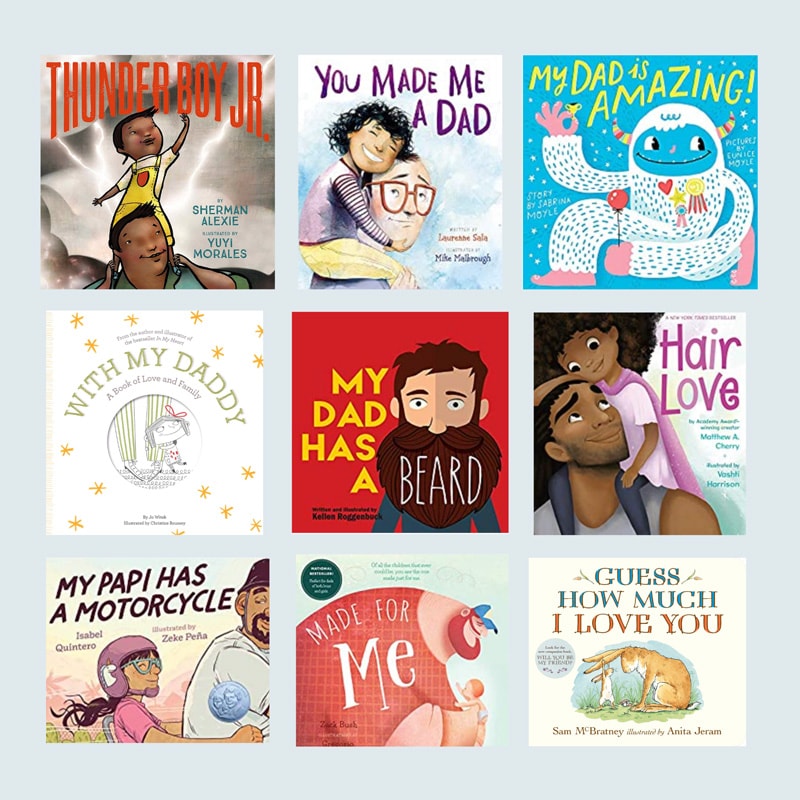 ---
Because I'm your dad, you can have spaghetti for breakfast, French toast for dinner, and rocky road ice cream in the bathtub.
This sweet story is filled with fun, repetitive text, and whimsical illustrations. It's about all of the silly things dads do with their kids. Plus! It makes monsters seem a little less scary, which is always helpful with kiddos, especially at bedtime.
---
2 | Hike by Pete Oswald
Your kiddos and their daddy will love following along with this story as a father and child wake up, pack up their things, and head into the mountains. Once on the trail, they embark on a hike where they take in the beautiful scenery, overcome challenges, and contribute to the forest by planting a tree together. Back at home, they feel closer than ever and document their special day in a generations-old family album.
This is a super-warm and fuzzy tale of love and adventure.
---
This heart-warming father-daughter story, beautifully illustrated by Instagram sensation Soosh (@vskafandre), celebrates how much the starring duo enjoys each other's company. Dad By My Side is sweet and sentimental, with the most beautiful and unique illustrations. It's an heirloom book you'll want to keep and pass down for generations.
---
If the men in your life rock a beard (and even if they don't), you will love this book. It's told from a son's perspective as he chatters all about beards, how different they can be from each other, and muses about wanting to grow a beard of his own someday. This book is colorful, entertaining, and perfect for readers young and old!
---
From the author of the Llama Llama books comes a tale about playtime with Nelly Gnu and her daddy. With fun-to-read rhyming text, this warm story follows a dad and his daughter as they build a playhouse during a memorable day spent together. It shows involved and attentive parenting at its finest.
---
Illustrated in a variety of diverse hues, this book affirms how each family looks different—and that's a beautiful thing! What all families have in common is a deep love for each other, which is showcased here through a girl and her two fathers. Watch out for the emotional punch to this one—it has the power to make you weepy.
---
This action-packed construction board book illustrated by James Dean, who brought us Pete The Cat, chronicles the ways dads cheer on and support their kids: "Excavator Big helps little Vator dig. They go scoop, scoop, scoop." It's the perfect pick if your little one enjoys trucks, and the fun language will entertain children with all kinds of different interests.
---
8 | Hair Love by Matthew A. Cherry
This New York Times bestseller is a story of a dad who valiantly helps his daughter style her hair just right for an extra-special day. It's an ode to loving your natural hair as well as the special bond between fathers and daughters.
---
Dad may feel like his cool days are behind him (playing in a band, riding motorcycles), but his son disagrees. He thinks his dad is the greatest ever! This colorful story will probably feel relatable to more dads than they'd like to admit. It's the perfect mix of humor and emotion that whole families will enjoy reading together.
---
Thunder Boy wants a "normal" name. He shares a name with his dad, known as "Big Thunder," but the boy wants a name of his own. This striking and beautiful story by Pacific Northwest novelist Sherman Alexie takes readers along for the adventure of father and son finding the boy a name that lights up the sky—and highlights the fun they have doing it together.
---
Maybe we're biased, but we've found that dad hugs are the best hugs. In this cute tale perfect for dad's first Father's Day that even the tiniest hands can hold, baby and daddy can cuddle and count along as they flip through each page.
---
Made for Me is a beautifully illustrated tear-jerked that highlights tiny, tender moments that tie a father and his new child together—forever. You'll all love the sweet refrain: "Of all the children that ever could be, you are the one made just for me," and your kiddos will be asking for it over and over.
---
From the culture expert on Netflix's Queer Eye for the Straight Guy comes an exuberant celebration of loving who you are, exactly as you are. It's an empowering ode to modern families that follows a father and son as they walk through the city and find all the ways they are perfectly designed for each other.
---
Through bright colors and imagery from the animal kingdom, this book celebrates a father's love. Every day, everywhere, fathers love their children. They may demonstrate it differently, but the sentiment is the same.
Whether it's a penguin papa snuggling with his baby in the frosty white snow, a lion dad playing with his cub in a yellow field, or a seahorse father protecting his young inside his pouch in the deep blue ocean, we see that a father's love comes in all shapes, sizes, and colors.
---
This whimsical story, With My Daddy, introduces us to a little girl who loves to spend time with her daddy. While readers follow along with the story (being with her daddy makes the little girl feel "brave," "adventurous," and "daring"), they also learn to identify and name different emotions. When the little girl gets scared, nothing calms her down like a hug from her dad.
Don't be surprised if each time you read this book, it ends in a hug at your house, too!
---
Another winner from Hello! Lucky comes My Dad is Amazing, which features bright, colorful artwork and a mythical yeti. It's a tribute to all the things that make dad the greatest! He is "cooler than a million popsicles" and "cuddlier than a ton of bunnies," after all.
---
Dads and their minis love adventure! Grab this tale of a brave dad and his children going on a bear hunt and watch as they read about the obstacles the group encounters along the way. "We can't go over it. We can't go under it! Oh no! We've got to go through it!"
This is a classic story about fun and resilience with repetitive text that will have your little one wanting you to read it over and over again.
---
This touching story about fatherhood and the bond fathers share with their children—from before they were born and as they grow up—is both tender and resonant. Even the most macho of dads might just shed a tear reading it.
---
Not many books can be hilarious, charming, and emotional, but this story is all three. Trixie, Daddy, and Knuffle Bunny take a trip to the laundromat, but Knuffle Bunny is left behind. Oh, no! With fun and expressive illustrations on a muted background, Knuffle Bunny is a fun story about what happens one day when dad's in charge.
---
Celebrating twenty-five years of love—to the moon and back—Guess How Much I Love You is a classic tale about father and son rabbits that has stood the test of time. It's a cherished tale of boundless affection ready for the next generation of readers.
---
From an award-winning author/illustrator duo comes a story of father-daughter love in a vibrant immigrant neighborhood. Even as Daisy Ramona's neighborhood changes as she whizzes past on the back of her Papi's motorcycle, she knows one thing will never change: the love she feels for her family. This book is full of heart and vivid illustrations that will keep you picking it up again and again.
---
Fair warning—if you're at all competitive about baby's first word and don't want it to be dada, wait until after your little has a few words in her vocabulary before buying Jimmy Fallon's first children's book. This cutely-illustrated book is a quest to make sure your baby's first word will be . . ." Dada!" And it may very well succeed if you let it.
---
The companion title to Boy of Mine, this board book follows a dazzling little girl while she enjoys playtime in the moon's soft glow. As her daddy cuddles her, she is suddenly whisked away on a fantastical adventure, swinging above lush floral gardens under the golden moonlight. The sweet text, inspired by "Rock-A-Bye Baby," will lull little ones into a peaceful slumber. Both parents and children will be grabbing it before bedtime for years to come.
---
In this tale that explores bravery, Jabari has completed his swimming lessons and is ready to jump off the diving board. He even tells his dad it looks easy, but then…Jabari gets nervous. Maybe if he takes a rest (he is a little tired) and does his stretches, he'll be ready?
During a father-son pep talk, Jabari's dad assures him it's okay to be scared and offers him a new perspective that gives Jabari just the boost he needs to climb the tall ladder and jump! This inspiring story will motivate everyone who reads it to face their fears.
---
Dear little one,
…know you are wondrous.
A child of crescent moons,
a builder of mosques,
a descendant of brilliance,
an ancestor in training.
From Muslim and Latino poet Mark Gonzales comes a touching and lyrical picture book about a parent who encourages his child to find joy and pride in all aspects of their multicultural identity. It's written as a letter in vivid and elegant verse and highlights the diversity of the Muslim community as well as Indigenous identity. It's a story of wonder that will inspire children and adults alike.
---
A story of a dad's commitment to his child will help young children who have a hard time saying goodbye to their parents, Daddy Long Legs is an endearing depiction of parents that can always be counted on. The son, Matthew, poses a series of "what if" questions, each one more fantastic than the last, to see if his daddy will come through.
With gentle and imaginative humor, the father's increasingly wilder ideas about how he will make his way to his son prove the steady and unwavering certainty of a parent's commitment to a child. The whimsical artwork by Aurélie Guillerey plays lightly with the father's flights of fancy, keeping the tone of the book just right for a storytime read-aloud.
If you liked this post, you might like these too: