2023 Holiday Gift Guide for Boys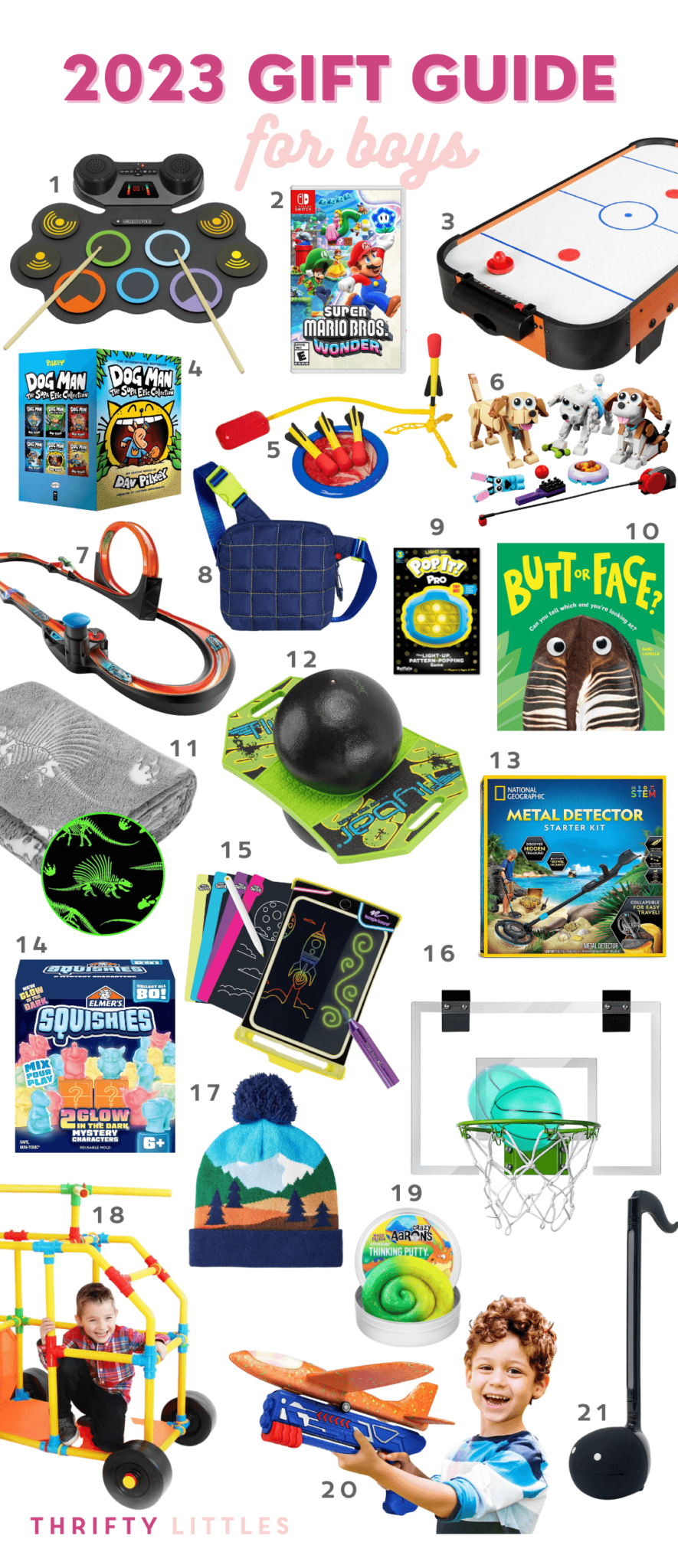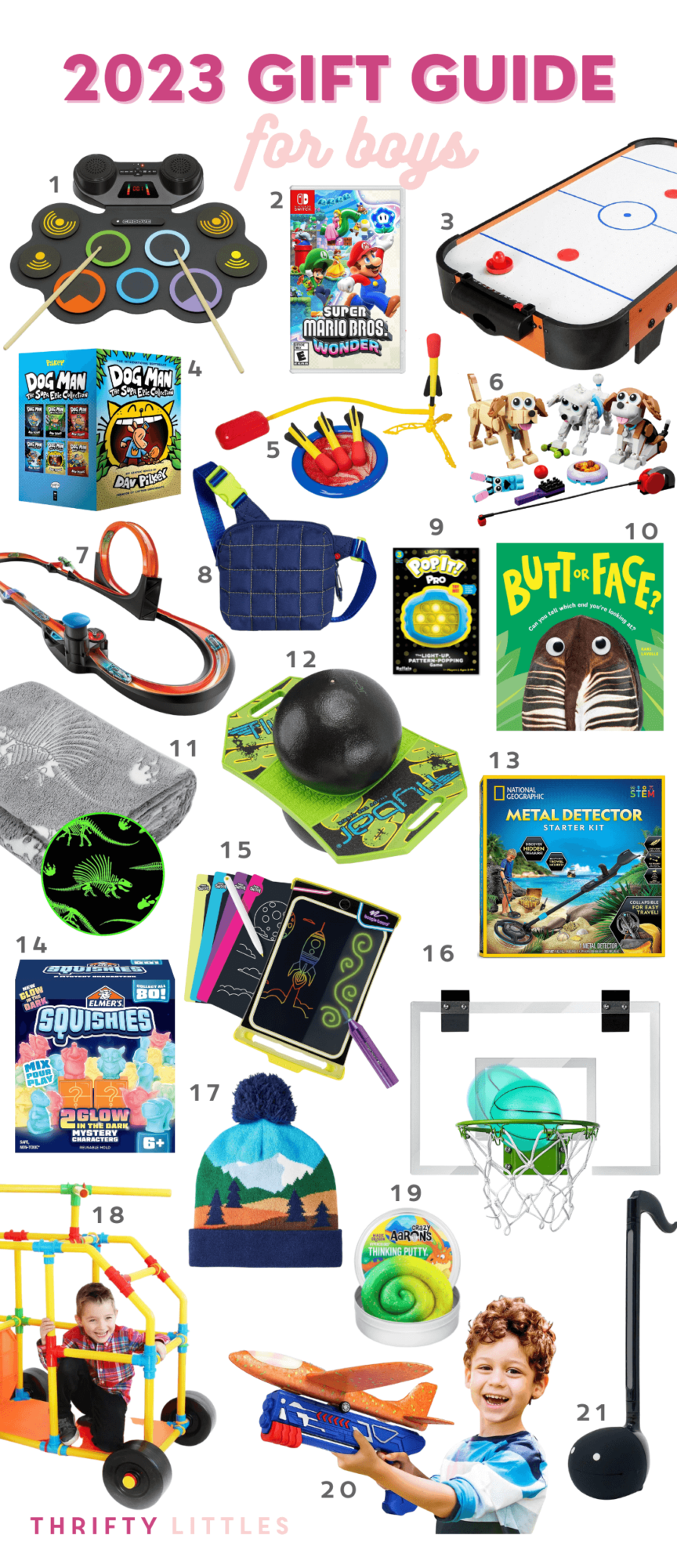 For more gift ideas, check out the Holiday Hub!
1 | ELECTRONIC DRUM SET: Perfect for beginners! Rock out with the built-in demo songs, or stream music and play along! And the best part? Well, there's two. It takes up much (much!) less room than the real thing, and it has a headphone jack, so you won't hear a thing when they rock out.
2 | SUPER MARIO BROS. WONDER: The newest Super Mario Brothers game exclusively for the Nintendo Switch and fun for the whole family!
3 | TABLETOP AIR HOCKEY: A miniature version of the real thing, perfect for siblings and friends to play together. Use it on the floor or a table, and keep score with the abacus scorer.
4 | DOG MAN EPIC COLLECTION: This collection includes the first six Dog Man books, a wildly popular series for kids this age.
5 | STOMP ROCKET STOMP AND CATCH: Stomp Rocket has been a long-time favorite in our house, but this new version has a catching net for double the fun!
6 | LEGO CREATOR 3-IN-1 DOGS: The LEGO Creator sets are three builds in one! This one features three groups of buildable dogs and includes fun accessories.
7 | HOT WHEELS SMART TRACK: The ultimate Hot Wheels experience. Kids can measure and track speed, laps, and stunts. Plus, build over 20 track configurations and 50 challenges.
8 | STATE BAGS FANNY PACK: This adorable crossbody bag allows kids to haul goodies and stay hands-free.
9 | POP IT! PRO GAME: The Pop It! goes electric with this fast-paced bubble-popping game! Pop all the lit bubbles as soon as they appear, then press the big button on the back to reset before time runs out!
10 | BUTT OR FACE?: A hilarious book where readers examine a close-up animal of an animal and then try to guess whether they are looking at the face or, um, the bottom! Turn the page to see the answer and learn facts about the animals. Science and fun!
11 | GLOW IN THE DARK DINO BLANKET: The cozy companion for a movie or game night. There's also a gaming and space theme (same link).
12 | FLYBAR POGO TRICK BALL: The Flybar Pogo Trick Ball is a combo of a balance board, pogo stick, and jump ball and a fun way to develop balance and coordination.
13| NATIONAL GEOGRAPHIC METAL DETECTOR: The perfect tool for a treasure hunt. Turn it on, and when a metal object is detected, LED and audio alerts will let them know.
14 | GLOW-IN-THE-DARK SQUISHIES: Squishy toys are popular with this age group, and with this kit, kids can make two glow-in-the-dark squishies.
15 | BOOGIE BOARD MAGIC SKETCH GLOW: The Magic Sketch takes writing tablets to a new level with its glow-in-the-dark feature!
16 | GLOW-IN-THE-DARK BASKETBALL HOOP: This basketball hoop attaches to most door frames for indoor play. Plus, it glows in the dark so that kids can play with the lights off.
17 | CAT & THE JACK BEANIE: Love the outdoor pattern on this beanie!
18 | TUBELOX DELUXE BUILDING SET:  Tubelox differs from other building toys because you make life-size creations—anything from chairs to homes to tables. This has been a big hit with my now 6- and 9-year-olds.
19 | CRAZY AARON'S THINKING PUTTY: A big hit with kids of all ages! Stretch, bounce, twist, and even with all that play, it never dries out.
20 | AIRPLANE LAUNCHER: Airplanes soar over 40 feet with this launcher! Includes one launcher and three airplanes with LED lights.
21 | OTAMATONE ELECTRONIC INSTRUMENT: The Otamatone is a fun, easy, and silly electronic instrument – slide your fingers along the stem to play and squeeze the cheeks for vibrato. My kids all get a kick out of ours!
Need more ideas?
Shop 100+ gift ideas for kids in the TL Storefront!