Prime Day Guide: Tips for Getting the Best Kids' Deals!
(This post contains affiliate links. See our disclosure.)
Get ready! We are just days away from one of the biggest shopping events of the year, Amazon Prime Day! This year, Prime Day kicks off on Monday, June 21st, and runs for two full days.
Below I'm sharing everything you need to know to navigate Prime Day and tips to get the BEST baby and kids deals. Prime Day can be overwhelming, but it's much less so if you go in with a plan and know how to find your way around.
But first things first. Every year, I compile and share the best deals on baby gear, toys, kids' clothing, and household items here on this website. This post will go up the first morning of Prime Day – you can sign up for the TL Deals Newsletter to get it delivered straight to your inbox.
However, I think it's even MORE fun to follow along on social media, where I'll be sharing my top picks as I find them throughout the sale. I'll share deals to my Instagram Stories and the Deals by TL Facebook Group (be sure to turn notifications on!).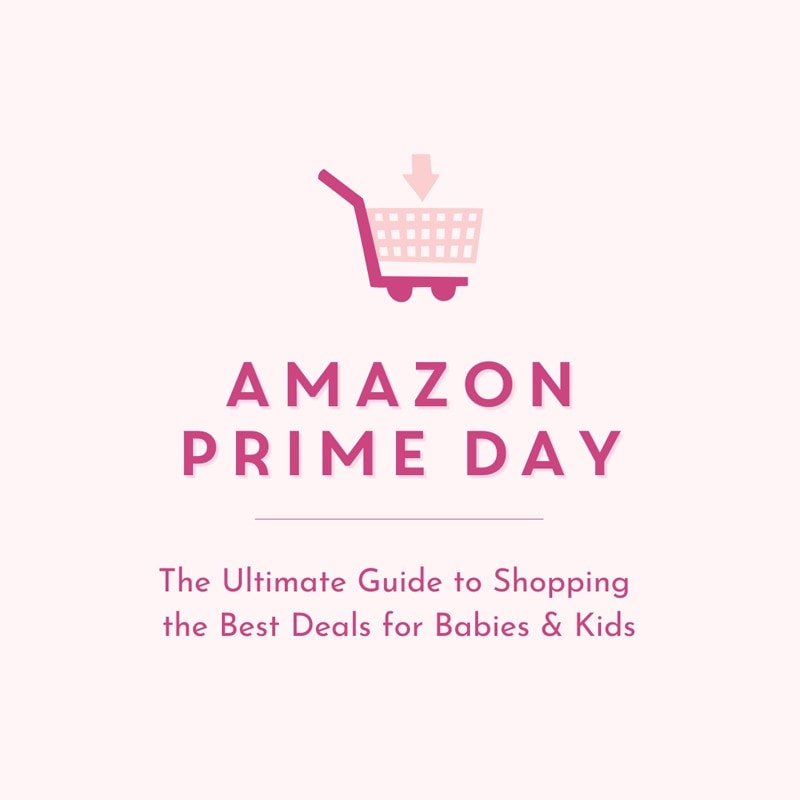 ---
When is Prime Day?
Prime Day officially starts on Monday, June 21st at 12 am PST and runs through Tuesday, June 22nd at 11:59 pm PST. Yes, there are two full days of deals!
To shop Prime Day, you need to have an Amazon Prime membership. If you don't have one yet, you can sign up for a free 30-day trial to take advantage of the Prime Day deals. You can cancel before your trial ends, or get an annual membership for $119.
---
Navigating Prime Day
You can navigate the event through the Prime Day Home Page. There are multiple types of deals available on Prime Day – Deals of the Day, Lightning Deals, Savings and Sales, and Coupons.
Deals of the Day: These are the big-ticket items like the Roomba, Instant Pot, but there are also oftentimes baby and toy sales included here (last year there was a BIG toy Deal of the Day the 2nd day of Prime Day). These are available for a specific time or until they sell out. These deals will load at midnight on June 21st and continue loading throughout the next two days.
Lightning Deals: These are promotions that go live every five minutes and last for a few hours or until they sell out. There will be thousands of these in multiple categories throughout the two-day event. Lightning Deals are typically one of the best ways to find discounts on baby gear and toys. You can browse upcoming Lightning Deals in various categories hours before they go live.
For items you're interested in, select "Watch the Deal" on your computer or mobile app to receive a notification when the deal is about to start. (You can see all the items you're currently watching.)
Savings & Sales: This includes other sales and discounts that can be applied to a broader category. Last year they had 20% off select Skip Hop baby products, 25% off select Chicco baby gear, 40% off kitchen essentials, and lots more.
Coupons: The coupons available on Prime Day are the best way to stock up on household items and baby necessities like diapers, wipes, formula, and more. To apply the discount, you'll "clip" the coupon under the product description, and the price will drop at checkout. Many of these coupons can be stacked with Subscribe & Save discounts.
---
Tips for Getting the Baby, Kids, & Family Deals
If this year is like past years, there will be a BIG selection of baby and kids items in Prime Day, including diapers & wipes, baby gear, clothing, and thousands of toys.
Tip 1: Follow along! I will be sharing all my top deals as I find them throughout Prime Day to my Instagram Stories and my Deals by TL Facebook Group. I've been covering Prime Day since its first year, and have a team helping out this year so it'll be a lot of fun!
Tip 2: Bookmark the Prime Day landing page and check it regularly throughout the Prime Day event, as deals will continuously be changing throughout the day, including the Deals of the Day. A few other pages to bookmark include the Baby Deals Landing Page, the Toys Deals Landing Page, and the Coupons for Families page.
Tip 3: Utilize and familiarize yourself with the Amazon mobile app before Prime Day. In the app, navigate to Today's Deals to see the current Deals of the Day and view upcoming Lightning Deals. Use the filter to navigate by department (e.g., Baby, Fashion, Toys & Games). For any upcoming deals you are interested in, tap "Watch this deal" to receive a notification when the deal is about to start.
Tip 4: Combine Prime Day household and baby coupons with the Subscribe & Save discount. Subscribe & Save is a subscription service through Amazon, where you earn savings by setting up scheduled deliveries on household and baby items. You can save 5% on one item or up to 15% on five or more items, and you can cancel after your first order ships. Many of the coupons available on Prime Day will have the option to save more by selecting Subscribe & Save at checkout.
Tip 5: You may be able to combine Prime Day savings with your Baby Registry Completion Discount on eligible items. To get the extra registry completion discount, the item you are purchasing needs to be on your registry (add any items you may way to buy now!) and you have to check out through the completion discount view on your registry.
---
Prime Day Early Access Deals for Families
You don't have to wait until Prime Day to take advantage of the Early Access Prime Day Deals! Shop some of my top picks below. Keep in mind, these are only available for Prime Members so you won't be able to see these coupons unless you are signed in through your Prime-authorized account.
Save up to 50% on various kids' subscription boxes for Prime Day!
Amazon Kids+ (formerly FreeTime) is a subscription that gives kids access to thousands of books, TV shows, movies, educational apps, games, and skills across all your compatible devices. Through June 20th, get a Family Plan 3-Month Trial for just $0.99 (reg $29.99)! This provides unlimited access for up to four kids.
Try Audible Premium Plus for $6.95 a month for the first 4 months (reg $14.95 per month)! In addition to the 1 audiobook you get with a standard Audible membership, the Premium Plus membership also includes access to thousands of select Originals, audios, and podcasts. And yes, there's a lot of kid content on Audible – we download the content for road trips!
Spend $10 on products from small businesses through 6/20, and earn a $10 credit that you can spend on Prime Day! You can browse the eligible small businesses in various categories.
Other Baby, Kids, & Family Deals
---
If you liked this post, you might like these too: