14 Sensational Summer Books for Kids
Ah, summer! My happy season. The season of carefree living and as much outside time as possible. Summer revitalizes the dormant child in all of us.
Starting in April, my kids ask nearly every day if the outdoor pool is open yet. Summer ushers in hammock weather and backyard gatherings. Summer sounds like whirring lawnmowers and bicycle bells. It tastes like warm raspberries fresh from the vine and Mexican street corn hot on the cob.
Want a cool summer tip? Gather those half-empty bottles of sunscreen, stuff a bag with snacks and books, add an outdoor blanket, and take storytime outside this summer. I guarantee your kids will think you're the coolest while they slurp a popsicle and you squeeze in some family summer reading time together.
Not sure what to read? These 14 titles are an excellent starting place.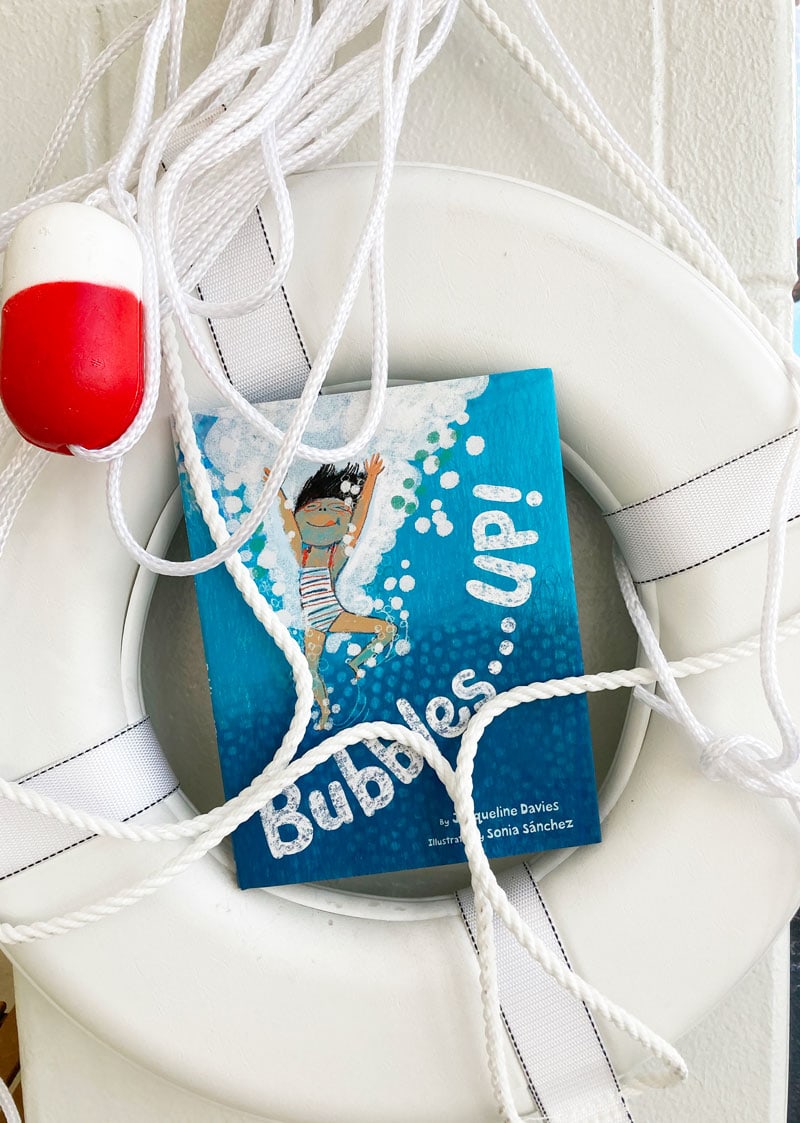 ---
At twilight, a family rushes inside with dripping towels and sandy feet. As the rowdy troupe prepares for bed, the reader gets glimpses into the beach day they've just had. Mom feeds the baby as the older kids head upstairs for the frantic yet familiar bedtime routine. Bathtime is over, pjs are on, and everyone's ready for bed. Cars beep in the distance, crickets strum in the night, and the children doze with the waft of ocean breeze in the air.
It's impossible to read this book and not long for a trip to a summer beach cottage.
Ages 3-5
---
Every summer, a mother and her four children take the train down south to see Bigmama (Grandma). They wind along red dirt roads until they reach the familiar house, and there are greetings and exclamations of what has changed in a year.
However, the sewing machine inside and the well with a dipper outside remain unchanged. In the backyard, there are chickens and a host of other outbuildings familiar to any farmstead.
This autobiographical book is one of my favorites by this prolific author/illustrator.
Ages 5-7
---
It's a summer day at the neighborhood pool as a young girl plunges into the sparkling water. Bubbles rise to the surface, and she emerges from the blue like a sleek porpoise. Mom sits by the water's edge while all around children duck and splash, a chorus of summer's song.
Ethereal images immerse the reader in spreads of shifting blue, all the while evoking a sense of weightlessness and freedom found in confident young swimmers. This onomatopoeic read bursts with joy.
Ages 4-7
---
Aaron is convinced that his family reunion (filled with people he barely knows) will be boring. However, when the family games and camaraderie begin, Aaron wrestles with his desire for autonomy and simultaneously wanting to be included.
For every child that has ever dreaded going to a family function, this BIPOC book speaks to the bravery of trying something new despite initial reservations and actually having a good time in spite of oneself.
Ages 4-7
---
Meet three eager children, a dilapidated fountain restored to its former glory, and an unexpected oasis for goldfish to spend their summer without a care in the world.
This delightful tale bursts with the energy of an urban community coming together to enhance its neighborhood. And at the end of summer, who knows which goldfish you retrieve back from the myriad of little swimmers that spent the past weeks free from the confines of their small bowl?
Ages 4-8
---
A young boy attends a summer carnival with his parents and is pining for a pet. His parents, however, are practical but relent with a promise that he can take home whatever he wins at the goldfish booth. In true comical fashion, the boy doesn't just win a goldfish—he wins Nuncio!, a real live whale that his family then proceeds to keep as a family pet.
If ever I have a chance to recommend this lesser-known book, I never regret doing so.
Ages 4-8
---
A young boy receives a letter from his grandpa who asks how his summer is going. The boy responds that it has been both busy and delicious. He reassures his grandpa that he's keeping up on his reading, writing, and math even while he's at the beach with his family or at camp with friends.
Woven throughout the book are countless illustrations of ice cream cones masquerading as other objects. Older readers may appreciate the subplot timeline outlining the history of ice cream—a genuinely delectable read.
Ages 5-8
---
Jules is determined to make the most impressive sandcastle ever. But each attempt is thwarted by the ebb and flow of the ocean. Her older sister reassures her that dissolving sand creations happen to everyone. Still, Jules keeps at it. Once the two sisters join forces, they can finally sculpt a true masterpiece…that is, until a giant wave crashes on the shore.
With a determined protagonist and an all-too-familiar beach conundrum, this book ticks all the summer boxes.
Ages 3-6
---
"There's a box of dirtballs on my Aunt Mimi's balcony, which is kind of weird if you ask me." Vincent is spending the summer with his aunt Mimi as his mom recovers from surgery. Together they paint the guest room to add a bit of color to the drab landscape.
Soon Vincent meets a boy named Toma, and together the boys throw the dirtballs into the empty lot across the street. A grumpy neighbor gets upset by the boys' antics until weeks later when the neighborhood is suddenly blooming with snapdragons, poppies, lemon mint plants, black-eyed Susans, and a host of other plants that were all hidden inside the seed balls. A wonderful take on friendship in unexpected places.
Ages 3-7
---
Natsumi's name means "the sea in summer." Natsumi loves everything about the hot summer months, but she most especially loves the insects of summer. Observing mantises and capturing cicadas in soft nets, Natsumi savors the sounds and soft tickling feeling the insects provide.
As Natsumi's birthday approaches, so does a special visit from her cousin Jill, whom she has never met. On the beach or at the obon festival, Natsumi can't help sharing her wondrous curiosity for all the delights of summer.
This book is written in a series of tanka poems (traditional Japanese poems with five lines and thirty-one syllables) and is both informative and endearing.
Ages 3-7
---
Shovel soil. Sow seeds. A garden starts sometime in spring. Birds squawk by, and strawberries are snipped—farmer's market goodies to be sampled and later sold. A smattering of veggies makes a simple salad served alongside a bounty of side dishes. Friends and family gather over a backyard potluck in this savory read.
With nearly 100 s-words in this book, it may feel like a bit of a tasty tongue twister.
Ages 3-6
---
Once there was a boy who lived by the sea. The boy was a listener and a thinker. The boy frequently returned to the water's edge, where he could sit and listen to what the sea had to say. As the boy grew, his questions deepened in complexity, and the answers were often harder to come by. The boy, then man, continued to seek the sea's wisdom, eager to hear whispers of direction.
As years passed and the boy grew, the companionship of the sea never wavered, and its admonitions to Dream, Love, and simply Be carried him through the varied seasons of life.
Ages 4-8
---
It's Ernestine's first camping trip, and she's going with her aunt and cousin. With an exhaustive packing list (provided by Aunt Jackie), Ernestine feels prepared. However, she soon discovers that swimming at the Y isn't the same as swimming with fish in a lake and that hiking up a steep mountain isn't the same as walking to school.
When darkness falls, Earnestine can hardly sleep and begs to call her dad. A mix of collage and comic-book style panels made this a fast favorite in our home; honestly, I've lost track of how many times my toddler has requested this one.
Ages 4-8
---
The anticipation of summer is heightened as a young girl awaits her grandmother's (Lola's) visit. The evocative language tingles the senses as readers hear, see, and taste the sounds of a traditional Philipino summer. A brilliant addition to any diverse home library.
Ages 4-8
---
If you liked this post, you might like these too: