The Ultimate Second Birthday Gift Guide
Man, oh man, two-year-olds are FUN.
At this age, they're walking, talking, and are generally very *busy.* Toddler brains are growing at a fast clip, so we included lots of edu-tainment in this guide of the best birthday gifts for two-year-olds. Plus, there are a lot of things that you'll enjoy doing with them, too (enter: our very favorite bubble machine you've probably seen on our Instagram stories—it really is that good!).
No matter your budget, you'll find lots to add to your list here. You'll also want to keep this list handy for the grandparents and other people who love your kids. Be sure to add a link to your two-year-olds' party Evite, too!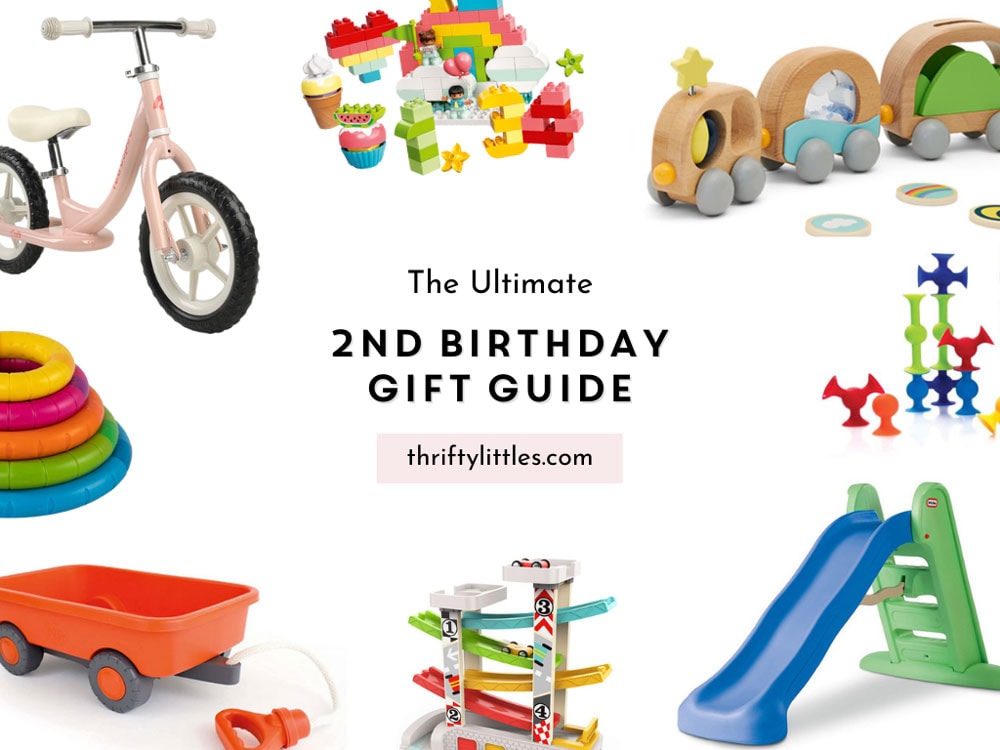 ---
second birthday gifts Less than $25
These cute, colorful puzzles (we are big fans of the lion and rainbow) are the perfect first puzzles for two-year-olds! They have 12 thick pieces, which provide just enough challenge and reinforcement of fine-motor skills for rapidly-growing brains.
Plus, they're printed with soy-based inks and are packaged in a uniquely shaped box perfect for gift giving.
---
Use this set of cute animals cars (ladybug, bee, dragonfly, and tiger) to explore imaginary play with your toddler: zip around an imaginary garden, zoom across the desert, fly to sniff some flowers.
With built-in gears on the rear wheels, these sweet little cars go forward and backward after being pulled back. They're bright, sturdy, durable, and non-toxic!
---
Made in the USA from 100% recycled plastic (mostly milk jugs!), this sweet wagon is great for indoor and outdoor play. Your toddler will love using it to haul around their prized possessions. It features a 100% cotton rope handle that easily tucks inside for convenient, safe storage.
Load, unload, and pull for endless hours of entertainment!
---
This game, also featured in our Best Games for Two-Year-Olds round-up, combines two favorite toddler activities: stacking and finding. This is a no win or lose game (and, trust us, that's a good thing at this age).
Parents and kiddos take turns hiding and finding Bear under the sturdy nesting boxes. Each box illustrates the rooms in Bear's house and includes a matching game!
---
Your kiddo will hone fine motor skills and hand-eye coordination as they lace gem-shaped beads onto the set's included string. This rainbow-hued toy also promotes color sorting, sequencing, lacing, and more!
The set is heirloom-quality, and the beads are crafted from solid hardwood with a non-toxic, BPA-free, water-based finish. The drawstring storage bag keeps everything together.
---
A matching game, but make it GIANT.
Matching games are the perfect first game for toddlers because they have easy-to-follow instructions and are progressively challenging. Toddlers can start with 2 or 3 pairs and then add other animals as their skills progress. Plus, they are great for training memory, concentration, and cognitive thinking.
This one is unique because it features bright illustrations on giant cardboard pieces so kids can play on the floor.
---
The easiest-to-use building blocks ever created, Blockaroos are endless fun! The soft foam blocks click together, rotate 360-degrees, and always attract to each other. They're brightly colored, make playful sounds, and are easy to connect. Your kids will love them as they grow and develop creative thinking skills.
As a bonus, they make a great bath toy as the foam bricks stick to most bathtubs.
---
With the My First Animal Sets from SmartMax, toddlers can build animals by simply clicking the magnets together. The large, soft, friendly-to-the-touch pieces come together easily. Creative kiddos can mix and match for some wild results! This toy is an excellent introduction to STEM.
---
This toy Dyson Ball Vacuum is a replica of the full-size version. It has the same "twist and turn" movement, makes realistic noises, and even has a working suction that picks up small pieces of paper! With just a few quick lessons, you'll be able to teach them how to empty the debris drawer on the back.
Your toddler will love following you around the house with it, and you'll love how much they enjoy earning their keep!
---
Get your littles thinking, tinkering, and learning early with these bright stackable rings! They're sturdy and covered with a soft, rubbery surface with unique, engraved textures little fingers will love to explore. Also, built into every ring are magnets arranged so that, no matter which side of each ring is facing up, they'll always connect and stack perfectly from big to small!
---
This race track for toddlers includes parking lots, three car garages, a gas station, and a repair shop. Cars can set off from parking lots simultaneously and then slide down the rainbow racetrack—toddlers improve their tracking ability as they watch and reset. This wooden toy is BPA-free and stained with bright, non-toxic, water-based paint. It's also compact and can be easily stored.
---
Your little helper loves to cook! This wooden play-food set comes with six colorful and sliceable veggies—a tomato, carrot, radish, cucumber, mushroom, and an onion. Your mini chef can dream up creative recipes and prep the ingredients for their dish using the included wooden knife and cutting board. They'll love that with each slice, the veggies go "crunch!"—just like the real thing!
---
second birthday gifts less than $75
Petit Collage is a wooden toy and decor brand that combines a modern aesthetic with rigid sustainability criteria to create bold, thoughtful goods that inspire little ones. Fishing around is a fun game where kids can play and improve their fine motor skills. This set includes ten colorful neon fish with hooks, two wooden fishing rods, one multi-colored die, and instructions.
---
Squigz are fun little suckers! Your mini can connect them to each other and to any solid, non-porous surface. Once they take hold, it takes some pull to separate them, and when they unstick, your toddler will hear a fun POP! These are fun on tables, windows, and even in the bath.
---
Our favorite bubble machine is the gift that keeps on giving! It brings endless fun to any day, especially birthday parties, playdates, and water parties. Plus, playing with bubbles helps your littles with visual tracking, hand-eye coordination, and a lot more!
---
These playsets feature big, detailed animals (choose from jungle, domestic pets, farms, and zoos). They're designed for little hands with big imaginations (the giraffe, for example, measures 9″ x 13″). There's an included activity guide, too, which gives simple animal facts and discussion starters to learn while playing. Bonus: the animals are dishwasher-safe!
---
You've heard us talk about Kiwi Co. a lot around here, and we just love it so much we can't stop. This Montessori-inspired magnetic train set comes with three colorful, linkable, magnetic train cars designed for little hands to push and pull along. Each vehicle contains special features for your kiddo to discover, including parts that spin, rattle, and fold open. This set trains their motor skills, hand-eye coordination, and more!
---
This colorful toy train set has toddler-appropriate features for hours of frustration-free play and exploration. The reversible magnet connections ensure that the trains always come together, and the guiding ramp tracks help toddlers get the train onto the railway.
This beginner pack is compatible with all other BRIO sets, so you can add lots more parts and pieces as your toddler's curiosity grows.
---
There is something magical about a hooded towel that inspires toddlers to run naked laps around the house. We can't speak for you, but those post-bath performances never cease to make us smile, even if we're standing impatiently with the detangler.
Little Unicorn's plush hooded towels are large (42″ tall x 47″ wide), making them the perfect next step once your little one grows out of their baby towel. Featuring a cozy hood and pockets for little hands, these hooded towels are crafted with printed muslin on the outside and ultra-soft terry cloth on the inside. Available in a whole variety of prints.
---
As they start to recognize the letters in their names, kiddos love anything personalized. There are so many design options on these personalized, natural pine wood step stools! Whether they're stepping up to the sink to wash their hands, to help you prep a meal, or to stand a bit taller than their older sibling, they won't be able to get enough of seeing their name written out.
---
Build a birthday party! This 200-piece set is an excellent introduction to the world of hands-on building through DUPLO. The theme is not only perfect as a birthday gift, but this set has progressively challenging builds! Start with a cupcake and heart, and progress to a birthday cake and a party. Includes fun-shaped bricks like a star, balloons, and watermelon.
---
This pedal-free bike cultivates confidence while kids develop balance and coordination, and the low-down tube ensures your toddler can get on and off their new set of wheels. It is intuitively designed to grow with them (up to five years, generally) until they are ready to transition to a traditional bike.
With 21 color combinations, this balance bike will be sure to please even the pickiest of color-conscious toddlers.
---
We just love this sweet, versatile push walker. It comes with a big toy chest that allows your little to fill it with all of their favorite things (just try to keep them from tossing in the family cat). They can sit on the floor and play independently, and once they can stand up, they can transport their belongings from here to there.
If your kiddo is still a little wobbly, you can accompany them as they push, and when they are steady, they can push this walker all on their own!
---
second birthday gifts over $75
If you're a regular on the Thrifty Littles Instagram, you know we talk about these scooters A LOT—and with good reason. The Micro Scooter brand is known by families for its smooth-gliding, long-lasting scooters for children and adults.
Two years old is the ideal age to introduce your little one to the Mini Deluxe Scooter. It features three wheels and a lean-to-steer design that offers stability. Plus, it has an adjustable T-bar handlebar that grows with children up to age 5.
---
The Lovevery Block Set might possibly be the most comprehensive block set ever designed. It includes 70 heirloom-quality pieces in 18 shapes that work together in more than 20 stage-based activities. Young kids will learn spatial and problem-solving skills while they build, thread, stack, roll, count, sort, categorize and connect blocks.
The set is complete with a wooden storage box with a shape-sorting lid, plus a cotton drawing bag for storage.
---
Kids and slides—the fun really never stops with them, does it? This super-fun toddler slide is the perfect size for outside or playroom fun! It folds for easy storage (win!). When the fun begins, just unfold and play.
---
You may have seen the viral TikTok of a mom riding one of these, which may be why it goes in and out of stock, and let us assure you: it is as fun as it looks. To be clear, it's not recommended for adults, but we totally understand why you'd want to get in on the fun.
Your littles will cruise along the colorful 9′ track on this kids' roller coaster toy as they practice balance, hand-eye coordination, and sharing. It's fun for both indoors and outdoors and easily comes apart for convenient and compact storage.
---
Let the cooking classes begin! This lightweight, adjustable wooden stool for children ages 2+ brings your little one up to counter height, so they can safely help you cook, do dishes, or work on arts & crafts projects. This design is uniquely foldable for convenient storage, so it can be put out of the way when it's not in use. It's available in three styles and a range of colors and features a non-slip mat.
---
The crème de la crème of kids loungers, these Pottery Barn Kids chairs are personalizable, super-cozy, and made to last. No more bickering about who's in whose seat!
They're easy to move from room to room (they even have a carrying handle) and cute wherever they land. The slipcovers are interchangeable, too, if your little one changes their favorite color and needs a cover to match.
---
There are many things to love about this play kitchen: it's simple, super-cute, and will provide hours (and hours!) of playtime. All of this kitchen's toddler-size components are detailed and realistic, too: a gold gooseneck faucet with hot and cold handles, knobs that click and turn, and utensils that hang on included hooks.
And, it includes accessories – utensils, a soup pot, cordless phone, and salt & pepper shaker.
---
This deluxe art easel made out of real pine wood includes a chalkboard and magnetic dry erase board. Your kiddo can hang paper, use dry erase markers, crayons, paint or let out their little artist in all sorts of other fun ways. The This deluxe art easel made of real pine wood features a paper roll, plus a chalkboard on one side and a magnetic dry erase board on the other. It includes select supplies (paper roll, non-spill paint cups, eraser) that easily stow in two large fabric bins. Once your little artist has finished their masterpiece, they can display it using the art drying clips.
---
This fun set can be whatever you (and your kiddos) want it to be: a fort, a gymnastics mat, a climber, and, y'know, maybe even a couch. Its comfy cushions are versatile and playful, offering littles endless possibilities for hours of fun.
The Blocksy comes in a variety of pretty pastel colors and is made in the from Foamnasium vinyl, a strong, easy to clean, and child-safe material. Whose fort is going to be the most epic fort? Game on!
We've given you a lot to work with here, and we hope you find something you love for the special two-year-old in your life. If you do, we'd love to see it! Tag us: @thriftylittles on Instagram and Facebook!
---
If you liked this post, you might like these too: