Which Bento Box is the best for toddlers? This question comes up a lot when parents are preparing for back-to-school. I don't think there's one overall winner, but there are some things to consider when making your choice.
Are you looking for a Bento Box that will last for years, or do you need one for occasional outings? Do you prefer stainless steel or plastic? Does your child like to eat warm foods or finger foods? Do you want space for a whole sandwich?
Below is a list of the most popular Bento Boxes for toddlers, plus what might make them a good fit for your family.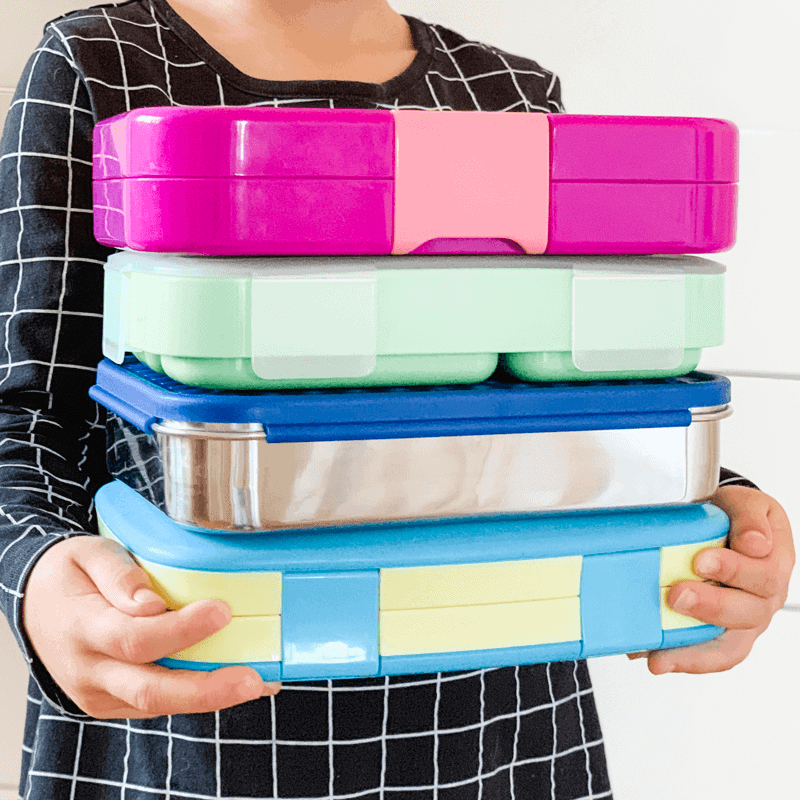 ---
The Bentgo is a top pick for toddlers because it's the most durable and it's easy for little hands to open, not to mention it's cute! The BPA-free bento box is leakproof and has five compartments that are perfectly portioned for toddlers, including a small compartment for dipping sauces or treats. The interior tray can be removed and is both microwave and dishwasher safe, and the rubber around the edges make it drop-proof.
One thing to consider is that the compartments are pretty small, so you might want to pass on this one if your little one has a big appetite.
---
If you like the functionality of the Bentgo Lunch Box, but you don't need the extra sturdy case, you can buy the insert with a lid instead. It's technically a meal prep insert, but many parents use these for preschool lunches too! The downside is they are not leakproof, and the lid is a little harder to remove, but you can't beat the price!
---
The Yumbox is the bento box that my kids have been using for years! It has a tray that's divided into six compartments, each of which is adorably illustrated with a food group to help your child learn about nutrition. Each compartment is leakproof so that you can pack a sandwich next to applesauce with no worries. The tray is dishwasher safe, and the latch is big and easy for kids to use.
This one does hold more food than the Bentgo, and they also have a four-compartment option that's great for sandwiches!
---
The OmieBox is the most versatile bento box that can hold both hot and cold food together side-by-side. It has a stainless steel thermos insert that keeps food warm and can be removed if your child prefers a sandwich. It comes with a divider that can be used to customize compartments, giving you even more packing options. The long compartment fits a boxed drink, and it has a built-in handle so your toddler won't need a separate lunch bag. Omie even makes a silverware set that attaches to the outside!
---
If you want a stainless steel bento box, this is the most popular option for kids. It's the priciest on our list but is a worthwhile investment since it will last for years! It has five compartments and comes with two sealable food containers with easy-to-remove silicone lids. Add some personality by customizing your PlanetBox with magnets available in a variety of themes!
Because of its unique shape, the Rover doesn't fit most standard lunch bags. It may be best to keep things simple by ordering the Planetbox Carry Bag, which is discounted if you buy them together.
---
This is another excellent stainless steel option with the benefit that it is a standard size and will easily fit into most lunchboxes. It has five compartments that hold a decent amount of food. It's dishwasher safe and, because it is made of stainless steel, it is virtually indestructible. This option isn't leakproof, but you can buy matching leakproof containers in condiment or twist-off styles.
---
If you're looking for an affordable option with the fun Bento feel, this is an excellent option! The BPA-free bento cube has three compartments with two removable trays giving you lots of options to pack your toddler's lunch. For yogurts and dips, it also comes with a screw-top leakproof container that fits inside one of the compartments or can be packed separately. It has one easy-locking clip that's easy for toddlers to open and it's top-rack dishwasher safe.
---
This is the most simple set on our list but is a parent favorite, especially for the price! Each BPA-free container has four equal compartments, and although it's not leak-proof, it's great for finger foods. It comes in a set of four, and the nest together, saving valuable space in your cabinet. Microwave, freezer, and dishwasher safe.