The Best New Picture Books of 2020
The moment we've all been waiting for is just around the corner. A new year. A fresh start. A reprieve (we hope) from the year we've had. But before we rush into a new year, there is always pause for reflection. A moment to consider: What went right this year?
If you're anything like me, you love scouring the "Best of" lists that invariably pepper websites the last several weeks of the year. It's the way I find new music or a movie or tv show I somehow missed, and best-of book lists are some of my absolute favorite things to peruse, especially because reading tastes vary so widely.
In no particular order, these 21 picture books top the list of books enjoyed by both my daughters and me in 2020. You may see these titles on other book lists, and many, I wager, will be contenders for the Caldecott Medal.
We own all but three of the books on this list; however, I plan to rectify that soon. In short, each one of these picture books is outstanding and would make an excellent gift for the loved ones in your life.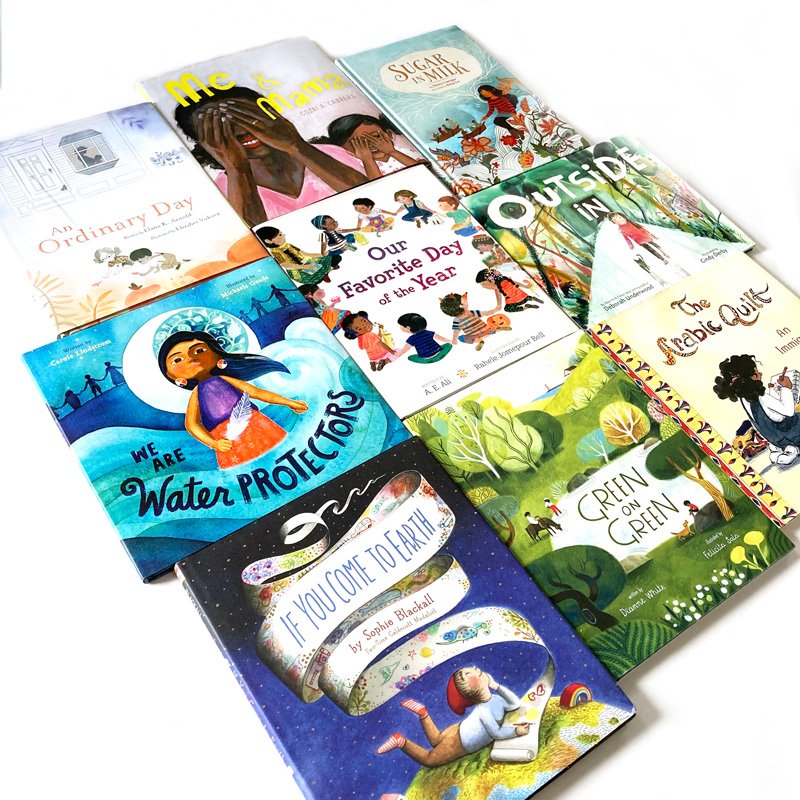 ---
"My friend Earth wakes from a winter nap" enveloped with a canopy of peach and aqua toned flora and fauna. Earth notices the silent creatures, the underground creatures, and the soaring birds crossing the sea.
It's impossible not to be swept away by both the text and stunning peek-through illustrations of this book, each spread featuring the timeless message to care for and be good stewards of Mother Earth.
Ages 4-8
---
"When I first came to this country, I felt so alone." So begins this moving tale about a young immigrant girl who comes to live with her Auntie and Uncle but has difficulty settling in.
One day the girl and her aunt go for a walk. As they walk, the aunt tells a story about how a group of Persian people was forced to leave their homes and sought refuge in India. The king of India, however, thought his land was too crowded and demonstrated this with a full cup of milk.
But the travelers had come so far and only wanted to live in peace and joy, which they showed by stirring in a scant amount of sugar into the brimming cup of milk. And though the strangers spoke different languages, the warmth of kindness and acceptance was palpable, and the newcomers were welcomed—an allegory for anyone who has had to make a new home in a foreign country.
Ages 5-8
---
Mabel is a resident of the Mermaid Hotel. She keeps a keen eye on the happenings of her surroundings. When an older woman arrives at the hotel, smelling of damp roses and vanilla, with twenty-three bags and an assortment of pets in tow, Mabel is immediately intrigued. However, Madame Badobedah (rhymes with ooooh la la) may be a nefarious villain with a host of unmentionable secrets.
Told in three parts, this new (longer) picture book is a pure delight and one that my six-year-old repeatedly requested over the year.
Ages 6-9
---
4 | Hike by Pete Oswald
A young boy wakes early to pack his bag and begin an awaited adventure with his dad. Together, the two drive far from the city to a familiar mountain range and sling on backpacks full of gear, and begin their ascent.
Along their hiking trail, they encounter various wildlife, all while relishing the invigorating wonder of fresh air. When at last the pair reach their destination, they plant a little sapling, a memorial perhaps or maybe just a way to give back to the earth that gives so abundantly.
My toddler was obsessed with this one all summer.
Ages 3-7
---
Two-time Caldecott medalist Sophie Blackall has done it again in this comprehensive look at what life on planet earth consists of. With masterful aerial depictions and immersive images (a colorful laundry line, children traipsing through all kinds of weather, and a look at both land mammals and aquatic creatures), this book covers everything from the microscopic to the magnificent as a young boy (Quinn) endeavors to describe this blue-green planet to an outsider.
We've already purchased copies to give to family members and teachers—a true standout of 2020.
Ages 3-8
---
A young girl learns about water from an elderly relative; she learns of its life and power and understands how its life force runs through her veins. However, a black snake looms, threatening the sanctity of water and destroying the land. Together, Indigenous peoples rally and fight against pipelines and other issues facing the planet's stewards. "We stand with our songs and our drums. We are still here."
A wonderful look at modern-day Indigenous peoples.
Ages 3-7
---
7 | You Matter by Christian Robinson
If you're small, you matter. If you come last, you matter. If you have pain (even if you are the only one who feels it and even if you are the one who provoked it), you matter. If you've failed, you matter. If you feel lost or alone, you matter. Whether small or big, young or old, every creature matters. A timely and universal message from a modern-day picture book master.
Ages 4-8
---
Brook has a school assignment and isn't sure how to complete it, but a visit to her grandmother (Mimi) gives her an idea of using nature and words. This ode to collecting disappearing words while exploring nature is a lovely new book featuring a strong intergenerational relationship. It reminds me of how I will always associate the words hankering and sashay with my maternal grandmother.
Ages 4-8
---
Five stories in one book, this I Can Read series is one that launched the early reader genre in the early 1970s with an optimistic Frog and his curmudgeonly counterpart Toad. With humor and wit, two friends navigate the everyday challenges of losing a button, not wanting to wake up for spring, and waiting for something exciting to come in the mail.
While it might be cheating to include this award-winning book, I can never resist a newly published compilation of stories that are as irresistible today as they were 50 years ago.
Ages 4-8
---
10 | Me & Mama by Cozbi A. Cabrera
A young girl creeps down the stairs to be with her mama as day breaks. Together they each have a cool sip from their respective cups and then brush their teeth in round little circles. After a shower, both daughter and mama get dressed and have a warm bowl of oatmeal. With hair combed, the two pull on rain boots and head out into the rainy wonder of the day. At bedtime, mama reads to her two children, and they laugh and are tucked in with a blanket tunnel.
Poetic sentences pair magically with detailed illustrations, conveying the special bond between mother and child.
Ages 4-8
---
11 | Outside In by Deborah Underwood
"Once we were part of Outside and Outside was part of us." Thus begins the story of a young girl (but really, all of us) who forgets that Outside is there. From car to house, Outside beckons; creeping in through the windows and casting long shadows at the close of day. Snails and bees, drooping petals feeding zipping hummingbirds, all blend in a series of watercolor illustrations complete with lines created from dried flower stems and thread.
The design, text, and movement conveyed through illustrations make this book sing.
Ages 4-8
---
Musa is skeptical when his kindergarten teacher says her favorite day of the year is meeting her new students. When the teacher then asks the students to tell the class about their favorite day of the year, the multicultural class is able to celebrate all the days that are special to each classmate, from one Muslim's student's celebration of Eid Mubarak, to a Jewish child's Shanah Tovah spread (including apples, honey, and challah bread), to Feliz Navidad and Las Posadas.
At the close of the year, the teacher gives each student a calendar to remind them what special holidays happen throughout each month of the year. An inclusive and celebratory look at holidays celebrated throughout the world.
Ages 5-8
---
13 | Neighbors by Kasya Denisevich
A young girl moves into a new apartment where she finally has a room to herself. But her ceiling is actually someone's floor, and her floor is someone's ceiling, and the girl is surrounded by neighbors. I wonder what they are doing right now? she thinks.
What follows is a series of questions as the girl ponders the possibilities of the strangers surrounding her. Another timely book for the year we've all spent an inordinate amount of time at home. For fun, see if you can spot the mermaid.
Ages 5-8
---
"I wake up with the sounds of words each morning all around me." A young boy stares out the window and names the things he sees, but the words get stuck in his throat. He hides at school, hoping he won't get called on so other children won't hear the tangled roots that twist over his tongue. After school, his dad takes him to the river, a place where the boy can be quiet, but not without the memories of his bad speech day.
It isn't until the end of the book that readers understand the boy struggles with a stutter. A stutter that churns and bubbles, whirls and crashes, just like the river. The beautiful, magnificent river. With a thoughtful author's note, this truly is a must-read book.
Ages 5-8
---
Starting at the beginning of spring, when all the world seems a shade of greenish-yellow, we follow a young boy as he cavorts through the seasons. Spring in the puddles, summer at the beach, fall in the pumpkin patch, and winter on the snowy plain—every season is a canopy of color but always interspersed with shades of green. This rhyming book is one that you won't soon forget.
Ages 5-8
---
On a seemingly ordinary day, two cars pull up to different houses, each house next to the other one. The visitors both carry small black satchels and go quietly into each home. In one house, a family gathers around their beloved golden retriever that would soon slip into that eternal sleep called death; inside the other house, a woman with a round belly awaits the arrival of a newborn child.
With a muted palette and the juxtaposition of birth and death, this slow-moving picture book accurately depicts the extraordinary moments in an otherwise ordinary neighborhood.
Ages 3-7
---
Aunt Jackie has invited her niece, Ernestine, to go camping for the weekend. Ernestine has never been camping, but with a thorough checklist from her aunt, she packs up all the necessary supplies, waves goodbye to her dad, and leaves with her cousin and aunt on an overnight outing.
Once at the campground Ernestine is sure she'll love swimming in the lake because she swims at the Y, except there are no fish at an indoor pool. Ernestine is confident she'll enjoy a hike because hiking is just walking, and she walks to school all the time. When dinner comes, the food isn't Ernestine's favorite, and by nightfall, she finally begs to call her dad.
Illustrated in a comic-book style, this was beloved by my two-year-old all summer long. I suppose it makes up for the fact that we still haven't taken our kids camping yet.
Ages 3-7
---
Kanzi starts third grade already feeling different. Her teacher, Mrs. Haugen, welcomes her new Egyptian-American pupil with keen interest, but one classmate is particularly unkind to Kanzi.
As the school year progresses, Kanzi showcases the quilt that her Egyptian grandmother made her. Then Kanzi's mother comes to the classroom to write all the students' names in Arabic, and together the class weaves a paper quilt made of the beautiful names.
This inclusive message speaks to bullying, forgiveness, tolerance, and seeing outside of ourselves. My six-year-old gives this a hearty endorsement.
Ages 6-8
---
Leo lives in an old blue house with his dad. Though the paint is peeling and the neighborhood is changing, Leo loves the blue house's cozy corners, warm kitchen, and character. Eventually, father and son pack their belongings and move into a new home, a home that isn't like the blue house at all.
As father and son navigate feelings of loss, they make a plan and decide to make a place where the blue house can physically be part of their new home as a painting on the bedroom wall. With so much of 2020 spent at home, this book feels especially poignant for that reason.
Ages 3-7
---
A boy wishes for a special dollhouse for his birthday but instead receives a red toolbox from his grandpa. Disappointed, the boy listens while his grandpa explains about each tool and recounts completed projects he has made in the past.
When the boy tries to hide his new gift, he finds a feathered friend in need of a new home and decides he might be able to help. With safety goggles secured, the boy seeks out his grandpa and soon discovers he also has a handy side he didn't know he possessed—a delightful follow-up to When Grandma Gives You a Lemon Tree.
Ages 3-7
---
A young girl ponders what black means and why black isn't a color in the rainbow. But black is in a feather on the snow, and it's bicycle wheels turning down the road. Black is the color of Supreme Court justices' robes, and black holds the stories of a people, their heritage and culture.
Complete with a joyful playlist and thoughtful author's note, this BIOPIC picture book is a powerful tool to begin conversations about race both within the home and classroom. We can't recommend it enough.
Ages 3-7
If you liked this post, you might like these too: