The Best Beach Gear for Toddlers 🏖
Before having children, a day at the beach meant throwing a towel, headphones, and good book into a cute tote for a day of relaxing. But a beach outing with a toddler is a whole different story.
To set yourself up for a successful day at the beach, you'll want to go prepared. And with toddlers, in this case, that does mean more stuff.
I've been taking day trips to the beach with my kids since they were babies. So, I have an idea of what gear is worth hauling with you. Of course, if you're going to the beach while on vacation, you'll need to simplify things and think about products that pack well.
To help you sort through the many options on the market, I've compiled my top recommended beach gear for toddlers. From sun protection to toys to hauling everything from the car, below are some favorite products guaranteed to help make for a fun day in the sun with your kids.
See more of our favorite travel toys and products in our Traveling With Kids Hub.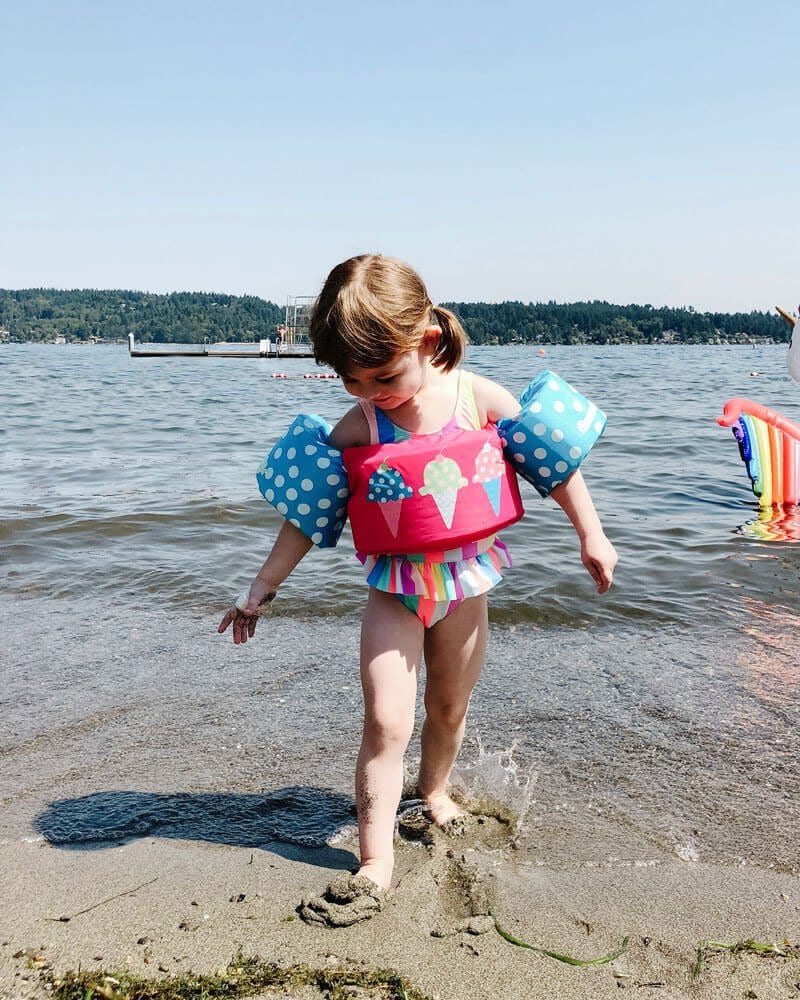 ---
Toddler Sun Protection
Let's start our toddler beach round-up with sun protection because it is, without a doubt, the most important thing to consider for a successful beach day. Babies and toddlers have sensitive skin, and it's critical to keep it protected from the sun.
Toddler Sun Hat
A good sun hat for your toddler is a beach (and summertime) essential. It's one of the best ways to protect your little one's scalp, face, neck, and ears. Be sure to choose one with UPF-rated protection!
There's no sense in getting a sun hat that won't stay on, so choose one that can be easily secured to your child's head with a chin strap. Another feature we love is a hat with extra neck coverage. And, of course, you'll want a sun hat that is lightweight, breathable, and easy to pack in your bag.
Three brands that check all the boxes are Sunday Afternoon, i play by Green Sprouts, and Rufflebutts. Some favorites are rounded up below.
Toddler Rashguard
Trust me, rashguards are the way to go for a day at the beach. They provide UPF coverage all day, and since they cover a lot of skin, that means less wrestling with your toddler to apply and re-apply sunscreen to their whole body.
Rashguards come in two styles: one-piece rashguards and rashguard tops. I prefer the styles with zippers, which makes for easy on and easy off.
Beach Tent
Another great way to protect your toddler's skin is by letting them play or sleep inside a beach tent. The Pacific Breeze Easy Setup Beach Tent is an excellent option if you want one that can fit your whole family and multiple children. The WolfWise Easy Pop Up Beach Tent is unique in that it has a rear door for maximum ventilation.
There is also a variety of smaller beach tents designed specifically for toddlers. The Joovy Gloo Travel Tent has a UPF 50 canopy and will provide your little one a spot to nap, and the Monobeach Pop-Up Beach Tent has a pool for playtime!
Sunscreen
Don't forget about the sunscreen! Thinkbaby is a top choice for toddlers as it's received the highest possible safety rating from EWG. Bonus: it smells great and rubs in well. (There's also a stick version.) A few other brands that I love are Tubby Todd, Baby Bum, and Blue Lizard.
I also really love to have a Brush-On Mineral Powder Sunscreen on me as well because it's so easy to apply!
And speaking of sunscreen, I've heard good things about the Solar Buddies Sponge Applicator – simply fill it with your choice of sunscreen, shake it, and roll back and forth to apply. Life-changing, right?
---
Toddler Beachwear
Let's move on to getting your little one the appropriate toddler beachwear. We covered some of this above in sun protection, but there are still a few more things you'll want to consider.
Swim Diapers
If your toddler will be getting in the water at the beach, you'll want to make sure they're wearing a swim diaper. Swim diapers are designed to contain solids and let liquids pass through. Regular diapers will just absorb all the water, making them useless. (Be sure to change your toddler out of their swim diaper before putting them in their car seat or stroller as you might have a big mess on your hands!)
Disposable Swim Diapers: If you'll be visiting the beach while traveling, disposable swim diapers are the way to go! You can just toss them when they're messy – no need to carry a dirty diaper back to the hotel.
Reusable Swim Diapers: If going to the pool or the beach will be a regular thing, you might want to consider going the reusable route. Reusable swim diapers can either be worn alone with a rash guard top or underneath another swimsuit. And you can even get a swimsuit with a built-in reusable diaper for an all-in-one option.
Toddler Sunnies
If your little one will keep them on, sunglasses will protect their eyes – just be sure they offer 100% UVA and UVB protection. Babiators and WeeFarers are two favorite brands because they are super durable and come in multiple sizes. Cocosand is another one at a lower price point!
Toddler Life Vests
Water safety is a big concern at the beach, so you'll need to bring a life jacket if your toddler will be anywhere near the water. Be sure to choose one that fits your toddler.
For younger kids, the Gogo Kids Kids' Swim Vest and the SwimSchool Swim Trainer Vest are good options. For kids over 30 lbs, Puddle Jumper Life Vests are great.
---
Hauling Your Beach Gear
Beach Wagons
Instead of making multiple trips from the car to the beach, throw your bags, toys, towels, consider getting a beach wagon or beach-friendly stroller wagon. The MacSports Folding Beach Wagon is the gold standard if you're looking for an option to carry just the goods.
Another option is a stroller wagon that can also be used for your kids. Buying a stroller wagon is a bit of a splurge for one beach trip, but might be worth the investment if the beach will be a regular outing or if you've been thinking about the purchase anyway!
Beach Bags
Beach Bags: There are a few routes to go for beach bags. A few years ago I bought a Bogg Bag and I've never looked back. It's tip-proof, durable, and can be sprayed clean at the end of the day. Because of the size and the shape, it will fit almost all of your beach supplies. And as a bonus, it comes in a rainbow of fun colors!
Having a large mesh beach bag is a fantastic option, particularly for travel since they easily pack down. Also, the mesh fabric design means you can shake off the sand.
---
Other Toddler Beach Essentials
Beach Blanket: You'll need a designated spot for your crew! I love the Little Unicorn Outdoor Blanket. Sand easily falls off of them, it's lightly padded, and at the end of the day, you can fold it up and carry it back to the car with the handles or shoulder straps. And if it really needs a good cleaning, it's machine washable too!
Another option that packs down small making it great for travel is the Wekapo Sandproof Beach Blanket. It's lightweight, sand proof, water-resistant, and comes with metal stakes to keep it in place.
Insulated Food Containers: Be sure to pack insulated water bottles and snack containers to keep water and food cool at the beach. The Thermos Funtainer Kids' Insulated Straw Bottle is a fantastic option because it the lid keeps sand away from the straw. I'm also a fan of the Insulated Kids' Food Jar by the same brand to keep fruits/veggies cool.
Portable Fan: It can get hot out there playing in the sand. Setting up your beach tent with this rechargeable fan can help cool down those active babes. The clip-on style makes it easy to move around where needed. My kids also love this handheld fan – don't worry, it has soft touchable blades to keep little ones safe.
Portable Sound Machine: Don't forget the sound machine! Having a sound machine will help your toddler wind down and sleep when there is a lot of simulation in a new environment.
Baby Powder: Are you ready for this little beach mom trick?! Use dusting powder to get all that sticky wet sand off your little ones! It works like a dream. This Burt's Bees Baby product is 100% natural and talc-free, so no more sandy bottoms or toes for that car ride home.
Beach Toys: You are definitely going to want to bring a few beach toys to keep the little ones digging in the sand! This B. Toys Sand Toys Set has everything you need for a day on the beach. 
And there are a lot more ideas in our blog post Our Favorite Beach Toys for Kids.
---
If you liked this post, you might like these too: