There is nothing quite like a day at the beach. The sun, the waves, the kids running free, and…the gear. Oh yes, the GEAR! Before children, a day at the beach meant throwing your towel, headphones, and book into your cute tote for a day of relaxing. But a beach outing with a baby or toddler is another story.
To set yourself up for a successful beach day, it really is best to be prepared. And with kids, that oftentimes does mean more stuff. To help you sort through the many options on the market, we've compiled a list of the best beach gear for babies and toddlers. From sun protection to toys to hauling everything from the car, below are some favorites items guaranteed to help make for a fun day in the sun.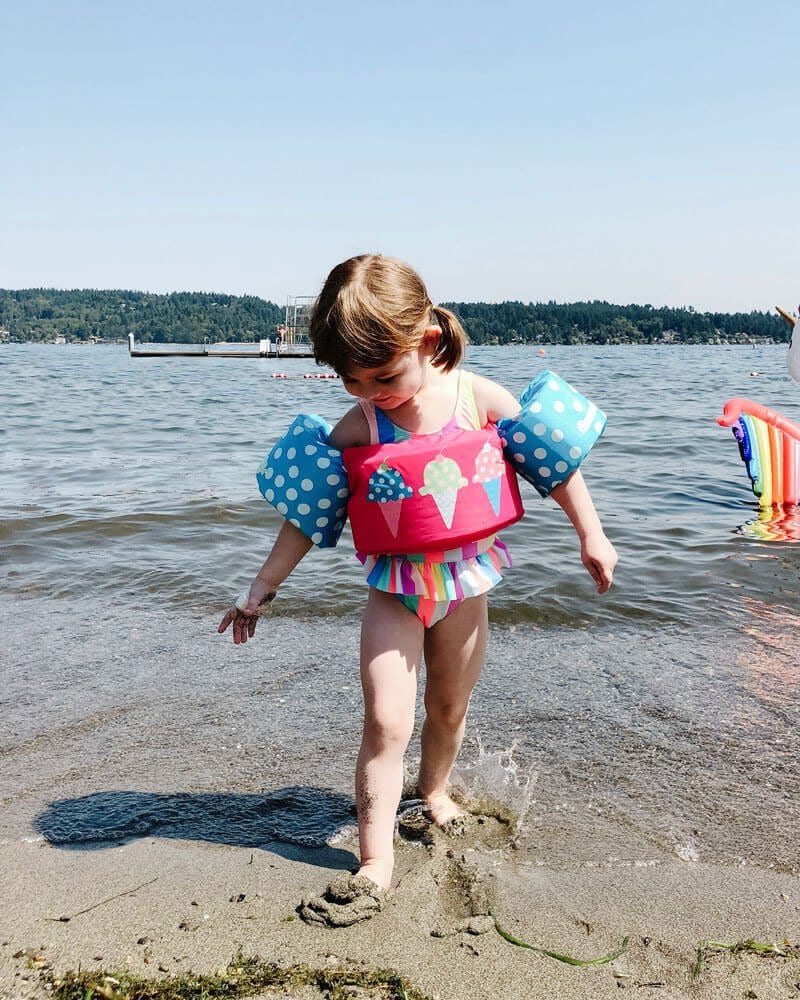 SUN PROTECTION
Having a shady spot for baby is a necessity for a great day at the beach. This pop-up travel tent sets up in seconds and will protect your baby from sun, sand, wind, and bugs while they play or nap. It provides SPF 50+ coverage, has breathable mesh to keep bugs away, and comes with a travel bag.
A sun hat is one of the best ways to protect your baby's skin from the sun, and they thought of everything when they designed this one! It has UPF 50+ fabric and a wide brim, plus an adjustable head strap and drawstring closure to keep it secured, even in the wind. It also has mesh side panels, a break-away chin strap, and it floats, so if it's dropped, it's not gone for good.
Your baby will be so happy playing around and cooling down in this baby beach tent with a built-in splash pool! It provides UV50+ protection, pops up in seconds, and comes with a handy travel bag.
Don't forget about the sunscreen! Thinkbaby is a top choice for babies as it's received the highest possible safety rating from EWG. Bonus: it smells great and rubs in well. (There's also a stick version here.)
If you'd prefer a tent that fits your whole crew, this one is a top-rated favorite! It might look like a complicated set-up, but it just pops right open, and at the end of the day, it collapses just as quickly. It has UPF 50+ sun protection and large windows for ventilation.
BEACHWEAR
One-piece rash guards are the way to go for a day at the beach. They provide UPF coverage all day, and since they cover a lot of skin, there's less skin to cover with sunscreen (phew!). Oh, and no need to stress about diaper changes or potty runs – this one has a snap closure at the bottom so it'll be a breeze.
We've tried many different water shoes but always come back to these. They are comfortable, easy to put on, and the perforated design allows little feet to breathe in warm weather. Plus, they are easy to clean – hose them off, wipe off with a Magic Eraser, or throw them in the washing machine.
Water safety is a big concern at the beach. Our family loves Puddle Jumpers because they keep kids safe at the water while allowing them the freedom to explore and play. (Puddle Jumpers are for kids 30+ pounds – an option for smaller children here.)
Disposable swim diapers are an option, but if going to the beach is going to be a regular thing, reusable swim diapers are better for your wallet and the environment. They can either be worn alone with a rash guard or underneath another swimsuit and can be cleaned in the washing machine.
Babiators are sunnies designed specifically for kids! So what does that mean? Besides protecting little eyes from the harmful rays of the sun, they have flexible rubber frames & shatter-resistant lenses making them kid-proof.
BEACH TOYS
Be sure to bring some beach toys for your little one to play in the sand! This is the ultimate set that includes everything they'll need – a bucket, sifter, truck, watering can, sand molds, and more.
While the best part of any beach day is taking a dip in the ocean, it is also nice to have a place for the littlest ones to play in a more controlled environment. Fill up this baby pool with some toys and water, and let them play and splash around while you relax!
Beach Pails! These are a must-have item for any beach adventure, and this collapsible version makes them easy to pack.
An activity center might seem overkill for the beach, but it might be your smartest move yet, especially if you'll be spending a decent amount of time there. This portable one has an innovative pop-and-fold design that sets up in seconds, and a canopy to help protect baby from the sun. It has a bouncy seat, multiple toys, and a 3-level height adjust.
There's no need to bother with any other tote bag for beach toys as this one will fit them all (and then some)! The mesh fabric design means you can shake off the sand off the toys, and even use a hose for extra cleaning.
This bag is a bit of a splurge, but it's 100% worth it. It's tip-proof, durable, and can be sprayed clean at the end of the day. Because of the size and the shape, it will fit almost all of your beach supplies. And as a bonus, it comes in a rainbow of fun colors!
Instead of making multiple trips from the car to the beach, throw your bags, toys, towels, and little ones into this beach wagon and wheel it all in one go.
EAT, DRINK, + RELAX
You'll need a designated spot for your crew! We love these wipe-clean outdoor blankets. Sand easily falls off of them, and at the end of the day, you can fold it up and carry it back to the car with the handles or shoulder straps. And if it really needs a good cleaning, it's machine washable too!
You'll appreciate having a spot for your baby to sit, eat, and play. This travel booster packs up compactly and comes with a travel bag. The high chair is easy to wipe clean, and for bigger messes, the fabric can be removed and tossed in the washing machine.
Turkish towels are not only cute, but they are also super absorbent and fast drying. They take up much less space than a traditional beach towel, making them perfect for travel, and, as a bonus, they can also double as a nursing cover for mom!
Wear your baby into the water with this specially designed water sling! The lightweight athletic mesh is breathable and dries quickly, and the aluminum ring is rust-resistant. Ideal for babies 8-30 lbs.
There's nothing better than cold water on a hot day! This bottle will keep your little one's drink cold for up to 12 hours, and it has an carry handle. We also like the Thermos food jars to keep fruit and veggies cool.
It can get hot out there playing in the sand. Setting up your beach tent with this rechargeable fan can help cool down those active babes. The clip style makes it easy to move around where needed.
These waterproof bags are another must-have! They are a great way to transport wet, sandy swimsuits at the end of the day but they're also great for packing a change of clothes and other supplies.
Don't forget the sound machine! Having a sound machine will help your baby wind down and sleep when there is a lot of simulation in a new environment.
Are you ready for this little beach mom trick?! Use dusting powder to get all that sticky wet sand off your little ones! It works like a dream. This Burt's Bees product is 100% natural and talc-free, so no more sandy bottoms or toes for that car ride home.