2022 Holiday Gift Guide for Toddlers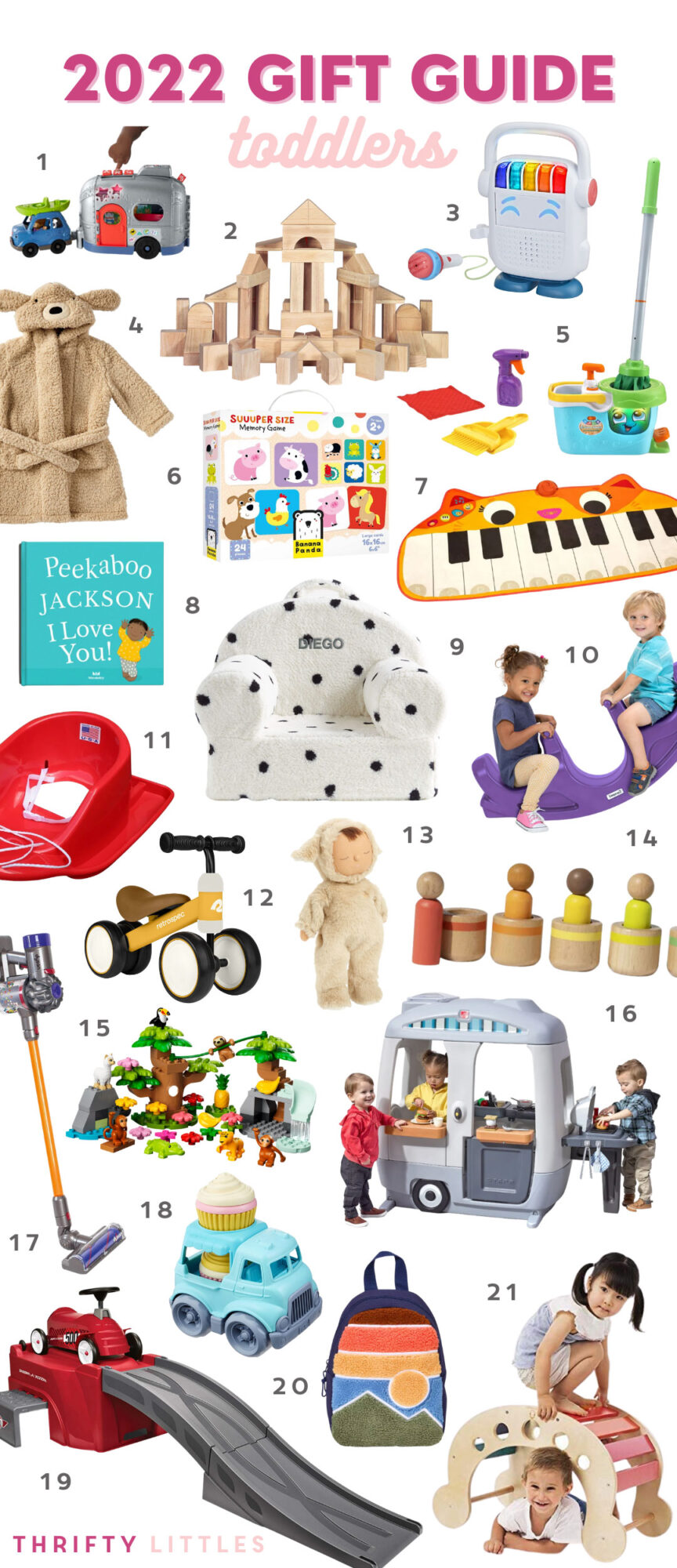 For more gift ideas, check out the Holiday Hub!
1 | FISHER-PRICE LITTLE PEOPLE CAMPER: The Little People Camper is a push-along vehicle and an interactive playset with lights, music, songs, and phrases. Includes car, camper figure, dog figure, and four play pieces.
2 | MELISSA & DOUG BUILDING BLOCKS: A set of large classic building blocks will grow with your child for years! It comes with a wooden crate for storage.
3 | PLAYSKOOL ROCK 'N ROLL BOT: Your little performer will take center stage with this musical buddy! It's a Bluetooth speaker and a voice-changing karaoke microphone in one, and each of the five buttons plays kids' songs reimagined in modern styles.
4 | POTTERY BARN KIDS LABRADOODLE CRITTER ROBE: Post-bath snuggles got even cuter with this fuzzy critter robe. Add in the matching critter slippers for some extra sweetness!
5 | LEAPFROG CLEAN SWEEP LEARNING CADDY: Have fun cleaning up with the LeapFrog Clean Sweep Set! Press on the foot pedal to make the bucket spin, and press on the soap pump to make squirting sounds. Follow fun directions and count along from one to ten!
6 | BANANA PANDA SUUUPER SIZE MEMORY GAME: The bright animals and extra large cards make this matching game extra fun!
7 | LAND OF B. FLOOR PIANO: Hop, dance, and play on this jumbo-sized floor piano! It has three keyboard modes (musical notes, silly meows, and wacky sounds) for loads of fun. Plus, little ones can remix featured melodies with different drum beats and press the kitty's ear for five fun dance tunes!
8 | WONDERBLY PEEKABOO, I LOVE YOU! BOOK: Story time will be extra fun with this playful peekaboo book featuring your little one! Can they spot themselves inside the book? Get ready for lots of giggles!
9 | CRATE&KIDS SHERPA POLKA DOT NOD CHAIR: If you're looking for a chair to grow with your toddler, the Nod Chair is always a great option! It has a pocket on the back and a handle so you or your little one can move it around the house. Plus, the fabric is machine washable because accidents are bound to happen!
10 | SIMPLAY3 ROCK & ROLL TEETER TOTTER: This isn't just any teeter totter – flip it over, and it becomes a tunnel or a bridge. Fun for getting the wiggle out playing indoors or outdoors!
11 | FLEXIBLE FLYER TODDLER BOGGAN: The high back, wide base, and adjustable straps make this sled a safe and fun way for toddlers to take on the snow. And if they need more time to hit the slopes, take them on a ride using the attached string.
12 | RETROSPEC CRICKET BALANCE BIKE: Toddlers can work on their balance while having fun on their first balance bike. The no-scratch wheels protect your floors, and the limited steering prevents your toddler from turning too far and falling to the side. Available in multiple colors.
13 | OLLI ELLA COZY DINKUMS STUFFED ANIMAL: Your little one will love snuggling with this soft & cuddly bear in its faux-fur coat. These high-quality dolls have a gentle weight, an embroidered face, and a rainbow over their heart.
14 | LOVEVERY POST & PLAY PEG PEOPLE TOY: Inspire your little one's imagination with this set of seven peg people. Practice color matching, nesting, and stacking while engaging in imaginative play.
15 | LEGO DUPLO WILD ANIMALS SETS: Introduce your toddler to the world of DUPLO with the new Wild Animal Sets! Choose from South America, Europe, Asia, Africa, the Ocean, or the World. These are a gift that they will play with for years!
16 | STEP2 ADVENTURE CAMPER: The Adventure Camper is the ultimate playhouse, with a kitchenette, grill, serving window, and over 50 accessories. The extra details like a built-in floor, apron door, and lights and sounds will add to the fun!
17 | CASDON DYSON CORDLESS VACUUM TOY: This toy vacuum is a replica of the full-size version. With the same "twist and turn" movement, realistic noises, and even a working suction. Your toddler will love cleaning the house with you!
18 | GREEN TOYS CUPCAKE TRUCK: Your little baker can practice stacking with this mix-and-match cupcake truck. It has a removable canopy tray, frosting, cakes, and cupcake liners for two cupcakes. Made from 100% recyclable plastic.
19 | RADIO FLYER 500 RIDE-ON: Fulfill your little one's need for speed with this super fun roller coaster ride-on! Use the vehicle on or off the tracks for double the fun! When playtime is over, the 6′ track and car fit into the base for easy storage.
20 | CAT & JACK MINI BACKPACK: This backpack is just the right size for your toddler to carry around their most prized possessions! We love the colorful mountain, and this sherpa teddy bear is equally adorable!
21 | CASSAROKIDS CLIMBING WOODEN ROCKER: Your toddler's creativity can decide what this toy is – a rocker, a boat, a resting place, a bridge, or a tunnel! The possibilities are endless—and truly up to them.
---
If you liked this post, you might like these too: