2022 Holiday Gift Guide for Preschoolers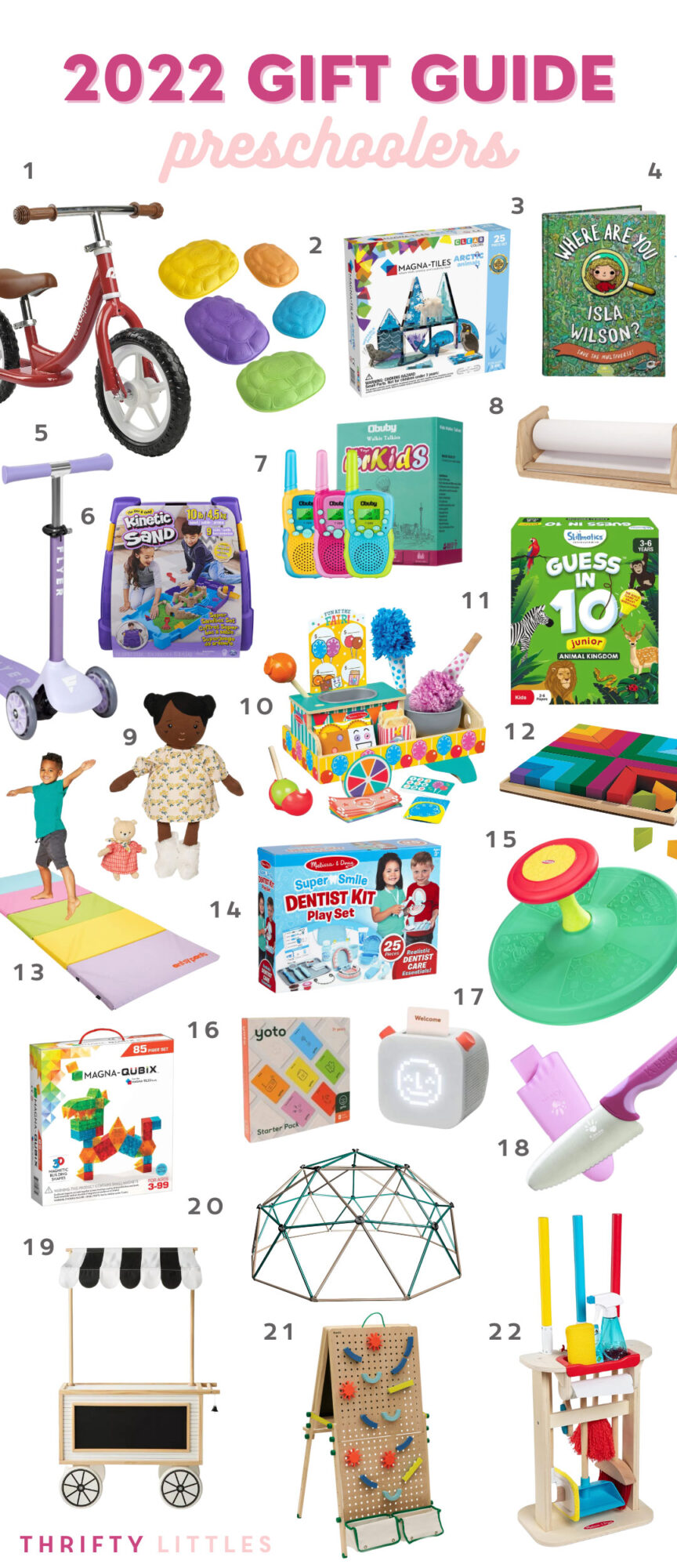 For more gift ideas, check out the Holiday Hub!
1 | RETROSPEC CUB KIDS BALANCE BIKE: This pedal-free bike cultivates confidence while kids develop balance and coordination. It is designed to grow with them until they transition to a traditional bicycle.
2 | HAPINEST TURTLE STEPS BALANCE STEPPING STONES: This colorful set of stepping stones promotes active play and will inspire your preschooler to jump and balance. This set includes six turtle shells in two sizes, plus a set of activity cards with games to play.
3 | MAGNA-TILES ANIMAL SETS: The new Magna-Tiles animal collection provides a new way to play with one of our favorite magnetic toys! The animals are movable and magnetic, allowing them to attach to the classic tiles. Choose from arctic, jungle, or safari animals.
4 | WONDERBLY WHERE ARE YOU? SAVE THE MULTIVERSE BOOK:Send up to three children to save the multiverse in this personalized search-and-find book. Choose the skin tone, hairstyle, and hair color for your child. Then they can search for their character throughout the book and even see their name on the cover!
5 | RADIO FLYER GLIDER JR. SCOOTER: The new 3-wheeled scooter from Radio Flyer has an adjustable handlebar to grow with your child and lean-to-steer technology to help with balance. Plus, it comes in various fun colors to fit your little one's personality.
6 | KINETIC SAND SUPER SANDBOX SET: If your preschooler is a super Kinetic Sand fan, they'll love this super sandbox set! It comes with 10 lbs of Kinetic Sand and ten molds to create epic sandcastle builds. When it's time to clean up, everything fits inside the portable sandbox.
7 | OBUBY WALKIE TALKIES: These walkie-talkies are perfect for the playground, travel, outdoor adventures, hide and seek, and wherever your kiddos' adventures take them. This set is great for younger kids because it has a setting where kids can talk without pushing the "talk" button. Available in sets of two or three, depending on your needs.
8 | MELISSA & DOUG TABLETOP PAPER ROLL DISPENSER: Your little artist will love an endless supply of paper to make their creations! This tabletop paper roll features a child-safe tear strip so kids can easily remove their artwork from the roll. Be sure to stock up on extra paper rolls!
9 | MANHATTAN TOY PLAYDATE FRIENDS DOLL: We love a machine-washable doll, especially one that looks as heirloom-quality as this one! Choose from six dolls, which measure 14 inches from head to toe, and include a mini friend.
10 | MELISSA & DOUG CARNIVAL CANDY PLAY SET: Going to the fair is always a good time, so we are big fans of the Fun at the Fair! Collection from Melissa and Doug! There are many fun carnival-themed play sets, from games to sweet treats!
11 | GUESS IN 10 JUNIOR ANIMAL KINGDOM: Ask up to 10 questions to guess the animal on the card! Where does the animal live? Does the animal have 4 legs? What does the animal eat? No reading is required to play the Junior version, so it's ideal for this age group. Choose from Animal Kingdom, Food We Eat, and Inside My House.
12 | MINDWARE PATTERN PLAY: This colorful wooden puzzle introduces children to patterns and geometric concepts. They'll develop fine motor skills and spatial relationships by replicating the designs shown on the illustrated cards.
13 | ANTSY PANTS TUMBLE MAT: Gym fun anywhere! Your child can jump, tumble and summersault on this rainbow-colored tumbling mat. Folds flat for easy storage.
14 | MELISSA & DOUG DENTIST KIT: Your little dentist can give cleaning, treat cavities, and fit retainers and braces with this 25-piece dental set.
15 | PLAYSKOOL SIT 'N SPIN TOY: This classic toy is a blast from the past. Kids sit on it and push or pull the stationary wheel to spin the base fast or slow.
16 | MAGNA-QUBIX BLOCKS: Magna-Qubix are magnetic building blocks for kids of all ages. Use them for vertical play on garage doors, to build 3D structures, and even to decorate classic MagnaTiles. So many possibilities!
17 | YOTO PLAYER: The Yoto Player is an audio player for kids! Insert cards from the curated library into the device for hours of fun. Kid-friendly dials make it easy to control the volume and skip ahead or go back. There is a library of over 300 content titles, including audiobooks, music, educational activities, and children's podcasts. Plus, kids can create their own content on audio cards for playback!
18 | KIBBIDEA KIDS KNIFE: Kids love the independence of being able to cut their own food, and this kid-friendly knife allows them to do that in a safe way. It has serrated edges, which will not scratch skin, and a finger guard to keep little fingers safe.
19 | HEARTH & HAND WITH MAGNOLIA MARKET: When life gives you lemons, grab the sugar, and this sweet stand for your preschooler to sell lemonade to the neighborhood! It features open drawers for display, a chalkboard, and a charming metal bell to ring and alert the area that your child is open for business!
20 | LIFETIME GEOMETRIC DOME CLIMBER: This dome climber is the ultimate outdoor toy that will grow with your child for years. It has rock climbing hand grips, and you can even attach a swing or hammock for extra fun!
21 | KIWI CO MARBLE RUN + ART EASEL: This fun easel provides two ways to play – a marble run and an artist's studio. The marble run comes with 35 track pieces and spinners, and the artist's studio has a reversible chalkboard/whiteboard with built-in paint cups and an art tray.
22 | MELISSA & DOUG SPARKLE 'N SHINE CLEANING PLAY SET: The classic Melissa and Doug cleaning set got an upgrade! This new 11-piece set includes a broom, dustpan, sweeper-mop, lint brush, duster, sponge, spray bottle, and cloth towel roll, all of which fit into the wooden storage stand.
---
If you liked this post, you might like these too: