2022 Holiday Gift Guide for Girls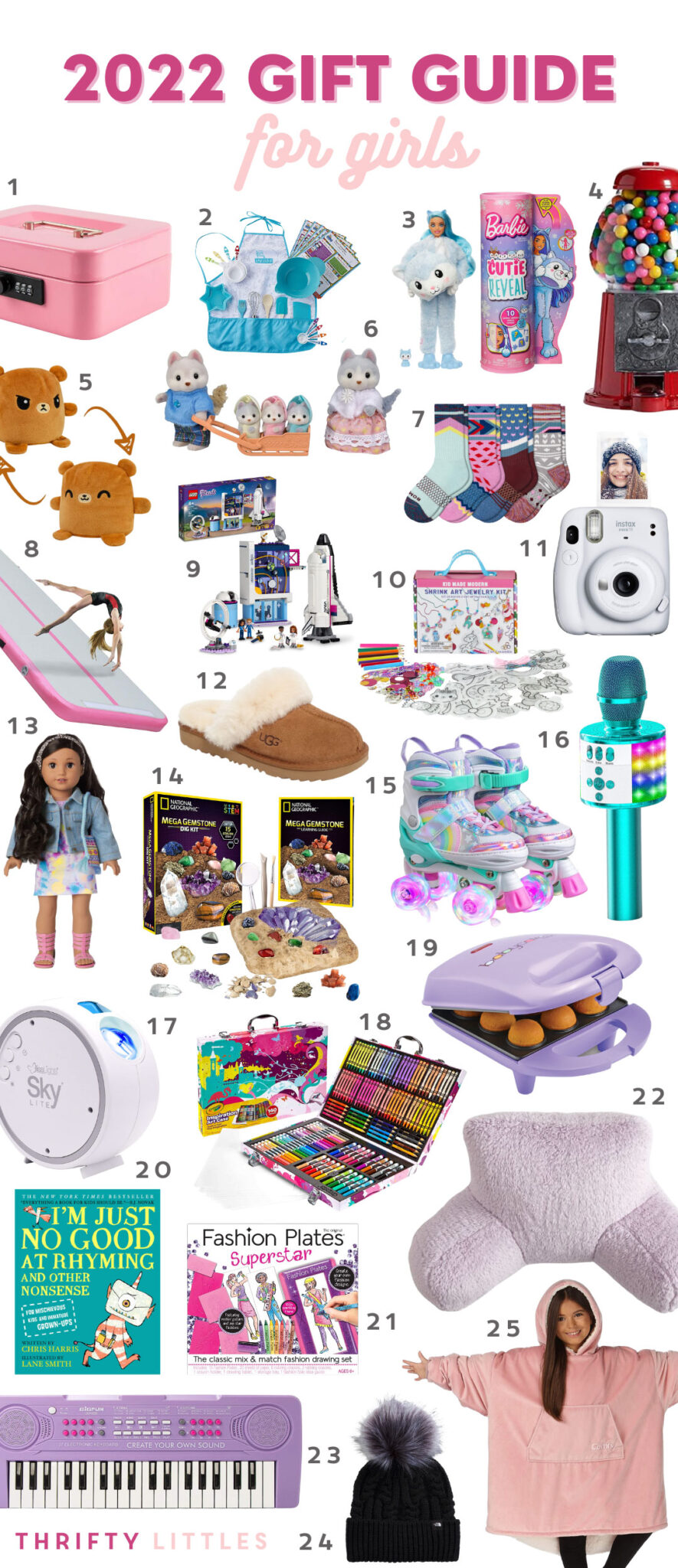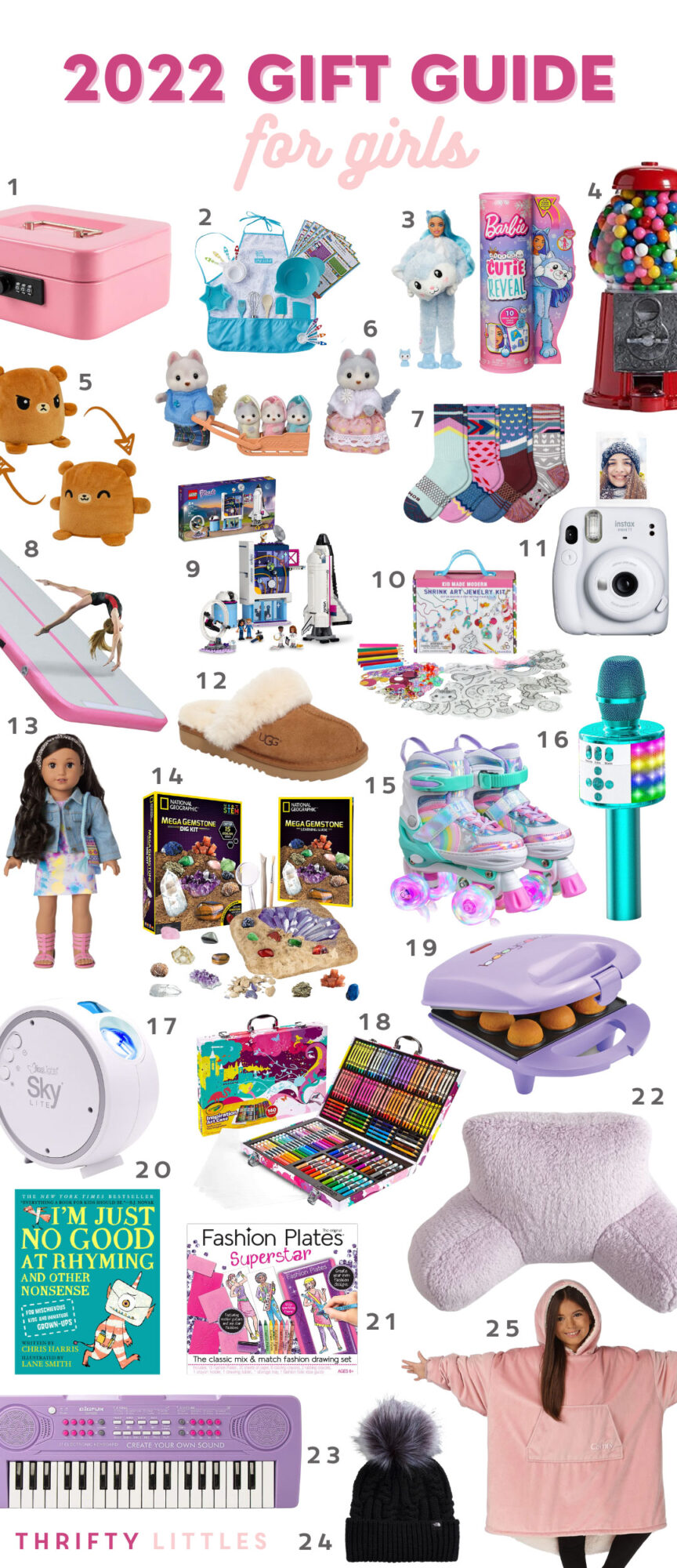 For more gift ideas, check out the Holiday Hub!
1 | COMBINATION LOCK CASH BOX: A place to store all of their valuables and cash is sure to be a hit!
2 | MINDWARE DELUXE COOKING KIT: Get cooking in this kitchen with this 22-piece cooking set for kids! The recipes are easy to follow, and the measuring cups are color-coded to match the included recipe cards to assist the youngest chefs.
There is also a baking set and cake decorating set by the same brand.
3 | BARBIE CUTIE REVEAL: This adorable seasonal Barbie delivers the cutest unboxing experience with a plush costume, mini pet, and accessories!
4 | GUMBALL BANK: What child wouldn't love their own gumball machine? This one operates with and without coins.
5 | TEETURTLE PLUSHMATES: TeeTurtle Plushmates are reversible plushies that hold hands! They flip from angry to happy (but only hold hands when happy). There are lots of characters to choose from.
6 | CALICO CRITTERS HUSKY FAMILY: We love this line of miniature animals for kids of all ages. There are many families to choose from, plus dollhouses, playsets, and accessories.
7 | BOMBAS HOLIDAY SOCKS: Bombas socks are so cozy and fantastic quality. Plus, for every pair purchased, another pair is donated.
8 | AIR MAT TUMBLE TRACK: If your girl loves tumbling, they will love the Air Mat Tumble Track! It has an air pump that inflates it in 30 seconds and a carry bag.
9 | LEGO FRIENDS OLIVIA'S SPACE ACADEMY: Your girls' imagination can take flight with this fun space academy set! This 757-piece set includes a Space Shuttle model, an academy building, a telescope, and four LEGO Friends characters
10 | KID MADE MODERN SHRINK ART JEWELRY KIT: A blast from the past! Color in the design, then bake in the oven and watch them shrink into charms. This set includes everything your jewelry designer needs to create charms and jewelry.
11 | FUJIFILM INSTAX MINI 11 INSTANT CAMERA: These cameras are the perfect size for kids, easy to operate, and kids will love having the pictures right away.
12 | UGG COZY II SCUFF SLIPPER: Cozy and always a classic.
13 | AMERICAN GIRL TRULY ME DOLL: With the Truly Me collection, kids can choose a doll (and accessories!) that looks like them or fits their personality.
14 | NATIONAL GEOGRAPHIC GEMSTONE DIG KIT: Excavate natural crystal treasures with this gemstone dig kit. You'll receive a big brick packed with gemstones, plus a chisel, brush, a learning guide, and a magnifying glass.
15 | RAINBOW UNICORN LIGHT-UP ROLLER SKATES: Yes, these roller skates are adorable, but even better is they grow four sizes with just the push of a button. Oh, and don't forget the wrist guards and knee pads.
16 | BONAOK KARAOKE MICROPHONE: Your budding performer will love this portable Bluetooth microphone that comes in multiple colors! It has 48 lights that flicker with the music and includes a carry case.
17 | BLISSLIGHTS SKY LITE: This laser star projector puts on a show with drifting stars against a transforming RGB nebula cloud, bringing instant ambiance to any room. This projector can be controlled via app or simple button controls.
18 | CRAYOLA INSPIRATION ART CASE: The Crayola Inspiration Art Case comes with over 140 coloring tools and 15 large pieces of paper – everything needed to create many masterpieces.
19 | BABYCAKES MINI CAKE POP MAKER: If you love cake pops in your home as much as we do, this mini cake pop maker will surely be a hit! It makes making cake pops easy and fun – spray with oil, pour the batter, close the lid, bake for a few minutes, and voila – perfect cake pops!
20 | I'M JUST NO GOOD AT RHYMING: This book is full of silly poems "and other nonsense." It's the perfect gift for kids who love to laugh and one they'll pick up repeatedly for years!
21 | FASHION PLATES SUPERSTAR: Your little designer will love to create fashion designs with mix-and-match drawing plates like the ones you remember from childhood!
22 | POTTERY BARN COZY SHERPA BACKREST PILLOW: Whether watching a movie or reading in bed, this pillow will create the coziest spot. Plus, the removable cover is machine washable, a necessity in our book!
23 | KIDS KEYBOARD: This compact keyboard is a fun introduction to kids who are interested in music. It has multiple tones and rhythms for children to create their own music and is small enough for them to carry around.
24 | THE NORTH FACE OH MEGA BEANIE: This beanie will keep your kid cozy all season long.
25 | THE COMFY JR.: The Comfy is like "wearing a hug" and is perfect for family movie night (or just hanging around the house). Plus, it's machine washable!
---
If you liked this post, you might like these too: