2022 Holiday Gift Guide for Babies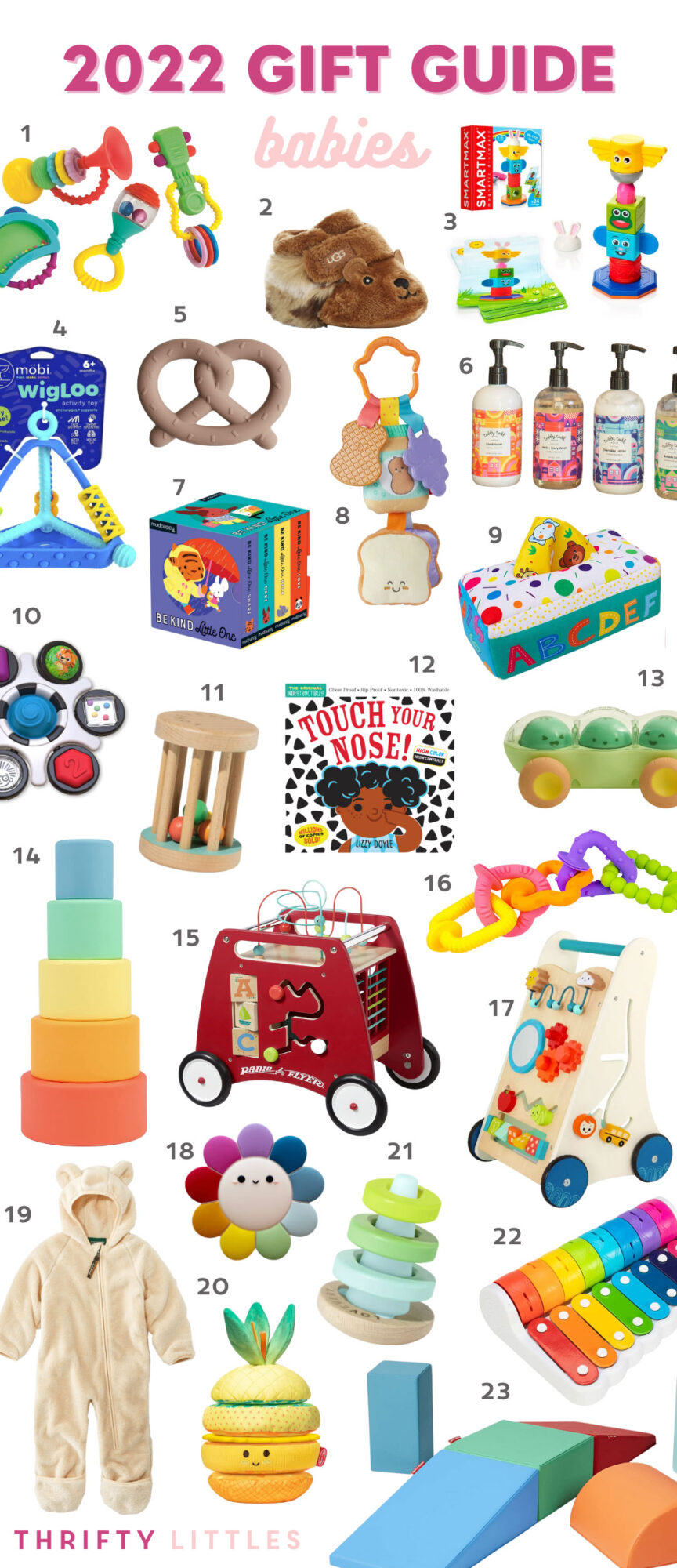 For more gift ideas, check out the Holiday Hub!
1 | INFANTINO BABY'S FIRST MUSIC SET: A set of teethers and rattles shaped like musical instruments. Each is sized just right for little hands, with textures and shapes for little fingers to explore.
2 | UGG BEAR STUFFIE BOOTIE: No baby gift guide is complete without snuggly baby booties! These adorable teddy booties feature hook and loop straps and a slip-resistant rubber sole for little ones taking their first steps.
3 | SMARTMAX MY FIRST TOTEM MAGNETIC BUILDING SET: Introduce your little one to the fun of magnets with this STEM building set. The colorful pieces rattle and provide a tactile experience, and the set includes 24 cards with stacking challenges.
4 | MOBI WIGLOO ACTIVITY TOY: Meet Wigloo, a unique baby activity toy that encourages sensory exploration and fine motor development. Also, check out the Peeka and the Zippee.
5 | MUSHIE PRETZEL TEETHER TOY: An a-dough-rable teething toy that's just the right size for little fingers to grasp.
6 | TUBBY TODD CHRISTMAS BUNDLE: This festive bundle has all the essentials in a classic seasonal scent. Or, buy your individual favorites! (Save 15% by shipping through link!)
7 | BE KIND LITTLE ONE BOOK SET: Celebrate acts of kindness by showing your little one to share, care, help, and love!
8 | MELISSA & DOUG PB&J TAKE-ALONG TOY: Your baby's first PB&J will keep them deliciously entertained with different textures and sounds to explore. It's easy to take along and clip onto the stroller, car seat, or high chair for entertainment on the go.
9 | TEYTOY MY FIRST BABY TISSUE BOX: I don't think I've met a baby who isn't entertained by pulling tissues out of a tissue box! This toy version features vibrant colors and crinkly sounds to stimulate your little one as they work on their fine motor development.
10 | BABY EINSTEIN CURIOSITY CLUTCH TOY: A fidget toy for baby! Twist, shake, grasp, spin, and pop while learning about cause and effect.
11 | LOVEVERY MONTESSORI ROLLING RATTLE: Tummy time will be more fun with this heirloom-quality rattle! It has wooden balls that make a gentle noise and small bars for baby to grasp.
12 | INDESTRUCTIBLES: TOUCH YOUR NOSE! BOOK: Indestructible baby books are rip-proof, waterproof, and chew-proof. And now they are high-contrast so that babies can work on their visual stimulation too!
13 | SKIP HOP FARMSTAND SQUAD CAR: Three peas in a pod are ready to roll! They bob and glide when little ones push them, teaching them about cause and effect.
14 | BLUE GINGKO SILICONE STACKING CUPS: Nest them, stack them, or take them in the bath – there are so many ways to play with these silicone stacking cups. Available in three color options.
15 | RADIO FLYER DELUXE PUSH & PLAY CUBE WALKER: This cube walker is a traditional baby walker and an activity cube in one! It has activities on three sides (bead maze, spinning blocks, shape sorter interlocking gears), plus the fourth side has a large wooden door for taking plush friends along for a ride.
16 | EDUSENSE RINGLET SENSORY TOY: Each ring on this toy provides a different sensory experience for little ones. The size is perfect for little hands, and as a bonus, they can be suctioned to each other and on flat surfaces to provide entertainment on the go.
17 | B. TOYS WOODEN ACTIVITY WALKER: A classic activity walker with interactive activities and an easy-to-hold handle. Plus, little ones will love the storage space in the back for hauling plush friends and toys.
18 | LOULOU LOLLIPOP DAISY SILICONE TEETHER: Bring relief to your baby with this colorful and happy teether! It's made from food-grade silicone and is dishwasher-safe. Available in two color options.
19 | L.L.BEAN FLEECE BUNTING: Keep your little one cozy in this supersoft baby bunting. Your baby will be toasty warm with a hood and rollover cuffs that convert to mittens and booties.
20 | MELISSA & DOUG PINEAPPLE SOFT STACKING TOY: This sweet toy combines multi-sensory play and stacking! Each ring has a different texture or sound, so babies can squeeze, shake, and crinkle them as they play.
21 | LOVEVERY MONTESSORI WOBBLE STACKER: Three easy-to-grasp wooden rings nest on this stacker and encourage hand-eye coordination and fine motor development.
22 | FAT BRAIN TOYS ROCK 'N ROLLER PIANO: Spin the wheels to hear the bells, or use the mallet to play this xylophone – a perfect first instrument.
23 | RADIO FLYER TUMBLE TOWN FOAM BLOCKS: There are many ways to play with this set of foam blocks. They can be stacked and climbed over and are lightweight enough for toddlers to move around.
---
If you liked this post, you might like these too: