2021 Holiday Gift Guide for Babies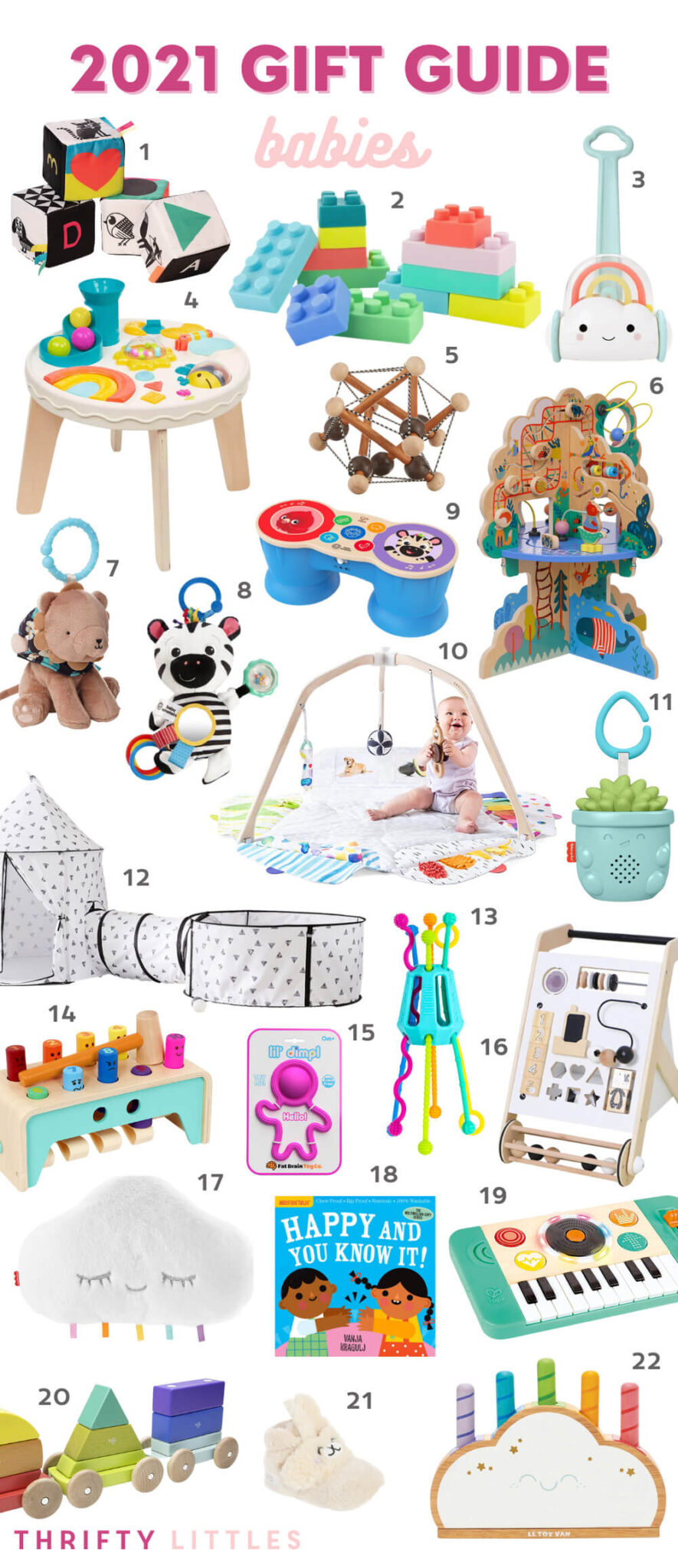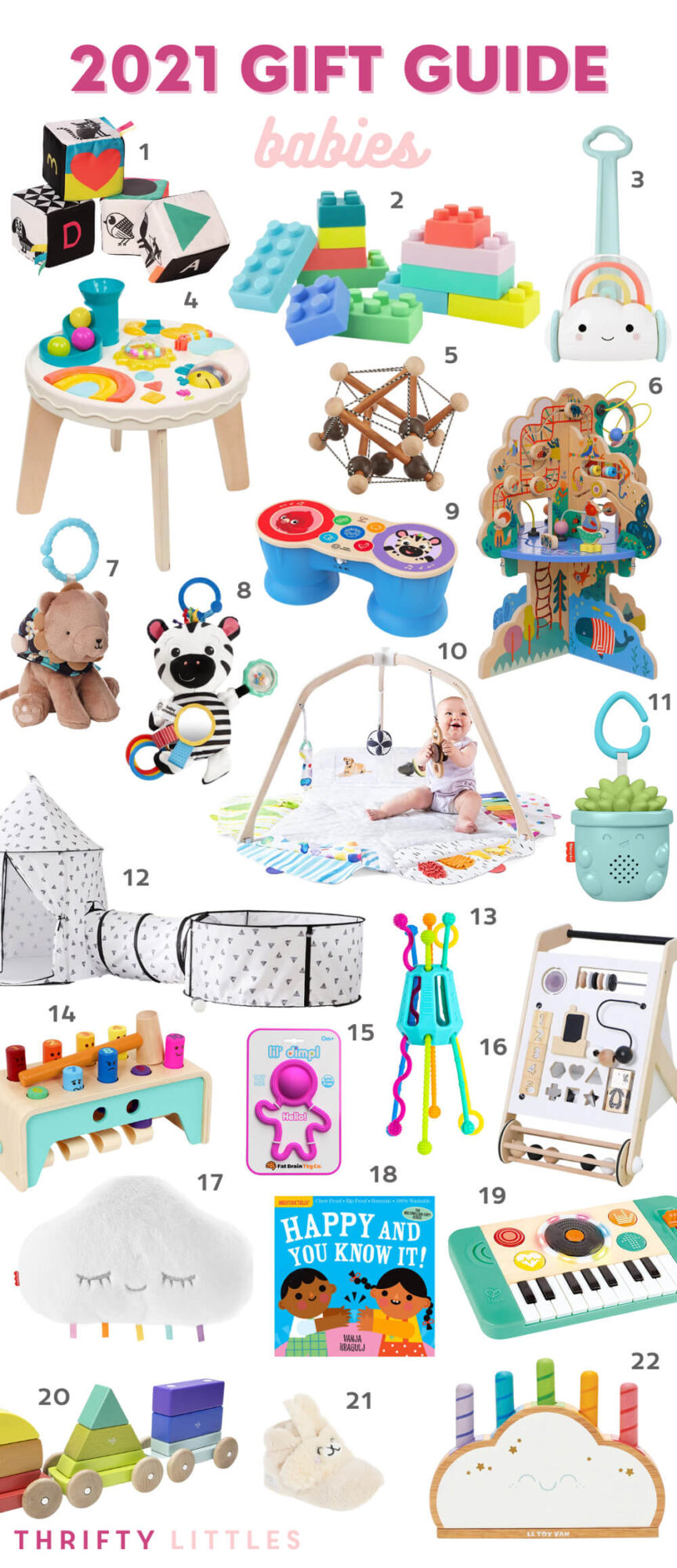 For more gift ideas, check out the Holiday Hub!
1 | MANHATTAN TOY MIND CUBES: This set of four soft activity cubes feature high contrast numbers, letters, shapes, and patterns to provide visual stimulation to babies. Plus, the ribbons offer tactile stimulation and allow babies to practice their hand-eye coordination.
2 | INFANTINO SUPER SOFT 1ST BUILDING BLOCKS: A set of 24 soft building blocks designed just for babies. Build them, stack them, match them, or count them!
3 | SKIP HOP CLOUD RAINBOW PUSH TOY: This adorable cloud push toy has colorful balls that make fun popping sounds as baby walks. Features an easy-grab handle that folds for storage.
4 | B. PLAY BABY ACTIVITY TABLE: An adorable activity table at an affordable price point. It has 7 educational activities for babies to explore, including a butterfly book, a light switch, a slide with balls, a popper, and buttons to activate lights & music.
5 | MANHATTAN TOY SKWISH RATTLE: A classic multi-sensory first toy for baby. It's lightweight, and the wood beads make a soft rattle noise that encourages baby to play and explore. Also available in multiple other color options.
6 | MANHATTAN TOY PLAYGROUND ADVENTURE ACTIVITY CENTER: Manhattan Toy makes the most adorable wooden activity centers, and I love this latest one! It has four play zones with multiple activities to engage littles, including gliders, bead runs, spinners, an abacus, a springy bear riding a dinosaur, and more.
7 | MANHATTAN TOY FAIRYTALE LION TRAVEL TOY: An adorable baby tactile toy with multiple plush fabrics, crinkle legs, an enclosed chime, and a textured C-clip. Plus, it has a print hood that can be placed over the lion's head.
From the same line is the Fairytale Elephant Travel Toy and the Fairytale Rabbit Travel Toy.
8 | BABY EINSTEIN SENSORY PLAY TOY: Another sweet, tactile travel toy from Baby Einstein featuring high-contrast designs, crinkle sounds, a rattle, ribbons, and a mirror. Also, see the matching plush teether toy.
9 | BABY EINSTEIN MAGIC TOUCH DRUM: With four sounds, including drums, a bongo, and two animals, your little one can create their own beat with this Magic Touch drum. For a more extensive set, check out the Together in Tune Magic Touch Drum Set.
10 | LOVEVERY PLAY GYM: The Lovevery Play Gym is pricey in the world of activity gyms, but it continues to get rave reviews from parents. It grows from tummy time mat to activity gym to play fort, growing with your baby through multiple development stages. Features five developmental zones and multiple removable accessories.
From the same brand, I also highly recommend their Play Kits!
11 | FISHER-PRICE SUCCULENT INFANT SOOTHER: Is this succulent soother not just the sweetest? It plays gentle music, nature, or fan sounds for 20 or 40 minutes and can be used freestanding or attached with the link for on-the-go.
12 | ASWEETS ACTIVITY PLAY CENTER: A 3-in-1 activity center for kids priced less than $100. It features a tent, tunnel, and ball pit that can be used separately or connected together. Includes carry bag.
13 | MÖBI ZIPPEE ACTIVITY TOY: The ultimate multi-sensory toy for babies! There are six cords, each with a different texture, that can be gripped and pulled. Another fun toy from the same brand is this Tummy Time Mirror.
14 | BATTAT WOODEN HAMMER TOY: One of the best hammer toys! As one peg goes down, the one across from it pops up. Plus, each peg has a different color, facial expression, and number on top, providing numerous learning opportunities.
15 | FAT BRAIN TOYS LIL DIMPL: The newest arrival to the Dimpl family! Made entirely of soft silicone, it's great for teething and also for little fingers to hold. But the best part is the dimpl bubble that they'll love to poke and pop.
16 | WONDER & WISE BABY ACTIVITY WALKER: Whether your baby is sitting or walking, this walker is full of activities to stimulate their senses – a mirror, abacus, bead maze, counting flaps, and even a shape sorter. Once they're old enough to push the walker, they'll enjoy the sound of rotating beads.
17 | FISHER-PRICE CLOUD SOOTHER: This plush cloud soother has music, sounds, and lights to calm and entertain your little one. It attaches to the crib and can become a take-along friend as your little one grows.
18 | INDESTRUCTIBLES: HAPPY AND YOU KNOW IT!: They're chew-proof, rip-proof, and washable, making them the first baby book. The newest releases are based on our favorite children's songs, including Happy and You Know It! and This Little Piggy.
19 | HAPE DJ MIX & SPIN: With this portable DJ studio, your little one can play the keyboard solo. Or, for even more fun, press the button in the middle to select one of five background tunes and turn the knob to choose four instruments and sound effects.
20 | TEGU MAGNETIC BUILDING BLOCK TRAIN: Babies love magnets, building blocks, and trains! This combines all three for endless fun. Your little one will love rearranging the different shapes and colors into fun new patterns.
21 | UGG BIXBEE STUFFIE SLIPPER: Just the sweetest baby slippers to keep those toes warm! Choose from a bunny or a bear in multiple colors.
22 | LE TOY VAN RAINBOW CLOUD POP: This rainbow has a spring-loaded design that activates with the push of one of the colored sticks.
---
If you liked this post, you might like these too: