2020 Holiday Gift Guide for Toddlers
Next up in our 2020 gift guides is my list for toddlers. There is something so sweet about the holidays with a new baby, but they become fun when you have a toddler who starts to understand the magic of it all.
Keep in mind that you can keep the gifts to a minimum at this age as too many can be overwhelming to toddlers. When my kids were this age, I remember opening a handful of presents could take hours. (Which I loved because it spreads out the fun!)
Below are 15+ favorite ideas. Also, be sure to check out our recent round-up of foot-to-floor ride-on toys, which are a great gift for this age group.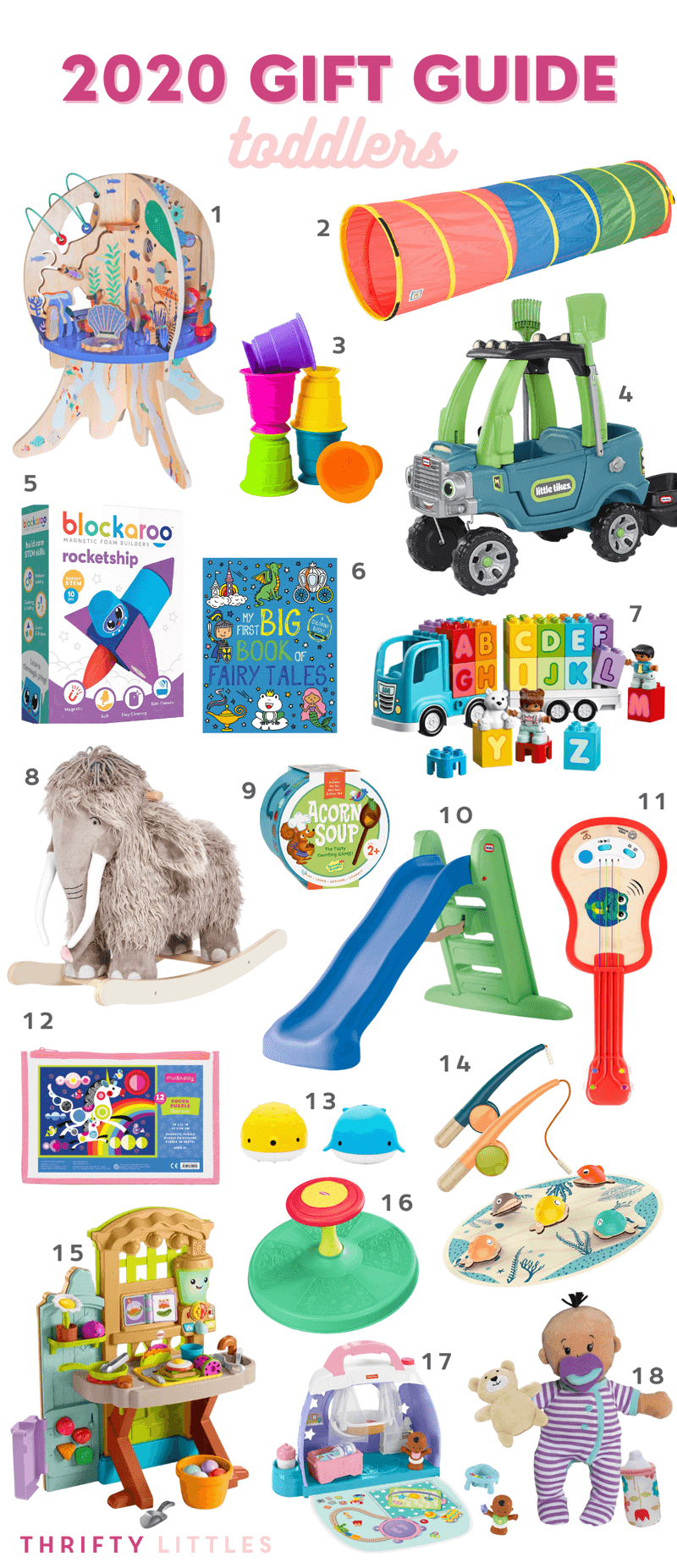 For more gift ideas, check out the Holiday Hub!
1 | MANHATTAN TOY DEEP SEA ADVENTURE ACTIVITY CENTER: This wooden activity center is packed full of exciting underwater adventures! There are four quadrants filled with sea creature gliders, springy coral flaps, spinning gears, bead runs, clacking clams, and a peek-a-boo mirror.
2 | PACIFIC PLAY TENTS PLAY TUNNEL: Toddlers love crawling through tunnels. This one is good for indoor or outdoor use and collapses flat for storage.
3 | FAT BRAIN TOYS SUCTION KUPZ: Take these soft, squishable cups from playtime to bathtime. Made from 100% food-grade silicone, they have a suctioning brim on the bottom so toddlers can stick them to windows, walls, tables, or the bath ––deal for creativity and open-ended play.
4 | LITTLE TIKES GO GREEN! COZY TRUCK: Like other Cozy Coupe vehicles, the Cozy Truck can be parent powered using the attached handle or kid-powered by scooting with their feet. But unlike other Cozy Coupe vehicles, this one is made from 100% recycled plastic and can be recycled itself! This truck also includes a shovel and a rake, a drop-down tailgate, and a removable trailer.
5 | BLOCKAROO MAGNETIC FOAM BUILDING BLOCKS: Blockaroo Blocks are a safe and fun way to introduce toddlers to shapes and colors while building with magnets. These soft foam blocks click together like magic and rotate 360-degrees. They also float in the water, making them fun in the bath too. Plus, they are non-toxic and dishwasher safe.
6 | MY FIRST BIG BOOK OF COLORING: I don't think I'll ever stop talking about how much my kids love these coloring books! Over 200 pages of fun, simple illustrations with bold lines – fun for kids of varying ages.
7 | LEGO DUPLO MY FIRST ALPHABET TRUCK: The alphabet truck is an excellent introduction to the world of LEGO DUPLO. Little ones can start to identify the letters of the alphabet as they stack the 26 letter blocks onto the back of the truck. The set also includes a boy, girl, and teddy bear figure.
8 | MAMMOTH PLUSH ROCKING RIDE-ON: The sweetest plush rocker! Many other animals available too, all of which you can see here.
9 | PEACEABLE KINGDOM ACORN SOUP: Acorn Soup is a fun first introduction to games. Your toddler will learn matching and cooperation as they make yummy soups for squirrel following the included recipe cards.
10 | LITTLE TIKES EASY STORE LARGE SLIDE: This large slide will provide fun indoors or outdoors for years. It's 5 feet long, so you'll get more use from it than the smaller version, and thanks to the extra-wide base, it won't wobble.
11 | BABY EINSTEIN MAGIC TOUCH UKULELE: I love the entire line of Magic Touch instruments from Baby Einstein. With this ukulele, there are two ways to play – freestyle or play along.
12 | MUDPUPPY POUCH PUZZLE: Mudpuppy puzzles are my absolute favorite! Their Pouch Puzzle is an introduction to classic cardboard puzzle with 12 big sturdy pieces that are easy for kids to manipulate. Plus, it comes in a zippered bag great for storage or to take on the go.
13 | MUNCHKIN COLOR BUDDIES BATH TABLETS: Don't forget about the bath toys! These bath buddies are 2-in-1 toys that both dispense color into the bath and are bath strainers.
14 | TOP BRIGHT FISHING GAME: This adorable game simulates real fishing. Two players each work carefully to catch a fish using the magnetic fishing pole. Great for developing hand-eye coordination while having fun!
15 | FISHER-PRICE LAUGH & LEARN GARDEN TO KITCHEN: This adorable two-sided garden-to-kitchen playset features multiple activities to keep your toddler entertained and learning. In the garden, sort fruit & veggie shapes, gather eggs, and turn the lights off and on. In the kitchen, flip through the recipe book and prep a tasty meal. Comes with 30+ accessories.
16 | PLAYSKOOL SIT 'N SPIN ACTIVITY TOY: This classic toy is a blast from the past. Kids sit on it and push or pull the stationary wheel to spin the base fast or slow.
17 | FISHER-PRICE LITTLE PEOPLE CUDDLE N PLAY NURSERY SET: Your baby can take care of their baby with this adorable nursery set. Push the button to rock the babies in the cradle, change the babies' diapers, feed them with the bottle, and free play on the play mat. When playtime is over, the playset folds up to look like a diaper bag.
18 | MANHATTAN TOY WEE BABY STELLA 12″ DOLL: The 12″ Wee Baby Stella is an ideal first baby doll with an embroidered face and a magnetic pacifier.
---
If you liked this post, you might like these too: