2020 Holiday Gift Guide for Preschoolers
(This post contains affiliate links. See our disclosure.)
My favorite age group to shop for is preschoolers. The toys are so fun at this age, and in general, preschoolers are pretty open and excited about the toys you pick out for them. There's a lot of imaginative play, and you can start introducing them to some more advanced games, which is one of my favorite ways to play with my kids.
Below I have compiled 18 gift ideas for preschoolers. And although not technically part of this round-up, you can never go wrong with dress-up costumes (they are on last year's gift guide). They have been one of our most used toys over the years.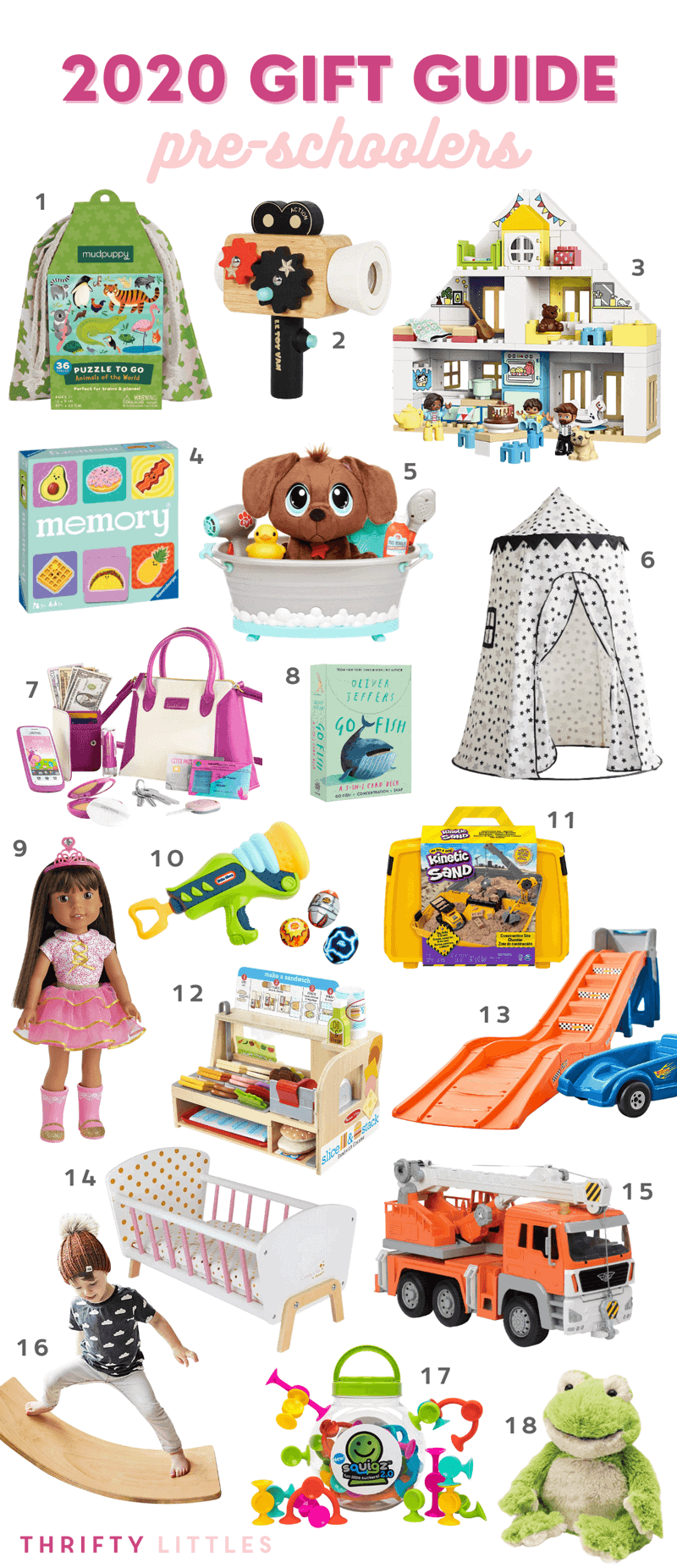 For more gift ideas for kids of all ages, check out the Holiday Hub.
1 | MUDPUPPY PUZZLE TO GO: I include Mudpuppy puzzles in almost every gift guide because they're just so good! The Puzzle To Go is 36-pieces and comes in a convenient carry bag with a handle. If your preschooler isn't quite ready for 36 pieces, I also recommend the Mudpuppy Jumbo Puzzle.
2 | LE TOY WOODEN HOLLYWOOD FILM CAMERA: For your budding videographer! This vintage style camera has spinning cogs and a kaleidoscope lens.
3 | LEGO DUPLO MODULAR PLAYHOUSE: A more advanced DUPLO set is an excellent for preschoolers – my five-year-old still prefers DUPLO to regular LEGO. This modular playhouse has options for three different floor plans, and once built , it is great for imaginative play.
4 | RAVENSBURGER MEMORY GAME: Memory games are lots of fun for this age group, and they're fun for older siblings and adults too! To play, flip over tiles and try to get a match.
5 | LITTLE TIKES RESCUE TALES SCRUB 'N GROOM PLAYSET: If your child wants a puppy and you're not on board, this Rescue Tales pup is a fun alternative. This playset comes with a working bathtub so kids can bathe their new friend. It also includes a pretend shampoo bottle, shower hose, grooming brush, and pretend hairdryer.
6 | ASWEETS POP UP TENT: What kid wouldn't love their own magical space to play? This carnival-style tent has windows and tie-back doors and is big enough to provide plenty of room to play.
7 | LITTI PRITTI MY FIRST PURSE: The Litti Pritti make-up set is a long-time favorite of mine, so I was excited to discover this adorable My First Purse Set. The set includes a wallet, cellphone, lipstick, face powder, key ring, car key, ID card, play money, and three credit cards.
8 | OLIVER JEFFERS 3-IN-1 GAME SET: For my Oliver Jeffers fans, this 3-in-1 Card Deck includes Go Fish, Concentration, and Snap featuring art from the author.
9 | AMERICAN GIRL WELLIE WISHER DOLL: Wellie Wisher dolls are a great introduction to American Girl. They are 14.5″ tall, making them a great size for younger kids. Plus you can buy a variety of fun clothing and accessories too.
10 | LITTLE TIKES MY FIRST MIGHTY BLASTER: The My First Mighty Blaster is easy to load and launch with a simple pull-back mechanism. The soft pods launch up to 12 feet!
11 | KINETIC SAND CONSTRUCTION SITE: This Kinetic Sand set is ideal for your little builder, featuring a working crane, dump truck, and 3-brick mold.
12 | MELISSA & DOUG SLICE & STACK SANDWICH COUNTER: This sandwich food counter is a 52-piece set with everything your little one needs to run their deli – meat and cheese slices, sandwich toppings, chips, play money, and a double-sided menu and sandwich prep sign. Other themes are available too including a Pizza Counter, an Ice Cream Counter, and Sushi Counter.
13 | STEP2 HOT WHEELS EXTREME THRILL ROLLER COASTER: This is the priciest item on the list, but the Step2 Coasters are so much fun and last for years! This is their largest coaster with 14 feet of track and a coaster car with a high seatback.
14 | JANOD CANDY CHIC DOLL CRADLE: The most adorable wooden baby cradle complete with polka dot bedding.
15 | BATTAT DRIVEN TOY CRANE TRUCK: Driven by Battat is a line of large trucks with realistic features. This truck features a crane that pivots, a cab that tilts,and opening doors. Plus it has lights and sounds.
16 | WOODEN WOBBLE BALANCE BOARD: The Wooden Balance Board is a big gift this year! It's an open-ended toy that will grow with your child for years – use it as a bridge, slide, stepping stool, tunnel, or balance board.
17 | FAT BRAIN TOYS SQUIGZ 2.0: Made of 100% silicone, these suction cup builders stick to any solid, non-porous surface and even each other. And when you separate them, they make a fun popping noise. As a bonus, they make a fun bath toy too!
18 | WARMIES MICROWAVABLE PLUSH ANIMALS: Warmies make the best plush friend. They are microwaveable, and not only heat up but also release a relaxing lavender aroma.
---
If you liked this post, you might like these too: