2020 Holiday Gift Guide for Little Kids
My last gift guide is for little kids. Once kids get a little older, they typically have ideas on what they would like for Christmas, but I always find it fun to surprise them! Below are 20+ ideas, including puzzles, games, crafts, outdoor toys, and more. And I don't think you can ever go wrong with Legos or Magnatiles, which are fun for all ages!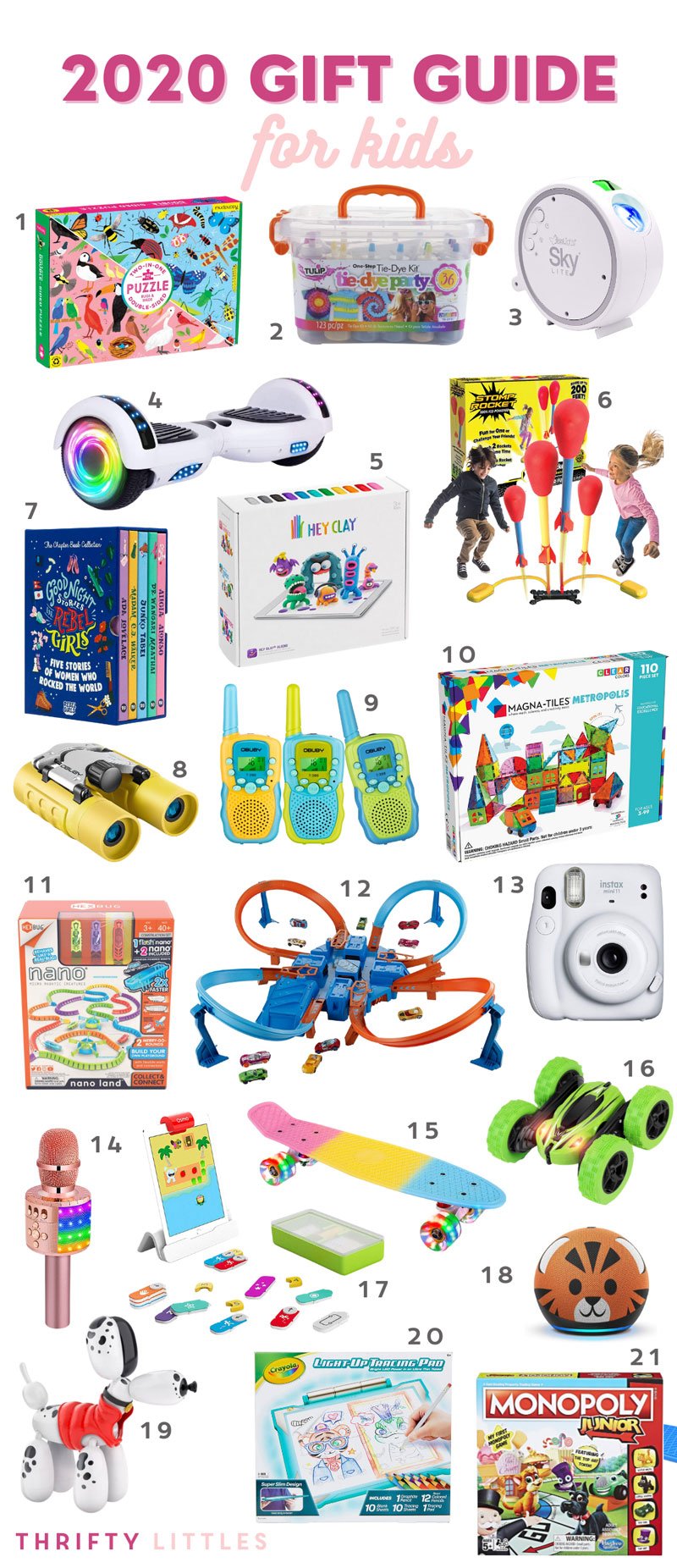 For more gift ideas, check out the Holiday Hub!
1 | MUDPUPPY DOUBLE-SIDED PUZZLE: Yes, I've included another Mudpuppy puzzle on this list, too, because they are that good! This one is two puzzles in one with double-sided illustrations. Although it's double-sided, one side of the pieces is glossy and the other matte, so sorting isn't too challenging.
2 | TIE-DYE PARTY KIT: Tie-dye was all the rage in 2020, and not just for adults but kids too! This kit includes all the supplies to make up to 36 projects, including 18 easy-squeeze bottles that only need water.
3 | SKY LITE LASER STAR PROJECTOR: The Sky Lite projects a moving galaxy of stars indoors. Control light effects, adjust brightness, and start/stop the motion.
4 | HOVERBOARD WITH BLUETOOTH SPEAKER: This one is a gift the whole family will enjoy, and it comes with LED lights and a built-in Bluetooth speaker.
5 | HEY CLAY MOLDING CLAY WITH APP: If your child likes to be creative, these Hey Clay kits are fun! They come with molding clay, and there's an interactive app that teaches your child to make the different creatures or animals.
6 | STOMP ROCKING DUELING ROCKETS: Our family loves stomp rockets. This one takes it one level further with dueling rockets, so two kids launch at the same time!
7 | GOOD NIGHT STORIES FOR REBEL GIRLS: My oldest has loved this series about extraordinary women throughout history, so we were so excited to discover new chapter book series. If your child's not quite at that reading level, I highly suggest starting with one of the original 100 bedtime stories books.
8 | MINI BINOCULARS FOR KIDS: Small, lightweight, real binoculars for kids. These are great to take on walks, hiking, vacation, or for them to keep in their backpack.
9 | WALKIE TALKIES FOR KIDS: These walkie-talkies are designed for kids with a simple push-to-talk button.
10 | MAGNA-TILES METROPOLIS: I could have put Magna-Tiles on every gift guide, from toddlers up, because they indeed are fun for every age group, including bigger kids! This metropolis set includes a spinner, windows, quarter circles, stairs, and a door, for more advanced building.
11 | HEXBUG NANO LAND: My kids love HEXBUGs, and these playsets allow them to build tracks and playgrounds for their bugs.
12 | HOT WHEELS CRISS CROSS CRASH TRACK SET: This set is a figure-eight track with four intersecting zones and a cool car feeder for lots of fun for kids of all ages.
13 | FUJIFILM INSTAX MINI 11 INSTANT CAMERA: These cameras are so much fun! It's the perfect size for kids, easy to operate, and they'll love having the pictures right away.
14 | KARAOKE MICROPHONE: My kids love this microphone! It can be connected via Bluetooth to your phone and also used as a speaker and a recorder. Although my kids mostly just use it to sing along with their music.
15 | SKATEBOARD WITH LIGHT UP WHEELS: A perfect option for beginners and the wheels light up when you ride.
16 | REMOTE CONTROL STUNT CAR: This remote control car can go off-road, flip 360 degrees, and flip over and keep going.
17 | OSMO CODING STARTER KIT: Osmo creates games that turn iPads and Fire Tablets into learning devices. This one is an introduction to coding and comes with three educational games. (If you already have the Osmo Base, you can also just get the Game Bundle).
18 | ECHO DOT KIDS EDITION: My kids use their Echo Dot for everything, including listening to music, asking Alexa questions, and setting timers for school. And the new animal design is super cute!
19 | SQUEAKEE BALLOON DOG: Squeakee is one of the hot toys this season! He comes to life and interacts with you, just like a real pup. You can train him to sit and beg, tickle his tummy and watch him roll over, and feed him. He also comes with a pin, and you can deflate and inflate him back again.
20 | CRAYOLA LIGHT UP TRACING PAD: Illuminates pages so kids can easily trace artwork in the daylight or the dark. Use the included tracing sheets or hundreds of downloadable online images.
21 | MONOPOLY JUNIOR BOARD GAME: Games are one of my favorite games for kids! I have a round-up for this age group in this blog post, including Monopoly Junior, a simpler and faster for kids.
---
If you liked this post, you might like these too: